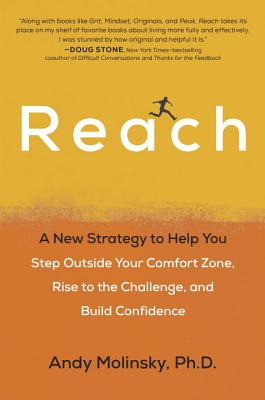 Reach
A New Strategy to Help You Step Outside Your Comfort Zone, Rise to the Challenge and Build Confidence
Hardcover

* Individual store prices may vary.
Other Editions of This Title:
Digital Audiobook (1/23/2017)
Description
Do you feel comfortable delivering bad news? Do you look forward to speaking in public? Do you enjoy networking? Is it easy for you to speak your mind and be assertive with friends and colleagues? If you answered no to any of these questions, this book can help!
 
What often sets successful people apart is their willingness to do things most of us fear. What's more, we have the false notion that successful people like to do these things, when the truth is that successful people have simply found their own way to do them.

According to Andy Molinsky, an expert on behavior in the business world, there are five key challenges underlying our avoidance tendencies: authenticity, competence, resentment, likability, and morality. Does the new behavior you're attempting feel authentic to you? Is it the right thing to do? Answering these questions will help identify the "gap" in our behavioral style that we can then bridge by using the three C's: Clarity, Conviction, and Customization. Perhaps most interesting, Molinsky has discovered that many people who confront what they were avoiding come to realize that they actually enjoy it, and can even be good at it.

Short, prescriptive, and based not only on the author's groundbreaking research but on his own quest to get out of his comfort zone, Reach will help you take the thing you are most afraid of doing and make it a proud part of your personal repertoire.
Praise For Reach: A New Strategy to Help You Step Outside Your Comfort Zone, Rise to the Challenge and Build Confidence…
"Along with books like Grit, Mindset, Originals, and Peak, Reach takes its place on my shelf of favorite books about living more fully and effectively. I was stunned by how original and helpful it is."
—Doug Stone, New York Times Best Selling Co-Author of Difficult Conversations and Thanks for the Feedback

"Molinsky delivers an informative take on the subject of behavioral change. Readers will be inspired by his bumper crop of well-chosen stories about people overcoming their fear and reaching beyond the familiar. People interested in pursuing new ventures will find Molinsky's advice invaluable."
—Publishers Weekly 

"We all have trouble reaching beyond our comfort zone, but this book shows you how.  So many of our disappointments spring from our own unwillingness to stretch beyond what we feel comfortable doing. Reach will take you to the next level, where you really want to be."
—Jonah Berger, PhD, New York Times bestselling author of Contagious and Invisible Influence
 
 "Molinsky's understanding of the power of purpose is spot-on, and his writing style is truly a joy to read.  Here is a book that will get you unstuck, help you grow, and ultimately take you to another level.  A true standout!"
—Olivia Fox Cabane, author of The Charisma Myth
 
"When we need the strength to tackle a stressful situation that takes us beyond our comfort zone, most of the advice we get boils down to bumper stickers like 'Feel the fear and do it anyway.' Fortunately, Andy Molinsky has brought fresh insights from social science to bear on this problem. Reach provides a practical approach to pushing the boundaries while remaining true to our authentic selves."
—Matthew Kohut, co-author of Compelling People
 
"We're often encouraged to step outside our comfort zones, but rarely know where to begin. This book shows us the way. Andy Molinsky is an expert on navigating the challenges of unfamiliar situations, and you can put his advice into action right away."
—Adam Grant, PhD, New York Times bestselling author of Originals and Give and Take
 
"If you want to rise to the next level in whatever you do, you must read this book. Andy Molinsky gives truly invaluable advice for getting unstuck and out of your comfort zone so that you can reach for the stars. Essential reading!"
 —Tom Doctoroff, CEO of J. Walter Thompson Worldwide, Bestselling Author of What Chinese Want, Billions and Twitter is Not a Strategy
 
"Reach is an exciting contribution to the discussion of why and how to get out of our comfort zones. Molinsky is a great storyteller, has done terrific research, and perhaps most importantly, is an academic who writes/speaks like a real person, making his wisdom accessible and actionable. This smart and compassionate book will guide you to to reach beyond the safety of your own status quo, enabling you to discover and create new possibilities for you in your work and life."
—Cathy Salit, CEO, Performance of a Lifetime and Author of Performance Breakthrough: A Radical Approach to Success at Work

"In this insightful and highly practical book, Andy Molinsky draws on a wealth of research to identify what stops people from stepping outside their comfort zone and the key practices through which they can overcome those obstacles. Packed with compelling examples and presenting a powerful set of tools to help diagnose and tackle the challenges, Reach is an invaluable resource for anyone who wants to move past the self-limiting thoughts and feelings that get in the way of achieving important goals." 
—Sally Maitlis, Professor of Organizational Behaviour & Leadership, Said Business School, Oxford University, and Executive Coach
Avery, 9780399574023, 288pp.
Publication Date: January 24, 2017
About the Author
Andy Molinsky is a professor of organizational behavior at Brandeis University's International Business School, specializing in behavior change and cross-cultural interaction in business settings. He holds a B.A. in international relations, magna cum laude and Phi Beta Kappa, from Brown University; an M.A. in international business from Columbia University; and an M.A. in psychology and a Ph.D. in organizational behavior from Harvard University. Molinsky regularly writes for the Harvard Business Review and was named one of LinkedIn's Top Voices of 2016. His work has been featured in The Economist, Fast Company, Fortune, Financial Times, The Boston Globe, NPR, and the Voice of America. His first book, Global Dexterity (Harvard Business Review Press, 2013), received the Axiom Award (Silver Medal) for Best Business Book in International Business & Globalization and has been used widely in organizations around the world, including Boeing, AIG, the U.S. Air Force Academy, and the Clinton Foundation, among others. He speaks regularly to a wide range of professional audiences.
or
Not Currently Available for Direct Purchase