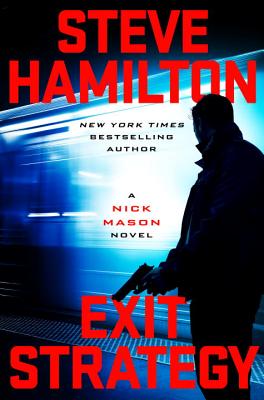 Exit Strategy (A Nick Mason Novel #2)
Hardcover

* Individual store prices may vary.
Other Editions of This Title:
Digital Audiobook (5/15/2017)
Paperback (4/10/2018)
Description
In the stunning follow-up to the New York Times bestseller The Second Life of Nick Mason, the remarkable hero fights to take back control from the crime lord who owns his life, as he races to complete a daring and dangerous new mission...

Nick Mason has been given a true mission impossible: Infiltrate WITSEC, the top-secret federal witness-protection program that has never been compromised, locate the three men who put his boss Darius Cole behind bars for life, and kill them.

But first he has to find them—they're ghost prisoners locked down around the clock in classified "deep black" locations by an battalion of heavily armed U.S. marshals charged with protecting them—and the clock is ticking. Cole is appealing his conviction, and these witnesses are either his ticket to freedom or the final nail in his coffin. If they testify, Darius Cole will never step foot in the outside world again. If they are killed, he will walk out a free man. 

As he risks everything to complete his mission, Mason finds himself being hunted by the very man he replaced, the ruthless assassin who once served, then betrayed, Darius Cole. Rather than waiting to be Mason's next victim, he has escaped witness protection to hunt down and kill Mason himself.

In an action-packed journey that leads from a high-security military installation in the Appalachian Mountains to a secret underground bunker hidden far below the streets of New York City, Nick Mason will have to become, more than ever before, the lethal weapon that Darius Cole created.
Praise For Exit Strategy (A Nick Mason Novel #2)…
Praise for Exit Strategy
 
"A compelling trek across very dark terrain putting Nick Mason through increasingly pulse-pounding paces with so much non-stop suspense, I read the book in two sittings."—Huffington Post
 
"[Hamilton has] perfected his craft as an author of high-powered, fast-paced crime thrillers. Exit Strategy . . . moves so quickly you instantly find yourself sucked into its slipstream and pulled along like a water-skier behind a low-flying rocket careening toward the finale."—NY Journal of Books

"The Second Life of Nick Mason rocketed Steve Hamilton to literary stardom, all the reasons for which are on clear display in that book's sequel, Exit Strategy. . . . The book's brisk prose wondrously sets the tone, starting with, "You kill one person, it changes you. You kill five ... it's not about changing anymore." Think Don Winslow at his coolest, as Hamilton turns up the heat in a bold, bracing and brilliant thriller."—The Providence Journal
 
"The intensity Hamilton generates here is almost too much—like a wailing siren growing steadily louder at the same time its pitch climbs ever higher—but readers will be utterly powerless to close the book. Noir is all about characters attempting to find options for themselves where none exist. The brilliance of this thoroughly uncompromising novel lies in the way Hamilton, with the legerdemain of a master conjurer, turns despair to hope and back again, finally blending the two into their own unique nightmare world. Stunning."—Booklist (starred review)
 
"When it comes to no-nonsense, pressure-cooker plotting, Hamilton has few rivals. The book starts turning up the heat from the start [and] maintains its breathless pacing until the end. . . Its hard-wired plot and adrenaline-fueled scenes make it another must-read for fans of lean, mean crime fiction."—Kirkus Reviews
 
"The action is nonstop in Hamilton's latest, and the violence quotient has risen, but Nick remains an empathetic character for whom readers will gladly root. Aficionados of Gregg Hurwitz and Thomas Perry will quickly become fans."—Library Journal
 
"Another knockout performance. . . Hamilton has carefully crafted an atmospheric, edgy thriller with strong characters and a swiftly escalating tension level. . . Easily one of the best crime novels of the year – even though it surely will be facing strong competition."—Lansing State Journal
 
"One of our favorite authors, Steve Hamilton continues the gritty, action-packed saga of Nick Mason in his newest book, Exit Strategy. . . If you have weekend plans, clear them. This is the kind of book that demands to be read in one sitting. . . The pacing is stunning, cinematic in its precision."—Harbor Light News
 
"How does Nick resolve this second life he is now forced to live? The manner in which he does so is revealed in this fascinating novel by Steve Hamilton, and the suspenseful way he accomplishes it is typical of what we have come to expect from this author, in this newest page-turner. . . Expect the unexpected from this wonderful author. . . Highly recommended."—Midwest Book Review

Praise for The Second Life of Nick Mason

"[The Second Life of Nick Mason] is so good, it legitimately stands shoulder to padded paranoid shoulder with the classics of the crime noir genre...There are so many terrific elements in this novel—Nick's haunted character, a plot that never darts in the direction you expect it to, and a truly ingenious climax—that I could be here till Labor Day singing its praises."—Maureen Corrigan, NPR Fresh Air

"The sinner who gets a chance to start over is an archetypal figure in crime fiction.  Steve Hamilton works a smart variation on it in The Second Life of Nick Mason."—Marilyn Stasio, The New York Times Book Review
 
"[An] intelligent thriller....The reader has a vulnerable underdog to root for: a loser who may yet be born to win."—The Wall Street Journal

"The plotting is crisp, and the story moves smoothly, slipping easily between timelines....Nick is a very mobile character juggling different sides of his identity.  One day, he's slitting the throat of a man in a public restroom, and another he's shopping for a puppy. That Hamilton is able to imbue both of these scenes with sharp tension is a testament to his skills as a writer. And as expected from a writer with Hamilton's award-winning, best-selling track record, all the novel's threads tie up in a powerful, violent resolution."—The Los Angeles Review of Books
 
"A complicated plot, a lot of action, some vivid language and a variety of nicely detailed scenes."—Pittsburgh Post-Gazette
 
"In this edgy noir from a crime fiction maestro, an ex-con struggles with unexpected freedom, falteringly rebuilding his life while a depraved puppet master still behind bars pulls his strings."—O Magazine 
 
"It's a killer summer read."—Milwaukee Journal Sentinel
 
"An impressive new series...The Second Life of Nick Mason is a new chapter in Hamilton's career, and it's intensely exciting. The concept is fresh, the action is heart-pounding and Nick Mason is a solid protagonist. His halo is tarnished but his intentions are gold. Readers will connect with him and clamor for his return."—Shelf Awareness
 
"A high-octane, tension-filled novel that's received well-deserved praise from great authors."—Huffington Post
 
"[A] heart-pounding thriller with cinematic appeal...Hamilton cleverly imbues the narrative with myriad of twists and turns, allowing the intricate plot to unfold with stunning and extraordinary skill and suspense. From the honor amongst thieves, to the honor amongst those sworn to protect us, to the loyalty among childhood friends and beloved family, multiple worlds collide as Hamilton catapults us into Nick Mason's complex psyche."—Esquire.com
 
"As fertile as Chicago is for crime fiction, it isn't often that an outsider captures the underside of the local scene as memorably as Steve Hamilton does with The Second Life of Nick Mason, the terrific first installment in a projected series...The novel more than lives up to its hype."—Chicago Tribune
 
"[A] reinvention of the noir thriller...There are a number of ways Hamilton could have gone that would have turned his knockout premise into pandering. Instead of patronizing readers with a morality tale (criminal struggling against the dark pull of enterprise), Hamilton gives us a bad guy who is willing—and able—to do worse. The result is edgy and intelligent entertainment that hits with the force of a narrative bullet...Hamilton gets just about everything right in Nick Mason."—Arizona Republic
 
"Steve Hamilton's new novel, The Second Life of Nick Mason, is every bit as good as Don Winslow and Harlan Coben and Michael Connelly say it is."—New York Daily News
G.P. Putnam's Sons, 9780399574382, 304pp.
Publication Date: May 16, 2017
About the Author
Steve Hamilton is the New York Times–bestselling author of twelve novels, most recently The Second Life of Nick Mason and Die a Stranger.  His debut, A Cold Day in Paradise, won both an Edgar and a Shamus Award for Best First Novel. His standalone novel The Lock Artist was a New York Times Notable Crime Book and won an Alex Award and the Edgar Award for Best Novel. He attended the University of Michigan, where he won the prestigious Hopwood Award for writing, and now lives in Cottekill, New York, with his wife and their two children.
or
Not Currently Available for Direct Purchase