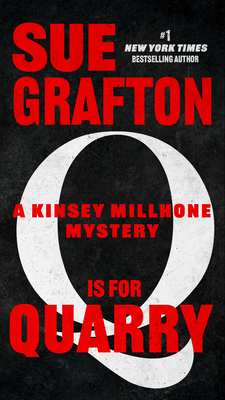 Q Is for Quarry (Mass Market Paperbound)
G.P. Putnam's Sons, 9780399575181, 480pp.
Publication Date: March 1, 2016
Description
Quarry
, n. An open excavation.
Quarry
, v. Transitive: To dig or take from. Intransitive: To delve into.
Quarry
, n. An object pursued or hunted; prey.
She was a "Jane Doe," an unidentified white female whose decomposed body was discovered near a quarry off California's Highway 1. The case fell to the Santa Teresa County Sheriff's Department, but the detectives had little to go on. The woman was young, her hands were bound with a length of wire, there were multiple stab wounds, and her throat had been slashed. After months of investigation, the murder remained unsolved.
That was eighteen years ago. Now the two men who found the body, both nearing the end of long careers in law enforcement, want one last shot at the case. Old and ill, they need someone to help with their legwork and they turn to Kinsey Millhone. They will, they tell her, find closure if they can just identify the victim. Kinsey is intrigued and agrees to the job. But revisiting the past can be a dangerous business, and what begins with the pursuit of Jane Doe's real identity ends in a high-risk hunt for her killer.
About the Author
New York Times bestselling author Sue Grafton is published in 28 countries and 26 languages--including Estonian, Bulgarian, and Indonesian. Books in her alphabet series, begun in 1982, are international bestsellers with readership in the millions. And like Raymond Chandler, Ross Macdonald, Robert Parker, and John D. MacDonald--the best of her breed--Sue Grafton has earned new respect for the mystery form. Her readers appreciate her buoyant style, her eye for detail, her deft hand with character, her acute social observances, and her abundant storytelling talents.Sue divides her time between Montecito, California and Louisville, Kentucky, where she was born and raised. She has three children and two grandchildren. Grafton has been married to Steve Humphrey for more than twenty years. She loves cats, gardens, and good cuisine.
Advertisement