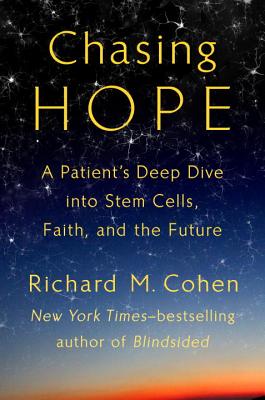 Chasing Hope
A Patient's Deep Dive into Stem Cells, Faith, and the Future
Hardcover

* Individual store prices may vary.
Description
After more than four decades living with multiple sclerosis, New York Times bestselling author Richard M. Cohen finds a flicker of hope in a groundbreaking medical procedure.

Richard Cohen struggles with failing limbs and is legally blind. He has survived two bouts of colon cancer and a life-threatening blood clot in his lungs. After enduring decades of harsh treatments and invasive therapies, Cohen decided to trade in his life as a patient.

In 2012, Cohen and his wife, Meredith Vieira, were invited to host and chair an adult stem cell conference at the Vatican. Scientists would be gathering in Rome to discuss stem cell therapy for autoimmune diseases, including MS. A believer in the power of denial and determination over faith and hope, Cohen was caught off guard by what he learned. Medical technology had advanced further and more quickly than Cohen had known. Could there be a chance his health could improve? Could MS be cured? As Cohen took part in a pioneering stem cell protocol, he opened himself to the possibility of hope for the first time in his adult life.

Cohen's deep dive into the cutting-edge world of stem cell research and his journalistic investigation of hope includes interviews with doctors, scientists, and religious leaders, as well as conversations with others living with chronic conditions, all with the goal of understanding a hope that is both elusive and alluring.

As drily funny as it is emotionally vulnerable, Chasing Hope navigates the fascinating and ever-changing intersection between illness and hope.
Praise For Chasing Hope: A Patient's Deep Dive into Stem Cells, Faith, and the Future…
"Chasing Hope is moving and powerful, so brutally honest about the daily hardships of living with a terrible disease, yet finding ways to take pleasure in family, friends and writing. What an inspirational guide this story will be for people suffering from illness and those who love them."
—Doris Kearns Goodwin, author of Team of Rivals and Wait Till Next Year

"My dad has MS. What a perfect time and perfect author for this book!"
—Amy Schumer, author of The Girl with the Lower Back Tattoo

"I am so inspired by Richard Cohen's story and the stories of resilience and faith in Chasing Hope. Richard reminds us that in life we all carry a bag of rocks, and that hope—even a glimmer—can help us shoulder the heaviest loads."
—Ann Romney, author of In This Together

"A profound exploration of science and spirit as the underpinnings of true hope …. This clear-eyed narrative will inspire and illuminate all those seeking hope in the midst of illness."
—Jerome Groopman, M.D., Recanati Professor, Harvard Medical School and author of How Doctors Think and The Anatomy of Hope

"An unforgettable book, thanks to gifted writing, first-rate reporting, and painful experience. Over time, MS has robbed Richard Cohen of most of his eyesight and mobility, but not his inner vision or mobility of spirit."
—Charles Osgood, author of See You on the Radio
Blue Rider Press, 9780399575259, 304pp.
Publication Date: May 1, 2018
About the Author
Richard M. Cohen is the author of two New York Times bestsellers: a memoir, Blindsided, detailing his struggles with MS and cancer and his controversial career in the news business; and Strong at the Broken Places, following the lives of five individuals living with serious chronic illnesses. His distinguished career in network news earned him numerous awards, including three Emmys and a Peabody. Cohen lives outside New York City with his wife, Meredith Vieira. They have three grown children.
or
Not Currently Available for Direct Purchase