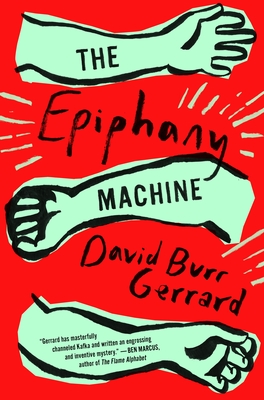 The Epiphany Machine
Hardcover

* Individual store prices may vary.
Description
*Best New Science Fiction for Summer by The Washington Post
*A Most-Anticipated book of 2017 by The Millions

Everyone else knows the truth about you, now you can know it, too.
 
That's the slogan. The product: a junky contraption that tattoos personalized revelations on its users' forearms. It's an old con, playing on the fear that we are obvious to everybody except ourselves. This particular ad has been circulating New York since the 1960s and it works. But, oddly enough, so might the device...

A small stream of city dwellers buy into this cult of the epiphany machine, including Venter Lowood's parents. This stigma follows them when they move upstate, where Venter can't avoid the whispers of teachers and neighbors any more than he can ignore the machine's accurate predictions: his mother's abandonment and his father's disinterest. So when Venter's grandmother finally asks him to confront the epiphany machine and inoculate himself against his family's mistakes, he's only too happy to oblige.

Like his parents before him, Venter is quick to fall under the spell of the device's sweat-stained, profane, and surprisingly charming operator, Adam Lyons. But unlike them, Venter gets close enough to Adam to learn a dark secret. There's an undeniable pattern between specific epiphanies and violent crimes. And Adam won't jeopardize the privacy of his customers by alerting the police.

It may be a hoax, but that doesn't mean what Adam is selling isn't also spot-on. And in this sprawling, snarling tragicomedy about accountability in contemporary America, the greater danger is that Adam Lyon's apparatus may just be right about us all. This is "can't-miss pop culture."(Vox)
Praise For The Epiphany Machine…
"This is a wildly charming, morally serious bildungsroman with the rare potential to change the way readers think." —Publishers Weekly (starred review)

"Hilarious. [A] razor-sharp alternate history...Gerrard's novel emphasizes just how desperately people want confirmation of their place in the world."—The Washington Post

"An affecting exploration of fate and the clash of our private and public selves...ambitiously wrestling in the muck of big questions. A pleasurably speculative yarn about family and ethics."— Kirkus Reviews

"With pitch-black humor worthy of Kafka, Gerrard's second novel encourages us to pose this burning question: What are we hiding from ourselves."—O, The Oprah Magazine

"This weirdly compelling tale feels like a creepy 'Twilight Zone' episode."—Fort Worth Star-Telegram 

"Whereas so much of what is called 'kafkaesque' doesn't deserve that distinction, Gerrard earns it."—LitHub.com

"Simply tremendous. An extraordinary book, full of wisdom and surprise, ingenious and original."—Karen Joy Fowler, author of We Are All Completely Beside Ourselves

"With equal parts satire, mystery, and vaudevillian comedy, David Burr Gerrard has written a masterpiece."—Alexander Weinstein, author of Children of the New World

"Gerrard joins his own wry humor with the joyful essence of Melville. The result is hysterical, delightful, and determined—and truly, an epiphany of a modern novel."—Kristopher Jansma, author of The Unchangeable Spots of Leopards and Why We Came to the City

"Throw David Foster Wallace, Kurt Vonnegut, and David Mitchell in a blender and you will have something of a taste of the blood and guts of his work, and then drink deep!"—Scott Cheshire, author of High as the Horses' Bridles

"Engrossing and inventive...A deeply compelling read by a terrific young writer."—Ben Marcus,author of The Flame Alphabet
G.P. Putnam's Sons, 9780399575433, 432pp.
Publication Date: July 18, 2017
About the Author
David Burr Gerrard received an MFA in fiction writing from Columbia University. His first novel, Short Century, was published by Rare Bird Books, and his work has appeared in The Awl, The LA Review of Books, BOMB, Guernica, and other publications. He teaches fiction writing at Manhattanville College, the 92nd Street Y, and the Sackett Street Writers' Workshop.
or
Not Currently Available for Direct Purchase