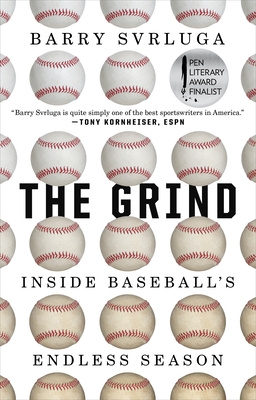 The Grind
Inside Baseball's Endless Season
Paperback

* Individual store prices may vary.
Other Editions of This Title:
Hardcover (7/7/2015)
Description
Built on material that appeared in The Washington Post, this is a raw, inside look at the wear and tear and the glory and impermanence of baseball—shortlisted for the 2016 PEN/ESPN Award for Literary Sports Writing.

At 162 games, it is the sports world's longest season. Grueling. Thrilling. Routine. Lonely. Exhilarating. Major league ballplayers even have a name for this relentless, unmatchable rhythm: The Grind.

In The Grind, Barry Svrluga, The Washington Post's national baseball correspondent, zooms in on the 2014 Washington Nationals, reporting not just on the roster's star players, but also on the typically invisible supporting cast who each have their own sacrifices to make and schedules to keep. There's The Wife, who acts as a full-time mom, part-time real estate agent, occasional father, and all-hours dog walker; The 26th Man, a minor leaguer on the cusp of job security who gets called up to the majors only to be sent back down the very next week; The Reliever, one of the most mentally taxing, precarious, and terribly exposed positions on any pro squad. These and many more players, scouts, equipment managers, and even travel schedulers create the fabric of Svrluga's intimate and unusual book; they could be from any team or any big-league city. As he writes: "There is no other sport with an everydayness, a drum-drum-drum beat like baseball."
Praise For The Grind: Inside Baseball's Endless Season…
Praise for The Grind

"The best parts of The Grind are both intimate and expansive…contrary to its title, The Grind is a brisk work—it can be read during a nine-inning game—but Svrluga's vignettes are no less affecting for their brevity."—New York Times Book Review

"The Grind looks at the toll that the every-day-for-six-months-with-no-days-off pace takes on all sorts of people associated with the game and the oft-unseen sacrifices the sport requires."—The Wall Street Journal

If every era gets the baseball books it deserves, The Grind is definitely one for ours. Svrluga reveals a culture of nonstop stress: a relentless rhythm of scouting odysseys, training routines, travel monotony, injuries—all before anyone gets out on the field. No wonder these guys are obsessive. But they must also be undaunted. In our distracted, data-saturated age, grittier models of excelling would be hard to find."—The Atlantic

"A little treasure."—Huffington Post
 
"Whether baseball bores you or thrills you, The Grind offers a glimpse into what it feels like to be a part of a rarefied world punctuated as much by failure and frustration as glitz and glamor."—Washington City Paper

"Each subject offers a view into little-seen aspects of the baseball life and provides curious fans with new insight into the elements required to make a MLB game happen. ­VERDICT A quick and enjoyable read for any baseball lover, not just Nationals fans."—Library Journal

"It's no grind whatsoever to read Svrluga's flowing prose. An illuminating and entertaining must-read for the baseball obsessed."—Kirkus Reviews

"Barry Svrluga is quite simply one of the best sports writers in America."—Tony Kornheiser, ESPN
 
"Sleepless pitchers, hopeful nomads, suitcase spouses. These are just some of the very real characters drawn with exquisite, page-turning insight by Barry Svrluga. The Grind enters the pantheon of must-read books about baseball."—Sally Jenkins, The Washington Post

"Baseball generates a rich sediment of numbers, but the one most difficult for fans to appreciate isn't about an exotic achievement -- Ted Williams' .406 or Joe DiMaggio's 56-game hitting streak. Rather, it is 162, the number of games in a season. Readers of Barry Svrluga's splendid book will henceforth watch the game with deepened understanding, and the players with increased admiration."—George F. Will

"In The Grind, Barry Svrluga helps fans understand everything that happens outside the nightly three-hour window of the game—how we prepare, who helps us prepare, and what goes into a major league season. Everyone in the clubhouse knows these stories. Few outside of it do."—Ryan Zimmerman, Washington Nationals infielder
 
"Baseball's daily grind is the game's winnowing test of character. Ballplayers and beat writers know it. Few others do. In The Grind, Barry Svrluga captures this rich side of the sport with more color, detail and insight than anyone before him. Svrluga's writing and reporting makes the game's toughest tasks a smooth pleasure for readers."—Thomas Boswell, author of Why Time Begins on Opening Day and How Life Imitates the World Series
Blue Rider Press, 9780399575952, 208pp.
Publication Date: March 15, 2016
About the Author
Barry Svrluga has worked at the Washington Post since 2003 and is currently the national baseball writer. He previously reported on and blogged about the Washington Nationals and is the author of National Pastime, which details the franchise's relocation from Montreal and its first season in the nation's capital. He lives in Washington, D.C., with his wife and daughter.
or
Not Currently Available for Direct Purchase