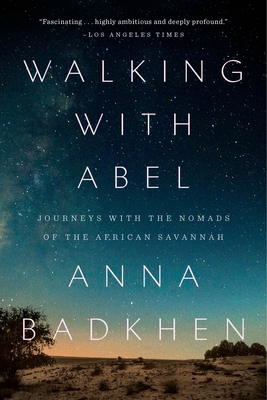 Walking with Abel (Paperback)
Journeys with the Nomads of the African Savannah
Riverhead Books, 9780399576010, 320pp.
Publication Date: August 2, 2016
* Individual store prices may vary.
Description
Look out for Anna Badkhen's new book, Fisherman's Blues: A West African Community at Sea, on sale March 2018

An intrepid journalist joins the planet's largest group of nomads on an annual migration that, like them, has endured for centuries.
 
Anna Badkhen has forged a career chronicling life in extremis around the world, from war-torn Afghanistan to the border regions of the American Southwest. In Walking with Abel, she embeds herself with a family of Fulani cowboys—nomadic herders in Mali's Sahel grasslands—as they embark on their annual migration across the savanna. It's a cycle that connects the Fulani to their past even as their present is increasingly under threat—from Islamic militants, climate change, and the ever-encroaching urbanization that lures away their young. The Fulani, though, are no strangers to uncertainty—brilliantly resourceful and resilient, they've contended with famines, droughts, and wars for centuries.
 
Dubbed "Anna Ba" by the nomads, who embrace her as one of theirs, Badkhen narrates the Fulani's journeys and her own with compassion and keen observation, transporting us from the Neolithic Sahara crisscrossed by rivers and abundant with wildlife to obelisk forests where the Fulani's Stone Age ancestors painted tributes to cattle. As they cross the Sahel, the savanna belt that stretches from the Indian Ocean to the Atlantic, they accompany themselves with Fulani music they download to their cell phones and tales of herders and hustlers, griots and holy men, infused with the myths the Fulani tell themselves to ground their past, make sense of their identity, and safeguard their—our—future.
About the Author
Anna Badkhen has written about wars on four continents, including the conflicts in Afghanistan, Iraq, Somalia, and Chechnya. Her reporting has appeared in The New York Times, The New Republic, Foreign Policy, and other publications. She is the author, most recently, of The World is a Carpet: Four Seasons in an Afghan Village and Walking with Abel: Journeys with the Nomads of the African Savannah. Badkhen lives in Philadelphia.


From the Hardcover edition.
Praise For Walking with Abel: Journeys with the Nomads of the African Savannah…
Praise for Walking with Abel: 

Named a Top Summer Reading Pick by the Los Angeles Times, Playboy, Esquire, Christian Science Monitor, Vol 1. Brooklyn, BBC.com, and Mental Floss

"Badkhen's rich and lucid prose illustrates her journey as vividly as might a series of photographs… By the time readers put the book down, they will have done something remarkable: visited a mostly inhospitable but eminently seductive locale alongside a storyteller able to render the strange and different both familiar and engrossing. Walking With Abel not only takes us somewhere new, it viscerally reminds us that such places still exist in the world."  –Christian Science Monitor

"Fascinating…highly ambitious and deeply profound." –Los Angeles Times 

"Lyrical [and] meditative…[a] tender tribute to a people deeply rooted in the land." –Boston Globe

"[D]isplays the skill of a writer accustomed to telling the stories of those living unimaginable lives." –Ms. Magazine
 
"[Badkhen] who was given the Fulani name Anna Bâ, describes all in graceful prose, word paintings that approach poetry…nearly perfect." –Minneapolis Star-Tribune

"Fascinating." -The Brian Lehrer Show

"Enthralling…Walking with Abel is essential reading." –Dayton Daily News

"Staggeringly vivid… poetic, and tactile...[Walking with Abel] amasses much of its strength from isolated movements taken together. It's a subtle path, but a deeply effective one." –Biographile

"Extraordinarily poetic." -BBC.com

"[The Fulani] live in the here and now in ways the modern world has lost even the memory of, and their story, told with deftly measured, evocative prose and poetically precise detail, slows the reader down to consider just what that means… Badkhen infuses her story with the kind of authenticity only a fellow traveler can know." –BookPage

"We swooned over Anna Badkhen's writing the way we did for Katherine Boo's Behind the Beautiful Forevers." –Shelf Awareness

"Vivid, memorable nonfiction." –Playboy

"A careful rendering of one of the world's last remaining migratory peoples… [Badkhen] uses her credentials as a war reporter with tact, reconditioning readers whose only context for West Africa — and perhaps the continent — is that of violence… She situates the Fulani in relief across centuries and physical space… [and] her richly detailed and delivered observations are crafted with a careful ear for the rhythms of language." – The Los Angeles Review of Books

"An engrossing look into an alien world from the perspective of a writer with a unique story of her own." –Philadelphia Inquirer

"Lyrical … Badkhen combines journalistic observation with deep feeling…The Fulani are individuals, not archetypes. Their journey is both beautiful and difficult… tenderly render[ed]…[and] exquisitely written." –Publisher's Weekly (starred)

"In lyrical and evocative prose, Badkhen writes of the beauty of the land and the sky and the grace and wisdom of the people…readers [will] savor her gentle, elegant story." –Kirkus Reviews

"[Badken] mak[es] Fulani culture come alive as she follows the herders' daily efforts to cope with drought, disease, and death in an often unforgiving landscape...[Walking with Abel] will appeal to anyone interested in Africa's nomadic peoples and readers of memoirs such as Cheryl Strayed's Wild." –Library Journal

"[Badkhen] vividly captures and communicates an increasingly rare and wondrous experience." – Booklist

"Walking with Abel is a rare and extraordinary book.  Anna Badkhen writes with so much precision and soul that practically every line delivers its own revelation.  This intrepid writer has given us more than a window into an ancient, and possibly doomed, way of life; she digs down to the very core of what it means to be human." –Ben Fountain, author, Billy Lynn's Long Halftime Walk, winner of the National Book Critics' Circle Award and finalist for the National Book Award
 
"Lucid, generous, and rugged, Badkhen has written a magisterial book which speaks to us as a species in the early twenty-first century - where have we walked from and where are we walking."
–J.M. Ledgard, author of Submergence
 
"Sumptuously narrated, Badkhen's sojourn compels you to ponder the existential centers of life—love and loss, loyalty and betrayal, courage and fear.  At the end of this riveting tale, the reader not only knows something about the fascinating particularities of Fulani being-in-the -world, but is also inspired by the indomitable resilience of the human spirit."
–Paul Stoller, author of Yaya's Story: The Quest for Well-Being in the World
 
"An amazing saga among the nomadic Fulani in the African Sahel. Badkhen's account is a wondrous tableau of survival in one of the planet's toughest environments, threaded with history, legend, and a wealth of stories."
–Wayne White, Middle East Institute


From the Hardcover edition.