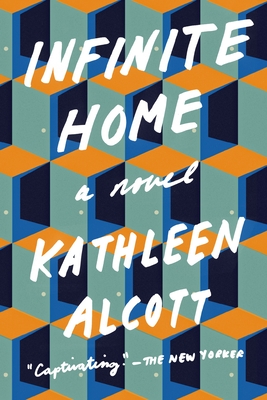 Infinite Home (Paperback)
A Novel
Riverhead Books, 9780399576027, 336pp.
Publication Date: July 26, 2016
Other Editions of This Title:
Digital Audiobook (8/3/2015)
Hardcover (8/4/2015)
Pre-Recorded Audio Player (8/4/2015)
Compact Disc (8/4/2015)
MP3 CD (8/4/2015)
Compact Disc (8/4/2015)
* Individual store prices may vary.
Description
"[E]xpect to find insights that make you stop, go back and read again.... Take it from us: You don't know what's coming in the last third of this book, and you will be astounded." —O, the Oprah Magazine

A beautifully wrought story of an ad hoc family and the crisis they must overcome together.

Edith is a widowed landlady who rents apartments in her Brooklyn brownstone to an unlikely collection of humans, all deeply in need of shelter. Crippled in various ways—in spirit, in mind, in body, in heart—the renters struggle to navigate daily existence, and soon come to realize that Edith's deteriorating mind, and the menacing presence of her estranged, unscrupulous son, Owen, is the greatest challenge they must confront together.

Faced with eviction by Owen and his designs on the building, the tenants—Paulie, an unusually disabled man and his burdened sister, Claudia; Edward, a misanthropic stand-up comic; Adeleine, a beautiful agoraphobe; Thomas, a young artist recovering from a stroke—must find in one another what the world has not yet offered or has taken from them: family, respite, security, worth, love.

The threat to their home scatters them far from where they've begun, to an ascetic commune in Northern California, the motel rooms of depressed middle America, and a stunning natural phenomenon in Tennessee, endangering their lives and their visions of themselves along the way.

With humanity, humor, grace, and striking prose, Kathleen Alcott portrays these unforgettable characters in their search for connection, for a life worth living, for home.
About the Author
Kathleen Alcott is the author of the novel The Dangers of Proximal Alphabets, which was translated into several languages. Her fiction, criticism, and essays appear in publications including The New Yorker, The Los Angeles Review of Books, The Coffin Factory, The Rumpus, ZYZZYVA, and elsewhere. Born in Northern California, she currently resides in Brooklyn.
Praise For Infinite Home: A Novel…
A BEST BOOK OF THE YEAR
Kirkus * Buzzfeed * Huffington Post * Electric Literature * Amazon

"[W]ise, fresh... [T]he joy of reading comes from how these seemingly insular people fall in love and help each other, melding lonely lives into an improvised family. Along the way, expect to find insights that make you stop, go back and read again.... Take it from us: You don't know what's coming in the last third of this book, and you will be astounded." —O, the Oprah Magazine

"Captivating." —New Yorker

"A collection of vividly drawn characters seem to breathe right out of the pages." —Entertainment Weekly

"Don't expect this novel to deliver trite messages about the redemptive power of makeshift families. Yet these damaged characters, in spite of themselves, provide one another with unexpected offerings of consolation and love." —New York Times

"Infinite Home is a story about a handful of people's lives and their excuses not to live them, and how neither our lives nor our excuses can last forever. ….Kathleen Alcott's beautiful telling of their stories is dense with individual sentences that are beautiful all on their own. She's that kind of writer. You might cry. You'll probably cry, actually. (I cried.)" —Gawker

"Alcott's sophomore effort does wonders in building a fragile web of familiarity, and compels the reader to become an extended part of it." —NYLON

"Kathleen Alcott's second novel takes on a big question — what makes a 'home' a 'home'? — and answers with stunning originality.... Beyond this compelling story, Alcott's incredibly accomplished prose is good reason to put Infinite Home at the very top of your to-read list." —Bustle

"Novelist Katheen Alcott calls into question what "home" really means -- is it a physical space populated by the belongings you acquire, or a state of mind achieved when you're surrounded with those you feel most at ease with? In Infinite Home, she posits that it's somehow both." —The Huffington Post

"Infinite Home doesn't disappoint. At turns despondent and darkly funny, Alcott has woven a uniquely beautiful story which challenges the way we view the concept of home… [W]hat Alcott does with her small community is nothing short of magic. Through short scenes, written with an exacting care and beauty, she creates characters that are so well realized that by the novel's end, it's easy to mistake these lost souls for friends, for people that we meet during our everyday constitutionals in the city." —Brooklyn Magazine

"I read straight through its 317 pages in about a day. This is … mainly a direct result of Alcott's page-turning, character-driven prose. [Infinite Home] offers up a story about the quest to find connection, meaning, love and a life that feels all our own." —Brooklyn Based

"Quietly wonderful... Alcott displays a deft hand with every one of her odd and startlingly real characters.... The voices in this book speak volumes. A luminous second novel from a first-class storyteller." —Kirkus (STARRED)

"Alcott's writing has an acute sensory quality, and she's at her imaginative best when describing the small, quotidian moments of her characters' lives…Alcott's writing is generous, and her peculiar cast of characters memorable." —Publishers Weekly 

"A stunningly sensitive exploration of how families are made and unmade, and how the search for one's place in the world can come to define a life. Kathleen Alcott writes characters so achingly real, they will take up permanent residence in your imagination. This novel is the evidence of a wondrous talent at work." —Laura van den Berg, author of The Isle of Youth and Find Me

"Infinite Home is Kathleen Alcott at her lyrical best. In her arresting new novel, she explores the boundaries of family and fraternity, with a Brooklyn brownstone as the nexus of the occupants' interlocking worlds." —Nathan Englander

"Kathleen Alcott is part sculptor and part fire-breather—not only are these characters intricately carved but they stand up, walk right off the page and beckon us into a story that is both vivid and welcoming."  —Ramona Ausubel, author of No One is Here Except All of Us and A Guide to Being Born

"Vibrant, inventive, expansive. Kathleen Alcott has peered through the walls of an everyday apartment building and transformed the private lives of its tenants into pure poetry. Infinite Home is as much a story of those neighbors we may only know in passing, as it is a commentary on the beauty and misfortune of our modern age." —Said Sayrafiezadeh, author of Brief Encounters with the Enemy

"Starting with the first page of Infinite Home, you will feel it: something different, something brave, and something fundamentally amazing about Kathleen Alcott's power over the English language. Every yearning character in this breakout novel is flesh and blood. Alcott's roving heart, and power as a storyteller, may very well be limitless." —Patrick Somerville, author of This Bright River


Praise for Kathleen Alcott:
 
"A wholly original and moving work, a nuanced consideration of the complicated ways in which we love and fail one another." —Emily St. John Mandel, New York Times–bestselling author of Station Eleven
 
"[Alcott] is a skilled storyteller, and her understanding of just how dangerous it can be to love someone worms its way through almost every sentence." —The Boston Globe