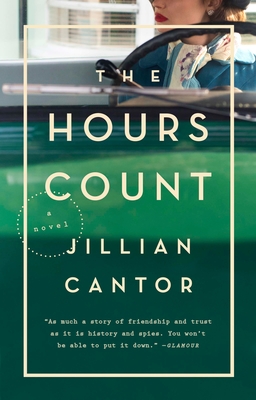 The Hours Count
A Novel
Paperback

* Individual store prices may vary.
Other Editions of This Title:
Digital Audiobook (10/19/2015)
Hardcover (10/20/2015)
Hardcover, Large Print (2/3/2016)
Description
A spellbinding historical novel about a woman who befriends Ethel and Julius Rosenberg, and is drawn into their world of intrigue, from the author of Margot and The Lost Letter

On June 19, 1953, Ethel and Julius Rosenberg were executed for conspiring to commit espionage. The day Ethel was first arrested in 1950, she left her two young sons with a neighbor, and she never came home to them again. Brilliantly melding fact and fiction, Jillian Cantor reimagines the life of that neighbor, and the life of Ethel and Julius, an ordinary-seeming Jewish couple who became the only Americans put to death for spying during the Cold War.

A few years earlier, in 1947, Millie Stein moves with her husband, Ed, and their toddler son, David, into an apartment on the eleventh floor in Knickerbocker Village on New York's Lower East Side. Her new neighbors are the Rosenbergs. Struggling to care for David, who doesn't speak, and isolated from other "normal" families, Millie meets Jake, a psychologist who says he can help David, and befriends Ethel, also a young mother. Millie and Ethel's lives as friends, wives, mothers, and neighbors entwine, even as chaos begins to swirl around the Rosenbergs and the FBI closes in. Millie begins to question her own husband's political loyalty and her marriage, and whether she can trust Jake and the deep connection they have forged as they secretly work with David. Caught between these two men, both of whom have their own agendas, and desperate to help her friends, Millie will find herself drawn into the dramatic course of history.

As Millie—trusting and naive—is thrown into a world of lies, intrigue, spies and counterspies, she realizes she must fight for what she believes, who she loves, and what is right.
Praise For The Hours Count: A Novel…
"Taut, atmospheric and absorbing, this story provides an intimate window into a world most people only know from the headlines."
—Christina Baker Kline, New York Times-bestselling author of Orphan Train
 
"Fraught with tension and wise with empathy, this is the story of a shameful time in our nation's history, but also of friendship, love, and loyalty."
—Laura Moriarty, New York Times-bestselling author of The Chaperone
 
"Utterly gripping and almost unbearably moving. A thought-provoking novel about a terrible aspect of America's recent past, with the pace of a thriller."
—Natasha Solomons, New York Times-bestselling author of The House at Tyneford

"A deeply compelling retelling of Julius and Ethel Rosenberg's famous betrayal.  Beautifully written and meticulously researched, this book will leave you wondering about the intersection of truth and politics, responsibility and love, long after you've finished reading it." 
—Anton DiSclafani, New York Times-bestselling author of The Yonahlossee Riding Camp for Girls

"Fact and fiction are blended in a gripping tale of guilt, innocence, and heartbreak. I was bowled over by her intimate portrait of women in crisis. Jillian has torn pages straight from the history books and transformed them into a riveting story of intrigue, desire, and hope."
—David R. Gillham, New York Times-bestselling author of City of Women

"Flawlessly mixes fact and fiction, drawing the reader into the world of the Lower East Side in the fifties—and the lives of accused Communist spies Ethel and Julius Rosenberg. A finely drawn portrait of McCarthy-era America, by turns heartwarming and haunting."
—Susan Elia MacNeal, New York Times-bestselling author of the Maggie Hope novels

"[A] down-to-the-wire thriller." —New York Times Book Review

"Confession: We kind of love historical novels, and Cantor's is quickly climbing to the top of our all-time faves list.... It's as much a story of friendship and trust as it is history and spies. You won't be able to put it down." —Glamour

"This ambiguity and uncertainty feels true to life and results in a story that is filled with plenty of surprises, where the stakes feel impossibly high and stolen moments mean the most. A domestic spin on a spy thriller, The Hours Count is an affecting and effective piece of historical fiction that begins with readers asking 'What if?' and ends with them wondering 'What might have been?'" —BookPage

"A gorgeous, thrilling novel." —Popsugar

"This intriguing novel that intertwines facts about the Rosenbergs into the life of an average American housewife is highly recommended for historical fiction fans." —Library Journal (STARRED review)

"Cantor mixes fact with fiction to create a moving portrait of two of the most vilified figures in modern history." —Cosmopolitan

"[A] daring and carefully measured look at the McCarthy Communist witch hunt, including the generalized fear of communists and Russians at that time, as well the omnipresent threat of an atom bomb wiping Manhattan off the map." —Jewish Post


Praise for Margot

"Inventive... Cantor's 'what-if' story combines historical fiction with mounting suspense and romance, but above all, it is an ode to the adoration and competition between sisters." —O, The Oprah Magazine

"Psychologically subtle, satisfyingly suspenseful, and sensitively written."
—Margaret George, New York Times–bestselling author of Elizabeth I: The Novel
Riverhead Books, 9780399576041, 368pp.
Publication Date: August 30, 2016
About the Author
Jillian Cantor has a BA in English from Penn State University and an MFA from the University of Arizona. She is the author of award-winning novels for teens and adults, including, most recently, the critically acclaimed The Hours Count and Margot, which was a Library Reads pick. Born and raised in a suburb of Philadelphia, Cantor currently lives in Arizona with her husband and two sons.
or
Not Currently Available for Direct Purchase