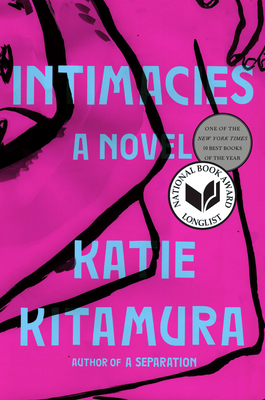 Intimacies
A Novel
Hardcover

* Individual store prices may vary.
Other Editions of This Title:
Digital Audiobook (7/19/2021)
Library Binding, Large Print (12/1/2021)
Description
A NEW YORK TIMES TOP 10 BOOK OF 2021

LONGLISTED FOR THE 2021 NATIONAL BOOK AWARD IN FICTION

ONE OF BARACK OBAMA'S FAVORITE 2021 READS

AN INSTANT NATIONAL BESTSELLER

A BEST BOOK OF 2021 FROM Washington Post, Vogue, Time, Oprah Daily, New York Times

"Intimacies is a haunting, precise, and morally astute novel that reads like a psychological thriller…. Katie Kitamura is a wonder." —Dana Spiotta, author of Wayward and Eat the Document

"One of the best novels I've read in 2021." – Dwight Garner, The New York Times

A novel from the author of A Separation, an electrifying story about a woman caught between many truths.

An interpreter has come to The Hague to escape New York and work at the International Court. A woman of many languages and identities, she is looking for a place to finally call home.
 
She's drawn into simmering personal dramas: her lover, Adriaan, is separated from his wife but still entangled in his marriage. Her friend Jana witnesses a seemingly random act of violence, a crime the interpreter becomes increasingly obsessed with as she befriends the victim's sister. And she's pulled into an explosive political controversy when she's asked to interpret for a former president accused of war crimes.
 
A woman of quiet passion, she confronts power, love, and violence, both in her personal intimacies and in her work at the Court. She is soon pushed to the precipice, where betrayal and heartbreak threaten to overwhelm her, forcing her to decide what she wants from her life.
Praise For Intimacies: A Novel…
Praise for Intimacies

"[C]ooly written and casts a spell… One of Kitamura's gifts… is to inject every scene with a pinprick of dread…. One of the best novels I've read in 2021… A taut, moody novel that moves purposefully between worlds." —Dwight Garner, New York Times

"[I]ntense, unsettling… Intimacies is very much a story that seems to be something familiar but soon morphs into something disorientingly strange…. [W]ith her Jamesian attention to the slightest movement of bodies and words, Kitamura keeps Intimacies rooted to the ordinary domestic experiences of her narrator, her petty jealousies, her passing suspicions. The effect is a kind of emotional intensity that's gripping because it feels increasingly unsustainable. Who could endure that raw-nerve sensitivity to the power of language to love, to deceive, to promise, to kill? Kitamura pulls us through a rising panic of hyper-awareness until the story's fever finally breaks with a note of hope and relief. But that can't quell the novel's reverberations, which expose something incomprehensible about the moral dimensions of modern life." —Ron Charles, Washington Post

"A master of cool disquiet... Kitamura writes with forceful, direct prose that makes for a bracing read and leaves the reader mesmerized." —Lauren Mechling, Vogue

"[A] thriller of a novel.... In exploring how one's proximity to power and violence can hold endless repercussions, Kitamura interrogates how our intimacies can change the course of our lives." —Time

"Calling all Rachel Cuskheads and W.G. Sebald stans! Kitamura is a novelist of enchanting imagination and minimalist prose style.... The novel's plot twists are of the subtle, jaw-tightening variety rather than the dramatic, stomach-knotting sort, but it's still fair to call it a 'psychological thriller.' Intimacies is for those who like their addictive novels to sneak up behind them rather than slap them in the face." —Molly Young, Vulture

"[A] gorgeous, destabilizing meditation on the power differentials built into language and the gradual distortions of our emotional allegiances." —Raven Leilani, Vulture

"An amazing book, beautiful and captivating'" —Elif Shafak
 
"In spare and elegant prose, Kitamura limns  her unnamed protagonist's search for home and gifts us a powerful, beautiful book." —Chika Unigwe

"Spellbinding... thrilling... nothing short of magnificent." —Financial Times
 
"Just under 250 pages but packs a powerful punch. Beautifully written and mysterious." —Real Simple

"Fans of sparse millennial tales: Run, don't walk." —Entertainment Weekly

"In her unforgettable 2017 A Separation, Kitamura took her protagonist to the edge of an island in the Mediterranean; in her new and equally unforgettable novel, she places an interpreter in the middle of The Hague. This woman is also embroiled in many dramas, personal and professional, forcing her to choose a path and an identity." —Bethanne Patrick, Washington Post

"[S]pare, diamond-cut prose…reveals the pretty lies we tell about community and morality." —Oprah Daily

"Katie Kitamura dazzles us again with Intimacies. Her style is so perfectly suited to my taste that everything she writes impresses. Her ability to impart vivacious detail with sparse and direct prose is a testament to her talent, and the moments that she is able to create between characters and places are memorable and beautiful. This book has stuck with me for months now, and I think of it often in the small moments of intimacy I find in my life." —Buzzfeed

"A strange and mesmerizing tale about language, understanding, and the role of strangers in our most intimate moments." —Bookriot

"There's a restrained intensity to Katie Kitamura's prose, one that made her last novel, the superb divorce-meets-mystery drama A Separation, feel like you were reading it in the eye of a tornado, the tight, muted sentences suggesting an overwhelming tempest just beyond them. It's that willingness to keep readers at an intriguing distance before revealing the messy emotions driving it all that should serve her well in the new book, Intimacies, about a woman trying to escape her past." —A.V. Club

"Though it has all the ingredients for a story of global intrigue…what Katie Kitamura's new novel, Intimacies, really does is offer intrigue of a more, well, intimate sort. This is the kind of book that quickens the pulse not because of logic-defying plot twists, but rather because of how surgically precise it is in revealing how our emotional realities take on epic dimensions in our own minds, and often threaten our stability in the precise ways that things of global import rarely do….psychologically disconcerting — like all the very best thrillers." —Refinery29

"Intimacies is a haunting, precise, and morally astute novel that reads like a psychological thriller. It expertly and concisely delves into the paradoxes of language—how language can obscure our own complicity, and how language can enable us to escape our own delusions. Katie Kitamura is a wonder; her work is striking, stylish, and fully realized." —Dana Spiotta, author of Innocents and Others and Eat the Document

"Gripping and elegant. No one's work simmers with emotional complexity like Katie Kitamura's." —Mira Jacob, author of Good Talk

"A novel about the ruthlessness of power, the check of virtue, and the purportedly neutral bureaucracy meant to mediate between them. Katie Kitamura is among the most brilliant and profound writers at work today; she reminds me how high the moral stakes of fiction can be." —Garth Greenwell, author of Cleanness and What Belongs to You

"Katie Kitamura writes about being an outsider like no other author. Quiet moments are charged with tension and power. In short, the book is remarkable - beautifully written and intelligent." —Avni Doshi, author of Burnt Sugar

"Intimacies is a perfect novel—taut and seductive. Kitamura has made the existential thriller all her own, and she effortlessly negotiates the personal and the geopolitical with a complex moral nuance. Simply stunning." —Brandon Taylor, author of Real Life and Filthy Animals

"Saturated with enigmatic longing, Intimacies peels back the layers of sympathy, antipathy, and morality that both connect and divide us from others, unearthing something precious beneath. Katie Kitamura is a revelatory interpreter of the human heart, in all its brilliance and obscurity." —Alexandra Kleeman, author of You Too Can Have a Body Like Mine

"Katie Kitamura's voice — spare, electric, evocative — could take me anywhere. Especially into this landscape of global wanderers, uprooted women, fragmented souls. Intimacies is a singular pleasure — a dangerous, seductive, dagger of a novel." —Danzy Senna, author of Caucasia and New People

"Katie Kitamura's beautifully wrought novel is tense and suspenseful, a mystery about human choices. From its protagonist's work as an interpreter at the Hague, from crimes against humanity, to friendship and a love affair, the interpreter can't escape questions of judgment and justice. She balances tenuously on an ethical scale, while interpretation itself is brilliantly employed as the faulty method that subsumes all communication. Like a work by Graham Greene, INTIMACIES kept me in its tight grip." —Lynne Tillman, author of Men and Apparitions

"Like her protagonist, Kitamura... is a master of precisely evocative language. In her work and in her isolation, the interpreter recognizes how familiarity can obscure intimacy, while its lack can yet lead to discomfiting proximity. The novel takes places so deeply within her that it's truly personlike, at once forthright and mysterious, a piercing and propulsive meditation on closeness of many sorts." —Booklist (STARRED review)

"A watchful, reticent woman sees peril and tries not to vanish… It's a delight to accompany the narrator's astute observational intelligence through these pages… She hears and doesn't hear the words amid her focus, just as she sees and doesn't completely register events in her everyday life…This is the crux of Kitamura's preoccupation. She threads it brilliantly through the intimacies her character is trying to navigate: with new colleagues, women friends, and her beau, who goes away; with the work and with the nature of The Hague itself…The novel packs a controlled but considerable wallop, all the more pleasurable for its nuance. This psychological tone poem is a barbed and splendid meditation on peril." —Kirkus (STARRED review)



Praise for A Separation

"Kitamura is a writer with a visionary, visual imagination… In A Separation, [she] has made consciousness her territory. The book is all mind, and an observant, taut, astringent mind it is." —The New Yorker

"A slow burn of a novel that gathers its great force and intensity through careful observation and a refusal to accept old, shopworn narratives of love and loss." —Jenny Offill, author of Dept. of Speculation and Weather

"The burnt landscape, the disappearance of a man, the brilliantly cold, precise, and yet threatening, churning tone of the narrator—make A Separation an absolutely mesmerizing work of art." —Rachel Kushner, author of The Flamethrowers

"Fascinating, artful and atmospheric." —Paula McLain, Parade magazine

"Unsettling… Kitamura traces the narrator's thoughts in sentences striking for their control and lucidity, their calm surface belied by the instability lurking beneath… The more the narrator tells us, the less we trust her. And the less we trust her, the more this hypnotic novel compels us to confront the limits of what we, too, can know." —O, the Oprah Magazine

"A novel so seamless, that follows its path with such consequence, that even minor deviations seem loaded with meaning. Wonderful." —Karl Ove Knausgaard, author of My Struggle

"Accomplished… a coolly unsettling work." —New York Times Book Review

"Kitamura's prose gallops, combining Elena Ferrante-style intricacies with the tensions of a top-notch whodunit." —Elle

"Kitamura weaves a novel of quiet power, mostly due to a narrative voice that is so subtly commanding—so effortlessly self-aware and perceptive, teeming with dry yet empathetic humor—that it's a challenge not to follow her journey in a single sitting." —Harper's Bazaar

"Katie Kitamura breathes new life into the theme of marital breakdown." —The New Republic
Riverhead Books, 9780399576164, 240pp.
Publication Date: July 20, 2021
About the Author
Katie Kitamura's most recent novel, A Separation, was a finalist for the Premio Gregor von Rezzori and a New York Times Notable Book. It was named a best book of the year by over a dozen publications and translated into sixteen languages, and is being adapted for film. Her two previous novels, Gone to the Forest and The Longshot, were both finalists for the New York Public Library's Young Lions Fiction Award. A recipient of fellowships from the Lannan Foundation and Santa Maddalena Foundation, Katie has written for publications including The New York Times, The Guardian, Granta, BOMB Magazine, Triple Canopy, and Frieze. She teaches in the creative writing program at New York University.