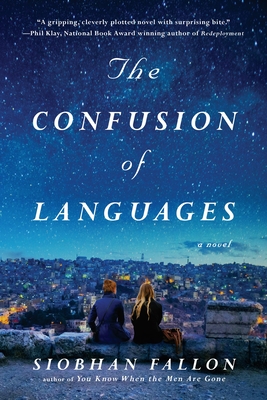 The Confusion of Languages
Paperback

* Individual store prices may vary.
Other Editions of This Title:
Digital Audiobook (6/26/2017)
Description
"A gripping, cleverly plotted novel with surprising bite."--Phil Klay

From the award-winning author of You Know When the Men are Gone comes a searing debut novel about jealousy, the unpredictable path of friendship, and the secrets kept in marriage.

Two women far from home. One terrible misunderstanding.

Both Cassie Hugo and Margaret Brickshaw dutifully followed their soldier husbands to the U.S. embassy in Jordan, but that's all the women have in common. After two years, Cassie's an expert on the rules, but newly arrived Margaret sees only her chance to explore. So when a fender-bender sends Margaret to the local police station, Cassie reluctantly agrees to watch Margaret's toddler son. But as the hours pass, Cassie's boredom and frustration turn to fear: Why isn't Margaret answering her phone? Soon Cassie begins to question not only her friend's whereabouts but also her own role in Margaret's disappearance.

Set within the U.S. expat community of the Middle East during the rise of the Arab Spring, The Confusion of Languages plunges readers into a shattering collision between two women and two worlds, affirming Siobhan Fallon as a powerful voice in American fiction and a storyteller not to be missed.

"Mesmerizing and devastating....Two military wives must explore a modern-day, cultural labyrinth in this insatiable read."--Sarah McCoy
Praise For The Confusion of Languages…
"Explores friendships, parenting, and the civilian/military divide. . . . The more we can shrink the yawning chasm between families' experiences, the better for us all." —The Washington Post

"An incisive examination of friendship and betrayal and a skillful mingling of cultural and domestic themes."—Booklist (starred review)

"A gripping, cleverly plotted novel with surprising bite."—Phil Klay, author of Redeployment

"Mesmerizing and devastating. . . Two military wives must explore a modern-day, cultural labyrinth. An insatiable read that will leave you breathless."—Sarah McCoy, author of The Mapmaker's Children

"Fallon's fast-paced, compelling story doesn't sacrifice nuance or sensitivity . . . Piercing and precise." —Florida Times-Union

"[T]hese women...are honest and well-formed characters . . . Page-turning and rich in detail, this is a solid, insightful debut."—Kirkus Reviews

"Cerebral but still taut with suspense . . . this novel's sophisticated pacing and emotional core set it apart from the pack."—ShelfAwareness

"Touching. . . . A moving work about desire and the dislo­cation one might experience in a foreign land." —BookPage

"Fallon's novel has the irresistible force of a whirlpool."—David Abrams, author of Fobbit

"Gripping."—Southern Living

"Exquisite."—Bustle

"This gripping personal tale of a friendship gone wrong brings our larger political blunders, blindness, and naiveté in the Middle East to light."—Laura Harrington, author of Alice Bliss

"The world of military families may be unfamiliar to civilians, but Fallon writes about it brilliantly, charting its strict hierarchies, emotional complexities, and fierce loyalties with the intelligence and deep compassion they deserve." —Roxana Robinson, author of Sparta 

"Both a page-turning mystery and a riveting character study in the vein of Henry James or Patricia Highsmith. Tense, intriguing, smart, witty, set in an exotic locale, and full of barbed insights into the nature of friendship and marriage. "—Andria Williams, author of The Longest Night

"Fallon's ability to see into the living rooms, kitchens, and bars of Americans buffeted by their country's wars makes her one of the most important observers of the American present."—Matti Friedman, author of Pumpkinflowers: A Soldier's Story

"Evocative of the film Babel, The Confusion of Languages is layered, rich with meaning, and compelling right up to a final sentence so right and perfect that it resonates long after closing the book."—Elizabeth Marro, author of Casualties

"Fallon writes with authority and grace, and her characters are so compelling and complex."—Emily Jeanne Miller, author of The News from the End of the World
G.P. Putnam's Sons, 9780399576416, 368pp.
Publication Date: June 5, 2018
About the Author
Siobhan Fallon is the author of You Know When the Men Are Gone, which won the PEN Center USA Literary Award in Fiction, the Indies Choice Honor Award, and the Texas Institute of Letters Award for First Fiction. Her writing has appeared in The Washington Post Magazine, Woman's Day, Good Housekeeping, Military Spouse, The Huffington Post, and NPR's Morning Edition, among others. She and her family moved to Jordan in 2011, and they currently live in Abu Dhabi, United Arab Emirates.
or
Not Currently Available for Direct Purchase