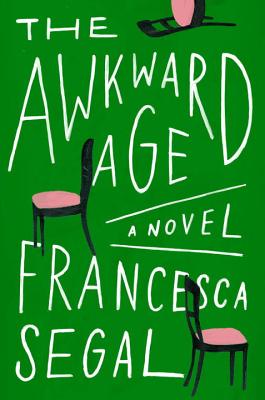 The Awkward Age
A Novel
Hardcover

* Individual store prices may vary.
Other Editions of This Title:
Digital Audiobook (5/15/2017)
Paperback (5/15/2018)
Hardcover, Large Print (10/18/2017)
Description
"A very smart, soulful, compelling, elegantly written domestic novel about a wedged-together family, and what can go wrong when teenage children decide they have minds (and hormones) of their own." —Nick Hornby 

"A spry and accomplished comedy of manners." —The New York Times Book Review

"They've chosen the one thing that will make our family life impossible. It's genius really, when you think about it. It's the perfect sabotage."
 
Julia Alden has fallen deeply, unexpectedly in love. American obstetrician James is everything she didn't know she wanted--if only her teenage daughter, Gwen, didn't hate him so much. Uniting two households is never easy, but when Gwen turns for comfort to James's seventeen-year-old son, Nathan, the consequences will test her mother's loyalty and threaten all their fragile new happiness.

This is a moving and powerful novel about the modern family: about starting over; about love, guilt, and generosity; about building something beautiful amid the mess and complexity of what came before. It is a story about standing by the ones we love, even while they make mistakes. We would give anything to make our children happy. But how much should they ask?
Praise For The Awkward Age: A Novel…
"[A] spry and accomplished comedy of manners … the prose suggests … a sense of fingers running lightly across black and white keys, playing the notes of familial discord with impeccable harmony and precision." —The New York Times Book Review

"This page-turner is witty, compassionate and wickedly astute." —People

"A very smart, soulful, compelling, elegantly written domestic novel about a wedged-together family, and what can go wrong when teenage children decide they have minds (and hormones) of their own." —Nick Hornby for The Guardian

"A smart and droll domestic drama reminiscent of the work of those two magical Lauries, Laurie Colwin and Lorrie Moore." —Fresh Air, NPR

"Riveting and hilarious…Segal has crafted a page-turner with great prose, humor, and a lot of soul." —Interview Magazine

"The complexities of the modern family are laid bare in this witty and often darkly comical tale that navigates all of the awkward phases of life." –Providence Journal

"A modern-day Brady Bunch... Segal paints a sympathetic and funny picture of what it means to find love after having children." —PureWow 

"Engaging and absorbing, with moments of clever comedy elegantly slotted into each scene, it's our pick for a beach read that's not overly flitty." —goop

"Deliciously plotted… At its heart, The Awkward Age suggests that its nimble title unfortunately applies to all stages of life." –Refinery29

"If you're craving drama, this book is for you!" —Bustle

"A great premise for a novel, and Segal handles it expertly...everyday family interactions... are observed warmly and yet with hawk-like precision." —The Guardian

"Magnificent... a narrative that's never anything less than gripping. " —The Independent

"[Explores] themes of non-nuclear family life, the everyday fractures and renovations inherent to relationships of any kind, amid moments of pitch-perfect comic tension." —The Financial Times

"Segal is a sharp observer of the tribulations of teenage love and modern relationships…this book is a lively, quick-witted performance." —Sunday Times

"Segal's elegant second novel is an entertaining look at the messy business of trying to be a family in emotionally trying circumstances… Irresistible." —The Mail on Sunday

"Segal's prose is clear and precise and the novel is so engrossing it's hard to put down." —Kirkus (starred review)
 
"Readers who enjoyed... the works of Meg Wolitzer and Matthew Norman will adore this frank and unfiltered glimpse inside one family's struggles and successes." —Booklist (starred review)

"Prize-winning author Segal offers no easy answers in this compassionate novel that surprises until the very end." —Library Journal (starred review)

"This observant comedy of manners about a contemporary blended family by the author of The Innocents is deepened by the author's compassion for her self-deluded characters . . . If adolescence is 'fraught with awkwardness,' Segal ably demonstrates that adulthood is as well." —Publishers Weekly

"A blended and nuanced narrative that adeptly illustrates the interconnectedness of this family (whether they like and admit it or not) and their steadily shifting circumstances." —Book Reporter

"Francesca Segal is precise and funny, and The Awkward Age is brimming with keen observations of the highest order—the clever, the sore, and the sublime." —Emma Straub, New York Times­-bestselling author of Modern Lovers and The Vacationers

"Francesca Segal is incisive on modern lives, penetrating and thoughtful—and yet always joyfully entertaining and stylishly readable." —Naomi Alderman, author of The Power

"By turns tender, brutal, mordantly funny, and heartbreaking, The Awkward Age is preternaturally knowing about fractured families, and young, middle-aged, and elder love. Every sentence is gorgeously, masterfully written. I loved it as I've loved no other recent novel. Francesca Segal is a major novelist."—Peter Nichols, nationally bestselling author of The Rocks
 
"A beguiling story about the oceans between family members, generations, and continents and the journeys we make to reach each other on the other side." —Ramona Ausubel, author of Sons and Daughters of Ease and Plenty and No One is Here Except All of Us
Riverhead Books, 9780399576454, 368pp.
Publication Date: May 16, 2017
About the Author
Francesca Segal is an award-winning writer and journalist. Her first novel, The Innocents, won the Costa First Novel Award, the National Jewish Book Award for Fiction, the Sami Rohr Prize, and a Betty Trask Award, and was long-listed for the Baileys Women's Prize for Fiction (formerly the Orange Prize).