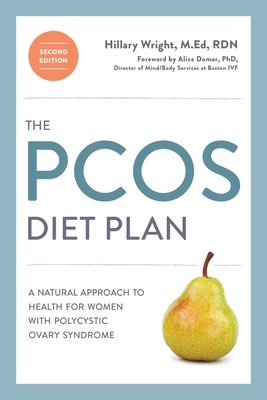 The PCOS Diet Plan, Second Edition
A Natural Approach to Health for Women with Polycystic Ovary Syndrome
Paperback

* Individual store prices may vary.
Description
An updated edition of registered dietitian Hillary Wright's popular book on nutrition and lifestyle management of PCOS, this prescriptive guide focuses on using diet and exercise to manage polycystic ovary syndrome and has new information on diet therapy and exercise, current food and fitness logging technologies, and all-new nutrition-backed meal plans.

PCOS is the most common hormonal disorder among women of reproductive age, according to the Mayo Clinic. Characterized by numerous small cysts in the ovaries, PCOS affects up to 10 percent of all women and 14 million women in the United States alone. It is linked to infertility, diabetes, heart disease, and endometrial cancer. While this disorder is believed to be genetic and incurable, it is controllable.
In this prescriptive plan, dietitian Hillary Wright demystifies the condition by explaining its underlying cause--insulin resistance--and helps readers understand how diet and lifestyle can influence reproductive hormones and decrease risk for diabetes, heart disease, and infertility. This book is packed with simple dietary and nutritional specifics: day-to-day strategies, sample meal plans, and shopping and snack lists. Updates include new information on diet therapy and exercise, the newest research on PCOS and soy and dairy, revised meal plans, and updated resources and shopping lists. The PCOS Diet Plan is the most comprehensive and authoritative guide to managing this increasingly diagnosed condition.
Praise For The PCOS Diet Plan, Second Edition: A Natural Approach to Health for Women with Polycystic Ovary Syndrome…
"Hillary Wright's book on PCOS is a must-read for the millions of women affected by this common disorder. It not only explains the why of PCOS, but offers practical solutions that are critical to beat the disorder. This book empowers women to understand their bodies and live longer and healthier lives."
--Michael M. Alper, MD, Associate Clinical Professor of Obstetrics and Gynecology, Harvard Medical School


"This comprehensive, researched-based resource demystifies PCOS and offers hope to women with the condition. Wright's wealth of professional knowledge shines through on every page, and I am particularly impressed by how deftly she translates the latest scientific studies about PCOS into specific diet and lifestyle advice that's easy to incorporate into your daily routine."
--Elizabeth M. Ward, MS, RD, author of Expect the Best: Your Guide to Healthy Eating Before, During, and After Pregnancy

Ten Speed Press, 9780399578182, 288pp.
Publication Date: May 2, 2017
About the Author
HILLARY WRIGHT is the director of nutritional counseling at the Domar Center for Mind/Body Health at Boston IVF, a Harvard-affiliated fertility treatment center. She is a registered and licensed dietitian with more than twenty years experience counseling clients on diet and lifestyle change. Wright serves part-time as a nutritionist at the Dana Farber Cancer Institute in Boston. She is also a former contributing editor and regular writer for the newsletter Environmental Nutrition.