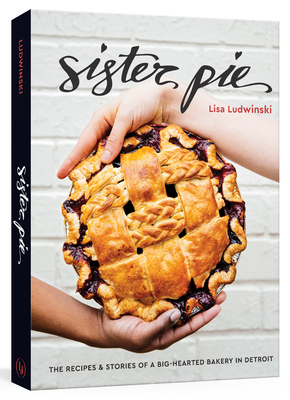 Sister Pie
The Recipes and Stories of a Big-Hearted Bakery in Detroit [A Baking Book]
Hardcover

* Individual store prices may vary.
Description
A bursting-with-personality cookbook from Sister Pie, the boutique bakery that's making Detroit more delicious every day.

"Everything you want in a pie cookbook: careful directions, baker's secret tips, inspired combinations, and a you-can-do-it attitude."—Chicago Tribune

IACP AWARD FINALIST • NAMED ONE OF THE BEST COOKBOOKS OF THE YEAR BY THE NEW YORK TIMES AND CHICAGO TRIBUNE

At Sister Pie, Lisa Ludwinski and her band of sister bakers are helping make Detroit sweeter one slice at a time from a little corner pie shop in a former beauty salon on the city's east side. The granddaughter of two Detroit natives, Ludwinski spends her days singing, dancing, and serving up a brand of pie love that has charmed critics and drawn the curious from far and wide. No one leaves without a slice—those who don't have money in their pockets can simply cash in a prepaid slice from the "pie it forward" clothesline strung across the window. With 75 of her most-loved recipes for sweet and savory pies—such as Toasted Marshmallow-Butterscotch Pie and Sour Cherry-Bourbon Pie—and other bakeshop favorites, the Sister Pie cookbook pays homage to Motor City ingenuity and all-American spirit. Illustrated throughout with 75 drool-worthy photos and Ludwinski's charming line illustrations, and infused with her plucky, punny style, bakers and bakery lovers won't be able to resist this book.
Praise For Sister Pie: The Recipes and Stories of a Big-Hearted Bakery in Detroit [A Baking Book]…
"Bring the wisdom, quirkiness, and fun of the bakery to your home kitchen, and become a better baker along the way."—Epicurious

"Spend five minutes with this book and you will want to befriend author Lisa Ludwinski. The book, like the Detroit bakery it's named for, celebrates community spirit, a serious love of baking, and a playfulness (Ludwinski hosted a 24-hour dance party to raise funds to open the bakery). Pies are organized here by season and are anything but ho hum, with options like blueberry plum balsamic pie and cardamom squash tahini pie."—Food & Wine

"Eater's own national critic Bill Addison says Detroit's Sister Pie is the best pie shop in the U.S. This fact would be reason enough to order Sister Pie's first cookbook, a gorgeously photographed and honestly written account of one team's dedication to flaky pie crust, seasonal fruit, and unique pie-adjacent pastries. But the recipes will also appeal to bakers looking for new inspiration."—Eater

"Lisa Ludwinski, who honed her baking skills at Milk Bar and Four and Twenty Blackbirds in New York before opening her bakery in Detroit, has filled Sister Pie with 45 thrilling pie recipes, like blueberry-plum balsamic, toasted-marshmallow butterscotch and malted lime. For the anxious pie maker, she includes detailed instructions that are mercifully easy to follow. But it's not all pies: Thirty recipes for equally adventurous baked goods (peanut butter-smoked paprika cookies, rhubarb blondies) round out this bursting-at-the-seams book."—The New York Times

"This stunning cookbook showcases the work of Lisa Ludwinski, whose recipes are nothing less than heartfelt."—Food Network

"We'd visit Detroit just to eat at this pie shop."—Bon Appétit

" I've often made the three-hour trip to Detroit just to bring back pies from Sister Pie. Lisa Ludwinski's crust is magic. But Sister Pie isn't just about the baked goods and pie (even though it's the best pie I've ever had). It's about the community of the kitchen, the neighborhood, and the incredible city of Detroit. Get the book, make the pie, and let Lisa's story and optimism inspire you."—Jeni Britton Bauer, cofounder of Jeni's and author of Jeni's Splendid Ice Creams at Home

"This isn't just a book of Sister Pie's best recipes, it's a testament to what happens when you build a business that has more than one bottom line. This is a book about a community and about how sustaining community can be so sweet (. . . and savory)."—Julia Turshen, author of Now & Again, Feed the Resistance, and Small Victories

"I've yet to find a more lovely place in Detroit than this kitchen full of women making pies. We're all so lucky that Lisa has distilled her baking magic into a book that we can bake (and dance) our way through at home."—Joy the Baker, author of Joy the Baker Over Easy

"A friendly guide for all things related to fillings and crusts, both sweet and savory. . . . Complete with photographs, helpful hints like "paperclipping" cherries to remove their pits, and uplifting writing ("You did it! You are now ready to fill the pie"), this book will motivate readers to become their own master pie makers."—Publishers Weekly
Lorena Jones Books, 9780399579769, 256pp.
Publication Date: October 2, 2018
About the Author
LISA LUDWINSKI is the owner and head baker at Sister Pie, which she started out of her parents' kitchen. Before opening the shop, she trained at Milk Bar and Four and Twenty Blackbirds in New York and Brooklyn, respectively. She has been featured widely in national press, including a six-page feature in Bon Appétit, has twice been a semifinalist for a James Beard award, and makes the pies for Shake Shack's Detroit location.