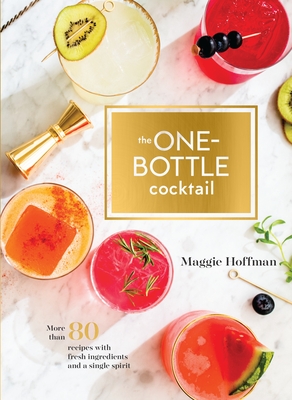 The One-Bottle Cocktail
More than 80 Recipes with Fresh Ingredients and a Single Spirit
Hardcover

* Individual store prices may vary.
Description
A collection of more than 80 wonderfully creative, fresh, and delicious cocktails that only require a bottle of your favorite spirit, plus fresh ingredients you can easily find at the market.

In The One-Bottle Cocktail, Maggie Hoffman brings fancy drinking to the masses by making cocktails approachable enough for those with a tiny home bar. Conversational and authoritative, this book puts simple, delicious, and inventive drinks into your hands wherever you are, with ingredients you can easily source and no more than one spirit. Organized by spirit--vodka, gin, agave, rum, brandy, and whiskey--each chapter offers fresh, eye-opening cocktails like the Garden Gnome (vodka, green tomato, basil, and lime), Night of the Hunter (gin, figs, thyme, and grapefruit soda), and the Bluest Chai (rye whiskey, chai tea, and balsamic vinegar). These recipes won't break the bank, won't require an emergency run to the liquor store, and (best of all!) will delight cocktail lovers of all stripes.
Praise For The One-Bottle Cocktail: More than 80 Recipes with Fresh Ingredients and a Single Spirit…
"When it comes to my home bar, I keep things simple. I've got my basic spirits, along with just enough bottles to make me and my wife's favorite drinks. This makes many modern cocktail recipes troublesome. The One-Bottle Cocktail solves my problem: it's a book that will at once simplify your entertaining while simultaneously making it so much more rewarding." -- J. Kenji López-Alt, author of The Food Lab
 
"Maggie proves that delicious cocktails don't have to be complicated. These are professional-grade tricks that can help even the most entry-level home bartender put a culinary cocktail in everyone's hand." -- Jeffrey Morgenthaler, author of The Bar Book
 
"These recipes bring two of my favorite food trends into the world of drinking: simplicity and seasonality. If I want a drink that requires twelve obscure spirits, I'll order it at a bar. This book is coming with me to the farmers' market." -- Ari Shapiro, host of NPR's All Things Considered

"The One-Bottle Cocktail makes it easy to figure out how to polish off that lingering liter of rum and is guaranteed to expand your cocktail repertoire for your go-to bottle. It does so by forging surprising, nuanced, eminently sippable flavors from commonplace liquors and fresh fruits, herbs, and other seasonal ingredients, as well as vinegars, spices, and sodas. This is the kind of book that every home cocktail-maker should keep on their shelf." -- Niki Achitoff-Gray, Serious Eats
 
"Now, thanks to Hoffman, you even if your liquor cabinet and your bank account are nearly empty, you can mix a damn good drink." -- Playboy.com

"These inexpensive, easy recipes will make cocktail drinkers out of the non-believers." -- Epicurious

"Consult this booze bible for easy new twists on classic summer cocktails." -- Cosmopolitan

Praise for Maggie Hoffman:
"I'm often asked for advice on stocking your home bar, and I have a kindred spirit in Maggie Hoffman, who preaches the gospel of building it one bottle at a time. Hoffman has been on the frontline of the modern craft cocktail movement, serving as a trusted, expert resource who helped demystify the often confusing and complicated world of spirits, giving at-home cocktail aficionados the inspiration to take their game to the next level." -- Brad Thomas Parsons, author of Bitters and Amaro

"Not knowing what cocktail to make at home is a problem I run into a lot, and if it were socially acceptable, Maggie Hoffman would be the person I'd text every time I needed saving from another boring G&T. She has an excellent palate and knows her ingredients, but more than that, she also knows what 'normal' people have in their kitchens and that cocktails don't need to be anything intimidating." -- Anna Roth, San Francisco Chronicle and Eater.com contributor
Ten Speed Press, 9780399580048, 192pp.
Publication Date: March 6, 2018
About the Author
MAGGIE HOFFMAN writes about cocktails, wine, and beer for the James Beard Award-winning website Serious Eats, where she founded the drinks section in 2011 and served as managing editor. Hoffman has written for Wine Enthusiast, the San Francisco Chronicle, and San Francisco Magazine, as well as the websites of Saveur, Food & Wine, and others. She lives in San Francisco with her husband, daughter, and more than a few bottles of booze.