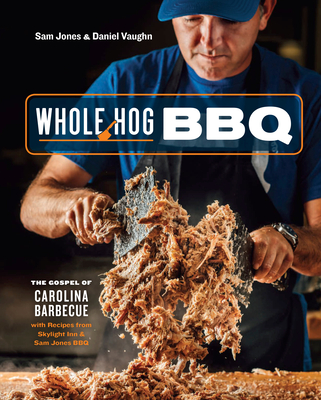 Whole Hog BBQ
The Gospel of Carolina Barbecue with Recipes from Skylight Inn and Sam Jones BBQ [A Cookbook]
Hardcover

* Individual store prices may vary.
Description
The definitive guide to one of the most iconic barbecue traditions—Carolina-style chopped pork—from the third generation pitmaster of Sam Jones BBQ and the legendary Skylight Inn, featuring more than 20 family recipes for large-batch barbecue, sides, and desserts.
 
In the world of barbecue, Carolina-style pork is among the most delicious and obsessed-over slow-cooked meats. Yet no one has told the definitive story of North Carolina barbecue—until now. In Whole Hog BBQ, Sam Jones and Daniel Vaughn recount the history of the Skylight Inn, which opened in 1947, and share step-by-step instructions for cooking a whole hog at home—from constructing a pit from concrete blocks to instructions for building a burn barrel—along with two dozen classic family recipes including cornbread, coleslaw, spare ribs, smoked turkey, country-style steak, the signature burger, and biscuit pudding.
Praise For Whole Hog BBQ: The Gospel of Carolina Barbecue with Recipes from Skylight Inn and Sam Jones BBQ [A Cookbook]…
"This is a new kind of book about a very old craft. A portrait of a place, a document of a cooking style, and a narrative of a family, Whole Hog BBQ is an honest, revealing, and generous story that sets the standard all future books on the subject will aim to meet." —John T. Edge, author of The Potlikker Papers: A Food History of the Modern South
 
"As someone who calls Eastern North Carolina home, the Skylight Inn has long been a source of pride for me. The Joneses are a singular voice in barbecue culture, and Sam is the family's whole hog, chewy cornbread, and sweet slaw evangelist. I guess that makes this book barbecue scripture!" —Vivian Howard, author of Deep Run Roots and star of A Chef's Life
 
"A rare opportunity to learn the well-kept secrets of Sam and the Jones family. Sam shows that barbecue is an art form, a craft, and a huge part of building community. Sam is as good as it gets and now you can learn from the best!" —Sean Brock, chef/owner of Husk and author of Heritage

"Let me assure you that you're holding a true treasure in your hands. Part family history, recipe collection, spiritual devotional, and a brilliantly constructed snapshot of our relationship to the cult of barbecue in America, Sam and Daniel have truly elevated the genre with this book." —Andrew Zimmern, host of Bizarre Foods

"Sam may not know this, but every time I watched him cook, I was taking notes. When we opened Pêche, I put everything I'd learned watching him to use. Cooking with live fire is a craft honed by repetition, and now all of his knowledge is in this book. No book can guarantee you a perfect whole hog, but this one gives you all of the tools to pull it off." —Ryan Prewitt, chef of Pêche restaurant

"This book is a beautiful journey through an incredible family history. Sam Jones is simply the finest of humans and I'm blessed to call him my brother." —Billy Durney, chef and owner of Hometown Bar-B-Que

"Great storytellers are as rare as real barbecue pitmasters. While some spout their credentials and accolades like a metronome, Sam Jones humbly captivates your attention with a symphony of gritty, emotional stories and the knowledge of a three-generation barbecue family. Sam Jones is a rarity." —Chris Lilly, pitmaster and partner, Big Bob Gibson Bar-B-Q

"Sam Jones inspires me not only as a barbecue man, but as a person. Whole hog is considered by everyone who cooks barbecue to be the most challenging meat to master, and Sam Jones has it mastered. Sam is not only one of the best barbecuers living; he is also great storyteller, and Whole Hog BBQ is a cookbook and history book that teaches you how to cook whole hog and all of the other fixings that have made the Jones family famous. Sam Jones and his book are authentic, and represent what is great about barbecue." —Tuffy Stone, five-time Barbecue World Champion and owner of Q Barbeque

"As I write this, I'm sitting at a block pit, cooking a hog. It's just me and Sam, and it's 2:12 in the morning. There are a lot of folks out there who romanticize this lifestyle, but very few of us who live it. Sam is someone who lives this lifestyle. The procedures and recipes in this book are so steeped in culture that I promise you will feel that culture as you cook through this book. Sam's a great cook and a legendary pitmaster, but he's an even better friend. I know I'm biased—but you will be, too, when you read through these pages." —Pat Martin, owner of Martin's Bar-B-Que Joint

"Sam Jones is a barbecue unicorn. He makes my favorite barbecue in the state of North Carolina, and he occupies a space that few others can, as both an heir to the traditions and legacies of the past, and a diplomat and forward=thinker for the future of the craft. His reputation for incredible barbecue is exceeded only by his reputation for kindness and generosity." —Ashley Christensen, author of Poole's and chef/owner of Poole's Diner

"When I first met Sam Jones, I was immediately struck by the history of whole hog cookery and the impact Sam and his family have made on the barbecue world. When I got to know him better, I discovered so much more than amazing barbecue. I discovered a good human who supports his community and his friends. Sam, I'm glad you are my friend." —Chris Shepherd, chef/owner of Underbelly

"The perfect volume for those on their way to becoming hardcore pitmasters."
- PUBLISHERS WEEKLY

"From Sam Jones, the third-generation owner of the North Carolina's Skylight Inn, this is your guide to mastering Carolina barbecue this season."
- EPICURIOUS
Ten Speed Press, 9780399581328, 208pp.
Publication Date: May 7, 2019
About the Author
SAM JONES is the owner of Sam Jones BBQ and the grandson of Pete Jones, founder of the Skylight Inn in Ayden, North Carolina, which won a James Beard Award and has been open since 1947—and which is where Sam started honing his chops as a boy. He returned to the family business after rediscovering barbecue through writing a 15-page essay on the topic for a college assignment. DANIEL VAUGHN is the country's first barbecue editor. He holds this post at Texas Monthly magazine and has also contributed to Bon Appétit, Lucky Peach, First We Feast, Los Angeles magazine, and Time. He is the author of Prophets of Smoked Meat.
or
Not Currently Available for Direct Purchase