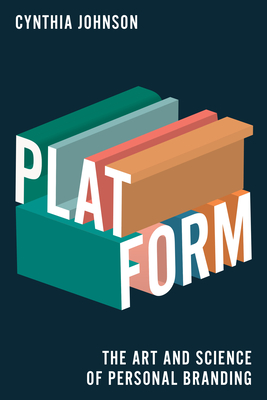 Platform (Hardcover)
The Art and Science of Personal Branding
Lorena Jones Books, 9780399581373, 224pp.
Publication Date: February 5, 2019
Other Editions of This Title:
Digital Audiobook (2/4/2019)
* Individual store prices may vary.
Description
The indispensable guide to developing a personal brand, building an audience, and nurturing followers, by digital marketing thought-leader Cynthia Johnson.
 
In the modern world, influence is everything and personal branding equals influence. Platform is the why-to, how-to handbook by top expert Cynthia Johnson for everyone who wants to develop and manage a personal brand. In Platform, Johnson explains the process of going from unknown to influencer by achieving personal proof, social proof, recognition, and association. Johnson herself went from an on-staff social media manager to social media influencer, entrepreneur, and marketing thought-leader in just three years using her process of accelerated brand development, continuous brand management, and strategic growth. Fans of #GirlBoss and #AskGaryVee, who wonder how their favorite influencers found their voices and built their audiences, will find the answers here and discover that the process is technical, creative, tactical, and much easier than they might have expected.
About the Author
CYNTHIA JOHNSON is the cofounder of the Los Angeles–based branding agency Bell + Ivy and has 1.7 million followers on Twitter (@CynthiaLive). She was named one of the top five personal branding experts in 2017 by Entrepreneur magazine, Inc. listed her as one of the 20 digital marketing people to follow, and Mashable named her the third most important marketer to follow on Snapchat (#CyninLA). Johnson sits on the advisory board for The Millennium Alliance, a leading technology, business, and educational advisory firm serving Fortune 1000 C-Level executives. Cynthia is a global keynote speaker and has addressed companies and events such as Alibaba in China, World Government Summit in Dubai, and Global Ventures Summit in Indonesia and Mexico, as well as USC's Marshall School of Business and Stanford's Igniter program. Her work has been featured in Inc., Forbes, and TIME and she has advised on the social media, branding, and viral campaigns for companies such as Vans, Levi's, and the Susan B. Komen Foundation. Visit cynthialive.com.
Praise For Platform: The Art and Science of Personal Branding…
"Who sees you and what do they see? Here are wise strategies and useful tactics that will help you make an impact."
—Seth Godin, author of This Is Marketing 
 
"Johnson has created what will become a 'go-to' bible of building a personal brand. . . . This book is a must read for someone with an audience of one or one million."
—Plastic Jesus, street artist
 
"Platform is the best guide to help you imagine the brand you should and could be known for in the world, because you don't want to leave YOUR brand up to the world's imagination." 
—Dr. Mark Goulston, author of Just Listen 
 
"Pure gold. Platform is deep and relevant, with tons of tactical and practical advice. Any entrepreneur who wants to have any kind of personal brand has got to read this book."
—Setema Gali, Super Bowl champion and author of Winning After the Game