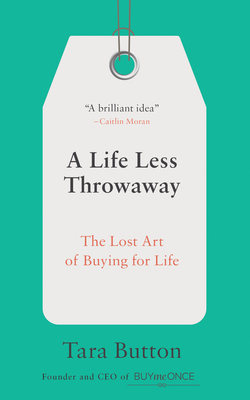 A Life Less Throwaway (Paperback)
The Lost Art of Buying for Life
Ten Speed Press, 9780399582516, 304pp.
Publication Date: June 19, 2018
* Individual store prices may vary.
Description
A revolutionary guide to the art of mindful buying that will teach you how to resist cheaply made goods and make smart, fulfilling purchases that last a lifetime.

With the whole world trying to convince us to spend our way to happiness, we've been left cluttered, stressed, and unfulfilled. Tara Button, founder of BuyMeOnce, is at the forefront of the global movement to change the way we shop and live forever. Tara advocates a life of mindful buying that celebrates what lasts, giving you exercises that help you curb impulses, ignore trends, and discover your true style. Once a shopaholic herself, her groundbreaking mindful curation method reveals the amazing benefits of buying for life and will help you:


   • Spot the tricks that make you overspend
   • De-clutter your home
   • Find the products that serve you best
   • Rediscover the art of keeping and caring for things
   • Find happiness, success, and self-worth, beyond buying
About the Author
TARA BUTTON worked in advertising until 2016, but she became uncomfortable in a job that pushed people to buy things they didn't necessarily want or need. On her 30th birthday, she was given a Le Creuset cooking pot by her sister. Every time she used this pot, she thought, "If only all my possessions were like this, I'd never have to replace anything." The idea stalked her for months until finally (despite having close to zero technical ability) she gave in and started building a basic website. In January 2016, a journalist found BuyMeOnce on Twitter and pitched a story to The Telegraph. Over the next few days, the article went viral and Tara's world (and inbox) exploded. She quit her job and committed to spreading the BuyMeOnce message globally. Since then she has come to oversee a team of eight, all passionate about the BuyMeOnce mission; the team even includes her old boss.
Praise For A Life Less Throwaway: The Lost Art of Buying for Life…
Praise for Tara Button and A Life Less Throwaway:

"I love the idea behind Buy Me Once."
--Ashton Kutcher, actor and activist

"A brilliant idea."
--Caitlin Moran, author and journalist

". . . promises a more contented way of living and rages amusingly against planned obsolescence, fast furniture, weaselly advertising and cunning shop design. It also offers tips on curating and caring for your possessions, as well as ad-blocking."
--The Sunday Times