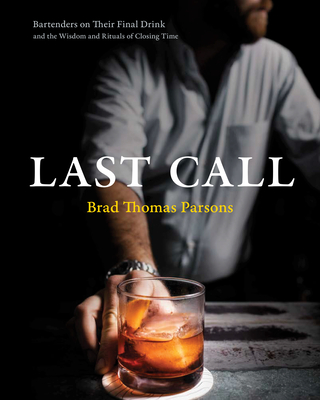 Last Call
Bartenders on Their Final Drink and the Wisdom and Rituals of Closing Time
Hardcover

* Individual store prices may vary.
Description
From the James Beard Award-winning author of Bitters and Amaro comes this poignant, funny, and often elegiac exploration of the question, What is the last thing you'd want to drink before you die?, with bartender profiles, portraits, and cocktail recipes.

JAMES BEARD AWARD FINALIST • WINNER OF THE TALES OF THE COCKTAIL SPIRITED AWARD® • NAMED ONE OF THE BEST COOKBOOKS OF THE YEAR BY CHICAGO TRIBUNE

Everyone knows the parlor game question asked of every chef and food personality in countless interviews: What is the last meal you'd want to eat before you die? But what does it look like when you pose the question to bartenders? In Last Call, James Beard Award-winning author Brad Thomas Parsons gathers the intriguing responses from a diverse range of bartenders around the country, including Guido Martelli at the Palizzi Social Club in Philadelphia (he chooses an extra-dry Martini), Joseph Stinchcomb at Saint Leo in Oxford, Mississippi (he picks the Last Word, a pre-Prohibition-era cocktail that's now a cult favorite), and Natasha David at Nitecap in New York City (she would be sipping an extra-salty Margarita). The resulting interviews and essays reveal a personal portrait of some of the country's top bartenders and their favorite drinks, while over 40 cocktail recipes and stunning photography make this a keepsake for barflies and cocktail enthusiasts of all stripes.

Praise for Last Call

"[Parsons] captures the people and places through stunning photographs and prose. Like a perfectly balanced cocktail, it is equal parts cocktail recipes, travelogue and mixtape."—The Atlanta Journal-Constitution

"Measure equal parts travelogue, tell-all, discography, and cocktail companion—in service of an obituary of all patrons—and you have Last Call; Brad Thomas Parsons's best book yet.  Through soulful photos and gritty interviews, he and photographer Ed Anderson capture the rawness, vulnerability, and ecstasy of the metamorphosis between the end of a guest's night and the beginning of a bartender's."—Jim Meehan, author of Meehan's Bartender Manual and The PDT Cocktail Book 

"This book is a delight. Last Call shows us the sense of community evoked by bartenders across the country, whose wisdom and tenderness are captured here both in words and beautiful photographs. It made me—an erstwhile bartender and faithful customer—happy to remember that we all have nights when we unexpectedly hear the words 'last call,' and that noble and fascinating bartenders are out there waiting to share it with us."—Alan Cumming 
Praise For Last Call: Bartenders on Their Final Drink and the Wisdom and Rituals of Closing Time…
"It comes off as charming, in large part thanks to Mr. Parsons's understated and often witty writing. From this simple idea, Mr. Parsons has assembled a collection of interviews that touch not only on last drinks, but also reflect knowingly on bar culture, regulars and much more. . . . It's a worthy read, and makes the idea of 'closing time' seem rather more poignant."—The Wall Street Journal

"Brad Thomas Parsons brilliantly takes us behind the scenes in this insider's visit with bartenders across the country, who disclose what they'd choose as their last libation. Not only do they share their thoughts, they also give us a taste of their favorite cocktails with a host of inspiring recipes that anyone can shake or stir up at home. You'll savor every sip of this spirited look at what goes on behind the bar—from small-town dives to big-city speakeasies—when closing time finally arrives."—David Lebovitz, author of My Paris Kitchen and Drinking French

"This book is brimming with great recipes, but Last Call reminds us, with intimacy and warmth, that stories and the people who tell them are the very best portion of bar life."—Rosie Schaap, author of Drinking with Men

"With the constant companionship of bartenders along the way, Brad Thomas Parsons takes us on a tour of some of the country's finest establishments in a somber yet seductive celebration of that hard-earned  final moment of reflection, often paired with the perfect tune and a flawlessly poured drink in hand."—Charlie Hall, drummer, The War on Drugs

"Brad Thomas Parsons' Last Call is a glorious multi-tool of a book. Its profusion of smart cocktail recipes makes it invaluable behind the bar—or tucked into your suitcase, as it's also a supreme travel guide to some of the finest saloons in America, a treasure map for late-night explorers. It's also, sublimely, a gravelly disquisition on life, death, pleasure, and what it all means. Parsons has become our preeminent thinker-drinker—our best surveyor of that heady, complex zone where liquid spirits meet the human spirit."—Jonathan Miles, author of Dear American Airlines and Anatomy of a Miracle

"A thoughtful and enjoyable book that will delight cocktail aficionados and lovers of bars alike."—Library Journal

"Cocktail books typically lean in the direction of fun and entertainment—and while the latest book from Parsons certainly doesn't skip out on the good times, he strikes a tone more elegiac with Last Call, asking bartenders heavy questions about mortality and legacy. In twenty-three cities across the country, Parsons inquires about what their final drink would be—and the question opens a wider discussion into bar rituals, cocktail culture, and the inherent appeal of these welcoming rooms in the wee hours of the night."—Imbibe
Ten Speed Press, 9780399582769, 288pp.
Publication Date: October 22, 2019
About the Author
Brad Thomas Parsons is the author of Bitters (which was the winner of the James Beard and IACP Cookbook Awards, and a finalist for the Tales of the Cocktail Spirited Awards), Amaro, and Distillery Cats. He received an MFA in writing from Columbia University, and his work has appeared in Bon Appétit, Lucky Peach, Food & Wine, Travel + Leisure, PUNCH, and more. He lives in Brooklyn.
Coverage from NPR
or
Not Currently Available for Direct Purchase