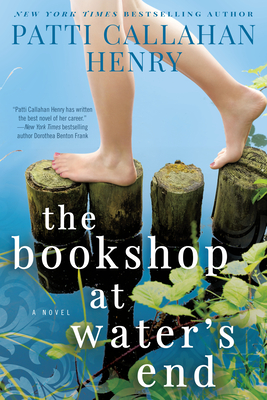 The Bookshop at Water's End (Paperback)
Berkley, 9780399583117, 352pp.
Publication Date: July 11, 2017
Other Editions of This Title:
Digital Audiobook (7/10/2017)
Hardcover, Large Print (10/4/2017)
* Individual store prices may vary.
Description
The women who spent their childhood summers in a small southern town discover it harbors secrets as lush as the marshes that surround it...
 
Bonny Blankenship's most treasured memories are of idyllic summers spent in Watersend, South Carolina, with her best friend, Lainey McKay. Amid the sand dunes and oak trees draped with Spanish moss, they swam and wished for happy-ever-afters, then escaped to the local bookshop to read and whisper in the glorious cool silence. Until the night that changed everything, the night that Lainey's mother disappeared.

Now, in her early fifties, Bonny is desperate to clear her head after a tragic mistake threatens her career as an emergency room doctor, and her marriage crumbles around her. With her troubled teenage daughter, Piper, in tow, she goes back to the beloved river house, where she is soon joined by Lainey and her two young children. During lazy summer days and magical nights, they reunite with bookshop owner Mimi, who is tangled with the past and its mysteries. As the three women cling to a fragile peace, buried secrets and long ago loves return like the tide.

READERS GUIDE INSIDE
About the Author
Patti Callahan Henry is a New York Times bestselling author whose novels include The Bookshop at Water's End, The Idea of Love, The Stories We Tell, and Driftwood Summer. As Patti Callahan, she's the author of the USA Today bestseller Becoming Mrs. Lewis. Short-listed for the Townsend Prize for Fiction, and nominated multiple times for the Southern Inde­pendent Booksellers Alliance (SIBA) Book Award for Fiction, Patti is a frequent speaker at luncheons, book clubs, and women's groups.
Praise For The Bookshop at Water's End…
"Patti Callahan Henry has written the best novel of her career with The Bookshop at Water's End. I absolutely adored it and predict it will be one of the most-loved books of the year. In fact, it's so good I wish I'd written it myself!"—Dorothea Benton Frank, New York Times bestselling author of Same Beach, Next Year
 
"The Bookshop at Water's End carries us along the graceful curves and outwardly serene story line of two childhood friends returning to their summer riverside home. But like the river she writes about, Patti's plot roils with strong undercurrents of murky secrets, tragedy and the pulsing tides of self-discovery. No one writes about the power of family and friends like Patti Callahan Henry. The Bookshop at Water's End is a must-read for your summer!"—Mary Alice Monroe, New York Times bestselling author of Beach House for Rent
 
"From the very first page, Patti Callahan Henry draws you in like the tide, revealing long-simmering secrets that will test family and friendships, and explores the question: do we tell our stories or do our stories tell us? In lush, lyrical prose, Henry explores the power of forgiveness, especially in ourselves. Every page was a treat."—Laura Lane McNeal, bestselling author of Dollbaby
 
"Patti Callahan Henry's stories are always woven with magic and mystery, and The Bookshop at Water's End knots these elements into a deeply satisfying and heartfelt tale of loss and betrayal, friendship and forgiveness. The sun is shining, the tide is turning, summer and Patti Henry's latest masterpiece beckon. Resistance is futile!"—Mary Kay Andrews, New York Times bestselling author of The Weekenders
 
"I adore Patti Callahan Henry's new novel. The Bookshop at Water's End is a juicy summer read about family secrets, forgotten friendships and the power of books to change our lives."—Jane Green, New York Times bestselling author of The Sunshine Sisters

Praise for Patti Callahan Henry and her novels
 
"A Southern woman's journey into truth. An emotionally intense, beautiful, and unforgettable novel. I loved it."—Robyn Carr, #1 New York Times bestselling author of the Virgin River novels
 
"Patti Callahan Henry's writing is as lush and magical as the Lowcountry she loves."—Mary Alice Monroe, New York Times bestselling author of A Lowcountry Wedding
 
"The sea sings in every syllable."—Anne Rivers Siddons, New York Times bestselling author of The Girls of August
 
"A lyrical exploration of love and longing, secrets and suspicion, and family and friendship."―Mary Kay Andrews, New York Times bestselling author of The Weekenders
 
"Patti Callahan Henry asks the big, equivocal questions about what it means to be a mother, a child, a family, and the answers she finds in And Then I Found You will surprise you, provoke you, and rearrange your heart."—Jacquelyn Mitchard, #1 New York Times bestselling author of Two If by Sea
 
"This is everything you expect from Patti Callahan Henry—lyrical writing, characters worth rooting for, a sure-footed belief in the power of goodness—plus a twisty plot that will keep the pages turning long into the night."—Joshilyn Jackson, New York Times bestselling author of The Opposite of Everyone
 
"Patti Callahan Henry understands the delicate balance of power inside a marriage."—Sara Gruen, New York Times bestselling author of At the Water's Edge
 
"This tale of a Lowcountry woman's reblossoming will touch your heart and make you wonder about long-forgotten possibilities waiting to be rediscovered in your own family and soul."—The Charleston Post and Courier (SC)
 
"Patti Callahan Henry joins the ranks of Anne Rivers Siddons and Pat Conroy."—Deborah Smith, New York Times bestselling author of The Beloved Woman
 
"Patti Callahan Henry seamlessly combines mystery, family love, and personal journey all in one engrossing tale."―Diane Chamberlain, USA Today bestselling author of Pretending to Dance