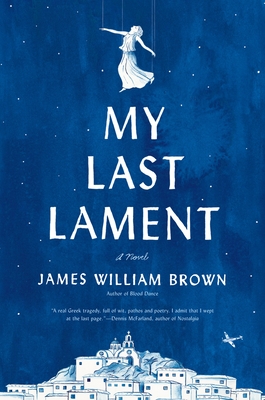 My Last Lament (Hardcover)
Berkley, 9780399583407, 352pp.
Publication Date: April 4, 2017
* Individual store prices may vary.
Description
A poignant and evocative novel of one Greek woman's story of her own—and her nation's—epic struggle in the aftermath of World War II.
 
Aliki is one of the last of her kind, a lamenter who mourns and celebrates the passing of life. She is part of an evolving Greece, one moving steadily away from its rural traditions. To capture the fading folk art of lamenting, an American researcher asks Aliki to record her laments, but in response, Aliki sings her own story...
 
It begins in a village in northeast Greece, where Aliki witnesses the occupying Nazi soldiers execute her father for stealing squash. Taken in by her friend Takis's mother, Aliki is joined by a Jewish refugee and her son, Stelios. When the village is torched and its people massacred, Aliki, Takis and Stelios are able to escape just as the war is ending.
 
Fleeing across the chaotic landscape of a postwar Greece, the three become a makeshift family. They're bound by friendship and grief, but torn apart by betrayal, madness and heartbreak.
 
Through Aliki's powerful voice, an unforgettable one that blends light and dark with wry humor, My Last Lament delivers a fitting eulogy to a way of life and provides a vivid portrait of a timeless Greek woman, whose story of love and loss is an eternal one.
About the Author
James William Brown, author of the critically acclaimed Blood Dance, is a former Wallace Stegner Fellow in Fiction at Stanford and has also been a writing fellow at the Fine Arts Work Center in Provincetown. The recipient of two fellowships from National Endowment for the Arts, he has also directed the editorial departments of textbook publishers in New York, Boston, and Athens, Greece. Previously he lived and taught in Greece for ten years.
Praise For My Last Lament…
Praise for My Last Lament

"The Greek setting is far less traveled ground in the English-language World War II novel, and Brown's pacing is strong and engaging."—The New York Times

"A remarkable accomplishment, a long and circuitous tale of three young people, orphaned by WWII in Greece, and their struggles to survive the brutal and chaotic aftermath—a real Greek tragedy, full of wit, pathos, and poetry. I admit that I wept at the last page, and I thought, Oh, I reckon this must be catharsis!"—Dennis McFarland, author of Nostalgia 
 
"A Greek epic in its own right, My Last Lament is the story of a nation trying to live up to its past while struggling to come to terms with its present, and of the indomitable people surviving that struggle. Aliki is a vivid and fully-realized heroine, by turns both fragile and formidable, and her story is one that will keep readers quickly turning the pages even as they linger over Brown's lovely language. My Last Lament is a book I will never forget."—Alyssa Palombo, author of The Violinist of Venice and The Most Beautiful Woman in Florence
 
"James William Brown's brilliance and artistry as a storyteller woos, fascinates and utterly devastates in My Last Lament. If you loved All the Light We Cannot See, you will devour this novel; a heart-rending World War II story you've never heard and won't soon forget."—Susan Meissner, author of Secrets of a Charmed Life and A Bridge Across the Ocean

"Deftly drawn characters with their heart-wrenching quests makes this a gripping and illuminating tale."—The Washington Times

"This is an astonishing novel, an imaginative feat of epic proportions. I was gripped from the first line. These characters! This story! Here is war and joy and terror and love and death and humor all mixed up, just as in life. I loved My Last Lament so much I kept shoving it in people's faces, saying, 'This book! You have to read this book!'"—Anna Solomon, author of Leaving Lucy Pear and The Little Bride