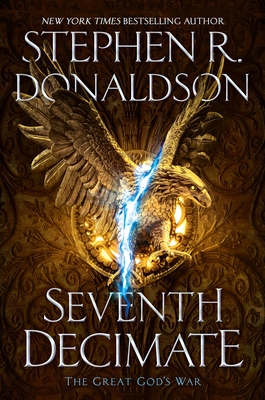 Seventh Decimate (The Great God's War #1)
Hardcover

* Individual store prices may vary.
Other Editions of This Title:
Digital Audiobook (11/13/2017)
Paperback (9/4/2018)
Description
The acclaimed author of the Thomas Covenant Chronicles launches a powerful new trilogy about a prince's desperate quest for a sorcerous library to save his people.

Fire. Wind. Pestilence. Earthquake. Drought. Lightning.
These are the six Decimates, wielded by sorcerers for both good and evil.

But a seventh Decimate exists—the most devastating one of all...

For centuries, the realms of Belleger and Amika have been at war, with sorcerers from both sides harnessing the Decimates to rain blood and pain upon their enemy. But somehow, in some way, the Amikans have discovered and invoked a seventh Decimate, one that strips all lesser sorcery of its power. And now the Bellegerins stand defenseless.
 
Prince Bifalt, eldest son of the Bellegerin King, would like to see the world wiped free of sorcerers. But it is he who is charged with finding the repository of all of their knowledge, to locate the book of the seventh Decimate—and reverse the fate of his land.
 
All hope rests with Prince Bifalt. But the legendary library, which may or may not exist, lies beyond an unforgiving desert and treacherous mountains—and beyond the borders of his own experience. Wracked by hunger and fatigue, sacrificing loyal men along the way, Prince Bifalt will discover that there is a game being played by those far more powerful than he could ever imagine. And that he is nothing but a pawn...
Praise For Seventh Decimate (The Great God's War #1)…
Praise for Seventh Decimate

"It promises to be as rich in detail as its predecessors—and, Mr. Donaldson's trademark, as emotionally deep and as psychologically unpredictable."--The Wall Street Journal

"A new Stephen Donaldson book is always a cause for celebration. Seventh Decimate will whet your appetite for a sequel."—Terry Brooks, New York Times bestselling author

"Fantastic."--Booklist

Praise for the Thomas Covenant Chronicles

"[A] landmark fantasy saga."—Entertainment Weekly

"A trilogy of remarkable scope and sophistication."—Los Angeles Times

"The most original fantasy since The Lord of the Rings."—Time Out

"Will certainly find a place on the small list of true classics."—The Washington Post Book World

"Covenant is Donaldson's genius."—The Village Voice

"A highly imaginative epic to be savored through successive readings."—Booklist

"The War and Peace of fantasy literature."—The Kansas City Star
Berkley, 9780399586132, 320pp.
Publication Date: November 14, 2017
About the Author
Stephen R. Donaldson is the author of the original six volumes of the Chronicles of Thomas Covenant, a landmark in modern fantasy. Every volume, beginning with Lord Foul's Bane in 1977, has been an international bestseller. Donaldson returned to the series with the Last Chronicles of Thomas Covenant, comprising The Runes of the Earth, Fatal Revenant, Against All Things Ending, and The Last Dark. Donaldson lives in New Mexico.