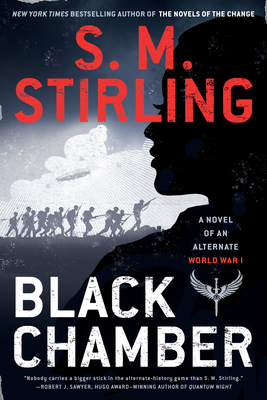 Black Chamber (A Novel of an Alternate World War #1)
Paperback

* Individual store prices may vary.
Description
The first novel in a brand-new alternate history series where Teddy Roosevelt is president for a second time right before WWI breaks out, and on his side is the Black Chamber, a secret spy network watching America's back.

1916. The Great War rages overseas, and the whole of Europe, Africa, and western Asia is falling to the Central Powers. To win a war that must be won, Teddy Roosevelt, once again the American president, turns to his top secret Black Chamber organization--and its cunning and deadly spy, Luz O'Malley Aróstegui.

On a transatlantic airship voyage, Luz poses as an anti-American Mexican revolutionary to get close--very close--to a German agent code-named Imperial Sword. She'll need every skill at her disposal to get him to trust her and lead her deep into enemy territory. In the mountains of Saxony, concealed from allied eyes, the German Reich's plans for keeping the U.S. from entering the conflict are revealed: the deployment of a new diabolical weapon upon the shores of America...
Praise For Black Chamber (A Novel of an Alternate World War #1)…
"A rollicking spy thriller set in a familiar WW1, but with a 'what might have been' America racing to cope with a far deadlier, more desperate Germany."—Taylor Anderson, New York Times bestselling author of River of Bones
 
"A slam-bang spy thriller with an engaging female protagonist."—David Drake, author of Death's Bright Day
 
"Nobody carries a bigger stick in the alternate-history game than S. M. Stirling. As always, he comes up with inventive twists that keep your mind racing and the pages turning. Bravo!"—Robert J. Sawyer, Hugo Award-winning author of Quantum Night
 
"Once again one of the best story-tellers in the world takes you on a wonderful ride. Great tale, great characters...love it."—David Crosby, of the Byrds and Crosby, Stills & Nash
 
"The nice thing about getting a Steve Stirling book in the mail is that you know for a few hours you can fly on dreams of wonder, travelling to a world so much more than this angry reality."—John Ringo, author of Under a Graveyard Sky
 
"It's a great feeling being in the hands of an alternate history master. Black Chamber is a wonderfully fun transcontinental spy romp, and a great beginning to a new series."—Django Wexler, author of The Infernal Battalion

"Stirling packs a mighty wallop in this high-spirited alternate WWI history…Stirling's lavish historical, linguistic, and cultural detail...enhance well-rounded figures to make this a highly enjoyable espionage romp."—Publishers Weekly

"Too many Alternate History stories have become sadly routine. Riding to the rescue is S. M. Stirling's Black Chamber. This novel provides a desperately needed infusion of courage and originality. How appropriate that Penguin, publisher of the James Bond novels, launches a hard edged new spy series with Stirling. How appropriate that Ace, famous for classic science fiction, is onboard for the adventure. Beware the Breath of Loki."—Brad Linaweaver, Prometheus Award winning author of Moon of Ice

"Black Chamber is one mighty fine read—sexy, action-filled adventure in a thoughtful alternate history.  Enjoy!"—Lawrence-Watt Evans

"Black Chamber is one of the most intriguing and entertaining adventures to come along in years. If you like alternate history, you will appreciate Stirling's take on what Teddy Roosevelt could have accomplished if he had been allowed. If you like steam punk, you will enjoy elegant inventions that are firmly based on science. If you like derring-do, you will thrill to car chases and combats of all kinds ( there is one scene that anyone with acrophobia might want to avoid). And whatever your gender,  if you like a feisty, sexy, intelligent heroine, meet Field Operative Luz O'Malley Arostegui!"—Diana L. Paxson, author of Sword of Avalon

"There's something very exhilarating about watching somebody at the peak of his powers attempt something extremely difficult and pull it off with apparently ridiculous ease. This is a sheer joy of an alternative history, featuring probably the most interesting and talented President ever in a term he never served and a new and darker view of the First World War."—Patricia Finney, author of Gloriana's Torch

Ace, 9780399586231, 400pp.
Publication Date: July 3, 2018
About the Author
S. M. Stirling is the author of many science fiction and fantasy novels. A former lawyer and an amateur historian, he lives with his wife, Jan.
or
Not Currently Available for Direct Purchase