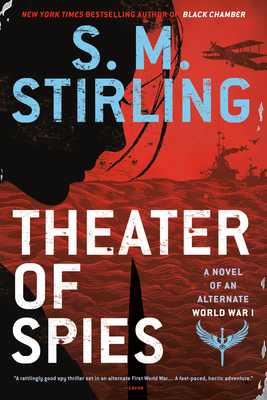 Theater of Spies (A Novel of an Alternate World War #2)
Paperback

* Individual store prices may vary.
Other Editions of This Title:
Digital Audiobook (5/6/2019)
Description
The second novel in an alternate history series where Teddy Roosevelt is president once more right before WWI breaks out, and on his side is the Black Chamber, a secret spy network watching America's back.

After foiling a German plot to devastate America's coastal cities from Boston to Galveston, crack Black Chamber agent Luz O'Malley and budding technical genius Ciara Whelan go to California to recuperate. But their well-deserved rest is cut short by the discovery of a diabolical new weapon that could give the German Imperial Navy command of the North Sea.

Luz and Ciara must go deep undercover and travel across a world at war, and live under false identities in Berlin itself to ferret out the project's secrets. Close on their trail is the dangerous German agent codenamed Imperial Sword, who is determined to get his revenge, and a band of assault-rifle equipped stormtroopers, led by the murderously efficient killer Ernst Röhm.  From knife-and-pistol duels on airships to the horrors of the poison-gas factories to harrowing marine battles in the North Sea, the fight continues--with a world as the prize.
Praise For Theater of Spies (A Novel of an Alternate World War #2)…
"A masterly mashup of historical context and SF plausibility."—Library Journal

Praise for Black Chamber
"As a spy thriller, Black Chamber stacks up with the old classics of Kipling and John Buchan. As sci-fi, it comes off as terribly plausible, with Tom Clancy-like mastery of old weapons and potential ones." --Wall Street Journal

"Stirling crams his story with so much historical detail that it threatens to burst, but alleviates this with plenty of suspense and action to keep readers turning the pages."--Financial Times

"Stirling's written a fast-paced, hectic adventure of a thriller." --Locus Magazine

"A rollicking spy thriller set in a familiar WW1, but with a 'what might have been' America."--Taylor Anderson, New York Times bestselling author of River of Bones

"A slam-bang spy thriller with an engaging female protagonist."--David Drake, author of Death's Bright Day

"Nobody carries a bigger stick in the alternate-history game than S. M. Stirling. As always, he comes up with inventive twists that keep your mind racing and the pages turning. Bravo!"-- Robert J. Sawyer, Hugo Award-winning author of Quantum Night

"Once again one of the best story-tellers in the world takes you on a wonderful ride.  Great tale, great characters ...love it. "--David Crosby, of the Byrds and Crosby, Stills & Nash

"The nice thing about getting a Steve Stirling book in the mail is that you know for a few hours you can fly on dreams of wonder, travelling to a world so much more than this angry reality."--John Ringo, author of Under a Graveyard Sky

"It's a great feeling being in the hands of an alternate history master. Black Chamber is a wonderfully fun transcontinental spy romp, and a great beginning to a new series."--Django Wexler, author of The Infernal Battalion
Ace, 9780399586255, 464pp.
Publication Date: May 7, 2019
About the Author
S. M. Stirling is the author of many science fiction and fantasy novels including Black Chamber, Dies the Fire, The Sky-Blue Wolves, and Islands in the Sea of Time. A former lawyer and an amateur historian, he lives with his wife, Jan.
or
Not Currently Available for Direct Purchase