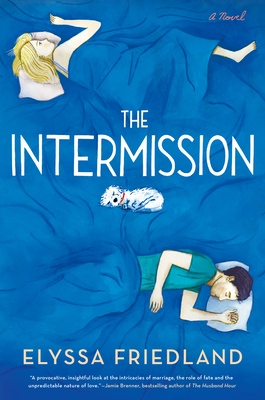 The Intermission (Hardcover)
Berkley, 9780399586866, 368pp.
Publication Date: July 3, 2018
* Individual store prices may vary.
Description
A HelloGiggles Best New Release
A PopSugar Best Book of July
A BookBub Editor's Pick
A SheReads Best Book of Summer
A GoodReads Buzzy New Release
A Mind Body Green Best Book of July
A PureWow Best Beach Read of Summer 2018

"An effortless page-turner, almost a movie treatment more than a novel...intelligent commercial fiction."--The Wall Street Journal

Praised by Jamie Brenner and Jo Piazza, The Intermission looks behind the curtain on a seemingly-happy marriage to ask: how much do we really know about the people we love the most?

After five long years, the unshakable confidence Cass Coyne felt as a bride is gone. Her husband, Jonathan, on the other hand, is still smitten. It's true that the quirks he once found charming in his wife--her high standards, her refusal to clean the dishes--are beginning to grate. But for him, these are minor challenges in a healthy relationship.

So it comes as a complete shock to Jonathan when Cass suddenly requests a marital "intermission": a six-month separation during which they'll decide if the comfortable life they've built is still the one they both want.

Aside from a monthly custodial exchange of their beloved dog, contact will be limited. But as the months pass, they begin to see that calculated silences just like these have helped to drive them apart--and that it may finally be time to confront the blistering secrets they've been avoiding.
About the Author
Elyssa Friedland is a graduate of Yale University and Columbia Law School and lives with her husband and three children in New York City. The Intermission is her second novel.
Praise For The Intermission…
Praise for The Intermission

"The snappy dialogue makes this an effortless page-turner, almost a movie treatment more than a novel…intelligent commercial fiction."—The Wall Street Journal

"The Intermission is a thoughtful look at the complexities of marriage, delivering deep truths about how we share a life with another person. It will have you wondering: how well do I really know my spouse?"—PopSugar
 
"A multifaceted look at the difficulties and rewards of marriage."—Kirkus Reviews
  
"Entertaining marriage saga... Friedland insightfully dissects motives, lies, and love in this engrossing deconstruction of a bad marriage."—Publishers Weekly

"Expertly paced and eerily realistic, this novel will make readers think twice about the line between deception and mystery in any relationship."—Booklist

"This fast-paced read will have you turning pages all night to see if Cass and Jonathan will be able to save their marriage."—Salisbury Daily Times
 
"In a time when open relationships and other less traditional dynamics are becoming more common, this is a fun beach read that explores the many ways we can love and be loved."—Mind Body Green
 
"We all know that relationships aren't always what they seem on the outside. But The Intermission takes things a step further, going inside of a marriage that's on the rocks. It's about Jonathan and Cass, a husband and wife that decide to take a six-month break from their relationship to see if it's what they really want. As we all know, there are two sides to every story. And through alternating perspectives, The Intermission delivers both."—Hello Giggles

"Through her wonderful writing and pitch-perfect storytelling, Elyssa Friedland examines how far we would or should go to salvage a marriage. This book is smart, tender and thought-provoking. I loved it."—Allison Winn Scotch, New York Times bestselling author of Between Me and You

"With precision and empathy, Elyssa Friedland offers a fresh take on a timeless question: Just how honest should you really be with your spouse? The Intermission is a smart, moving, and refreshingly candid examination of the way small omissions can lead to enormous rifts in a marriage. I couldn't put it down." —Camille Pagán, bestselling author of Woman Last Seen in Her Thirties
 
"Friedland's engaging characters and smart writing style will hook you from the first page. Soulful and bittersweet, The Intermission puts a young couple under a microscope to show how one small crack in a marriage can lead to many crevasses, and how the struggle to put the pieces back together can seem insurmountable."—Julie Lawson Timmer, author of Mrs. Saint and the Defectives

"The Intermission deftly pulls apart the puzzle of one couple's marriage and lays the pieces bare, posing the question: would you walk away from your marriage in order to save it? A provocative, insightful look at the intricacies of marriage, the role of fate, and the unpredictable nature of love."—Jamie Brenner, bestselling author of The Husband Hour

"Smart, captivating, and expertly crafted, The Intermission takes a fresh spin on how one couple hits the pause button to reboot their marriage. I cheered and I cringed through their rises and falls as they dealt with the obstacles in their marriage to rediscover themselves and their relationship. A delightful read that sucked me in. Perfect for book clubs and summer reading. I highly recommend." — Kerry Lonsdale, Wall Street Journal bestselling author

"With all the drama and intensity of live theater, Elyssa Friedland puts a seemingly solid marriage on display — and through the toughest of tests — revealing quirky flaws, unraveling dark secrets, and sparking emotions from tenderness to fury. Fans of Sarah Dunn and Taylor Jenkins Reid will relish the raw honesty and high-stakes tension as the pasts of Cass and Jonathan come roaring into the present."—Amy Poeppel, author of Limelight
 
"A pitch-perfect beach read that pulls back the curtain on what really happens after we say I do."—Jo Piazza, bestselling author of Charlotte Walsh Likes to Win

"The Intermission digs into the bedrock of the Coyne's marriage, exposing the strengths and vulnerabilities of its roots. Friedland builds characters who are both selfless and selfish at different times, resulting in a relatable and compelling read. Book clubs will have much to dissect."—Abby Fabiaschi, author of I Liked My Life
 
"Taking a pause to dissect what makes a marriage tick is terrifying, enlightening, and, in the case of Cass Coyne, even hilarious....With observations both acute and quirky, Elyssa Friedland points out the flaws and perfections that make marriage work, the secrets they contain, and how a desire for total honesty can bring both pain and freedom."—Maureen Sherry, author of Opening Belle

"A courageous and clever look at the frustrations and disappointments even the best marriages face. Elyssa Friedland pulls no punches with this provocative story that challenges our expectations about commitment and love."—Lynda Cohen Loigman, author of The Two-Family House

"I absolutely loved The Intermission, a smart, thoughtful exploration of the nature of marriage and relationships."—Brenda Janowitz, author of The Dinner Party

Praise for Love and Miss Communication
 
"Witty and hilarious...a love story for the 21st century."—Emily Giffin, New York Times bestselling author
 
"Funny, fast-paced, charming."—Jennifer Belle, bestselling author of High Maintenance and The Seven Year Bitch
 
"A witty, wonderful, and thoroughly modern love story. Friedland's writing is sharp and funny, tender and true. I couldn't put it down."—Cristina Alger, author of The Darlings
 
"A delicious and timely novel. Friedland takes a look at how our addiction to social media brings us together while keeping us apart."—Molly Jong-Fast, author of The Social Climber's Handbook
 
"A witty, modern love story not to be missed."—The Gazette (Iowa)