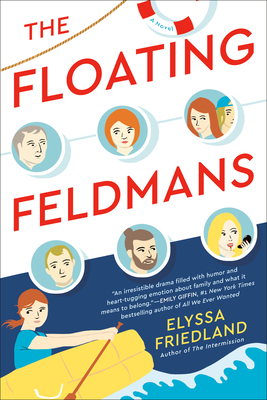 The Floating Feldmans
Paperback

* Individual store prices may vary.
Other Editions of This Title:
Digital Audiobook (7/22/2019)
Library Binding, Large Print (10/2/2019)
Description
A family vacation dredges up a boatload of trouble in the next witty, insightful novel from the acclaimed author of The Intermission.

"An irresistible drama filled with humor and heart-tugging emotion about family and what it means to belong. I absolutely adore Friedland's warm, witty writing!"—Emily Giffin, #1 New York Times bestselling author of All We Ever Wanted

Sink or swim. Or at least that's what Annette Feldman tells herself when she books a cruise for her entire family. It's been over a decade since the Feldman clan has spent more than twenty-four hours under the same roof, but Annette is determined to celebrate her seventieth birthday the right way. Just this once, they are going to behave like an actual family.

Too bad her kids didn't get the memo.

Between the troublesome family secrets, old sibling rivalries, and her two teenage grandkids, Annette's birthday vacation is looking more and more like the perfect storm. Adrift together on the open seas, the Feldmans will each face the truths they've been ignoring—and learn that the people they once thought most likely to sink them are actually the ones who help them stay afloat.
Praise For The Floating Feldmans…
Praise for The Floating Feldmans

"When Annette Feldman decides to celebrate her 70th birthday with a family cruise, drama—and hilarity—ensue."—People

"Family reunions can rock the boat. This one does it on a cruise ship. When the Feldmans hit the high seas for their matriarch's 70th, a lot of drama and laughs come out in tight quarters. Think: "This is Where I Leave You" meets "The Family Stone."—The Skimm

"The Floating Feldmans is a hilarious romp on the sea that is perfect for your poolside reading this summer! I read this book with a wide grin, and I know that you will too! Highly recommend!"—Catherine McKenzie, bestselling author of I'll Never Tell and Spin

"Friedland uses multiple perspectives, witty dialogue, and complex characters that are incredibly relatable to deliver a funny, astute look at the family dynamic and the relationships shared within. Whether on a cruise or taking a staycation, contemporary readers will want to have The Floating Feldmans on deck."—Booklist

"The Floating Feldmans is a fast, funny, surprisingly heartwarming ride on the high seas."—Shelf Awareness

"Friedland creates vivid characters with distinct voices, from the outwardly critical matriarch to the insecure teenager. The story is at its best when the whole family is together, allowing their individual personalities to bounce off one another. There's also some sharp commentary about the pitfalls of cruises, and even readers who've never been on one will feel positively claustrophobic as they read about the cramped cabins the Feldmans stay in. A fun look at family drama on the open seas."—Kirkus

"The Floating Feldmans is a story about an estranged family's wild vacation. This book is so dramatic, that it might actually make your fam feel normal...even if you're losing your mind on day five of your own trip."—Cosmopolitan

"Long a master of insightful books about modern life and relationships, Friedland turns her formidable talents to the family cruise.  Uproariously funny, yet heartfelt and true, The Floating Feldmans will have each reader seeing her own family fun and foibles in the choppy waters, laughing and crying at the same time to the very last wonderful page."—Pam Jenoff, New York Times bestselling author of The Lost Girls of Paris

"An intelligent, insightful, touching novel about the secrets we keep and the family that loves us anyway."—Abbi Waxman, author of The Bookish Life of Nina Hill

"Elyssa Friedland's premise is perfect. Take three generations of an estranged family, put them on a boat—a forced cruise to celebrate the matriarch's 70th birthday—and let the dysfunction fly. A pleasure to read."—Laurie Gelman, author of Class Mom

"Such a smart, honest look at the modern American family. Elyssa Friedland has written a book that feels both up-to-the-minute contemporary and, somehow, absolutely timeless."—Matthew Norman, author of We're All Damaged and Domestic Violets

"All aboard! The Floating Feldmans is for everyone whose ever thought their family is absolutely crazy … but loves them anyway. Sibling rivalries and skeletons in the closet all come to a head in this fun, quirky family saga."—Georgia Clark, author of The Bucket List

"The Floating Feldmans was a blast; funny, moving, and immensely readable. Friedland's all-you-can-eat buffet of quirky characters walk right off the page and into your heart."—Jonathan Evison, author of This is Your Life Harriet Chance!

"Take a big dysfunctional family, reunite them for the first time in 10 years on a Caribbean cruise ship they can't escape, and add endless buffets, blindfolded pie-eating contests, and impromptu conga lines on the sundeck. What could possibly go wrong? Both cruising fans and skeptics alike will get a laugh out of this story of a family trying to stay afloat."—National Geographic

"Friedland's well-executed and smartly structured novel features chapters from each character's point of view. The simple but clever premise lets the author explore the complicated tensions of family relationships in a compressed and directed way...there is dry humor and a certain sweetness as well."—Library Journal

Praise for The Intermission

"The snappy dialogue makes this an effortless page-turner, almost a movie treatment more than a novel…intelligent commercial fiction."—The Wall Street Journal

"The Intermission is a thoughtful look at the complexities of marriage, delivering deep truths about how we share a life with another person. It will have you wondering: how well do I really know my spouse?"—PopSugar
 
"A multifaceted look at the difficulties and rewards of marriage."—Kirkus Reviews
  
"Entertaining marriage saga... Friedland insightfully dissects motives, lies, and love in this engrossing deconstruction of a bad marriage."—Publishers Weekly

"Expertly paced and eerily realistic, this novel will make readers think twice about the line between deception and mystery in any relationship."—Booklist 

"This fast-paced read will have you turning pages all night to see if Cass and Jonathan will be able to save their marriage."—Salisbury Daily Times
 
"In a time when open relationships and other less traditional dynamics are becoming more common, this is a fun beach read that explores the many ways we can love and be loved."—Mind Body Green
 
"We all know that relationships aren't always what they seem on the outside. But The Intermission takes things a step further, going inside of a marriage that's on the rocks. It's about Jonathan and Cass, a husband and wife that decide to take a six-month break from their relationship to see if it's what they really want. As we all know, there are two sides to every story. And through alternating perspectives, The Intermission delivers both."—Hello Giggles

"Through her wonderful writing and pitch-perfect storytelling, Elyssa Friedland examines how far we would or should go to salvage a marriage. This book is smart, tender and thought-provoking. I loved it."—Allison Winn Scotch, New York Timesbestselling author of Between Me and You

"With precision and empathy, Elyssa Friedland offers a fresh take on a timeless question: Just how honest should you really be with your spouse? The Intermission is a smart, moving, and refreshingly candid examination of the way small omissions can lead to enormous rifts in a marriage. I couldn't put it down." —Camille Pagán, bestselling author of Woman Last Seen in Her Thirties
 
"Friedland's engaging characters and smart writing style will hook you from the first page. Soulful and bittersweet, The Intermission puts a young couple under a microscope to show how one small crack in a marriage can lead to many crevasses, and how the struggle to put the pieces back together can seem insurmountable."—Julie Lawson Timmer, author of Mrs. Saint and the Defectives

"The Intermission deftly pulls apart the puzzle of one couple's marriage and lays the pieces bare, posing the question: would you walk away from your marriage in order to save it? A provocative, insightful look at the intricacies of marriage, the role of fate, and the unpredictable nature of love."—Jamie Brenner, bestselling author of The Husband Hour

"Smart, captivating, and expertly crafted, The Intermission takes a fresh spin on how one couple hits the pause button to reboot their marriage. I cheered and I cringed through their rises and falls as they dealt with the obstacles in their marriage to rediscover themselves and their relationship. A delightful read that sucked me in. Perfect for book clubs and summer reading. I highly recommend." — Kerry Lonsdale, Wall Street Journal bestselling author

"With all the drama and intensity of live theater, Elyssa Friedland puts a seemingly solid marriage on display — and through the toughest of tests — revealing quirky flaws, unraveling dark secrets, and sparking emotions from tenderness to fury. Fans of Sarah Dunn and Taylor Jenkins Reid will relish the raw honesty and high-stakes tension as the pasts of Cass and Jonathan come roaring into the present."—Amy Poeppel, author of Limelight
 
"A pitch-perfect beach read that pulls back the curtain on what really happens after we say I do."—Jo Piazza, bestselling author of Charlotte Walsh Likes to Win

"The Intermission digs into the bedrock of the Coyne's marriage, exposing the strengths and vulnerabilities of its roots. Friedland builds characters who are both selfless and selfish at different times, resulting in a relatable and compelling read. Book clubs will have much to dissect."—Abby Fabiaschi, author of I Liked My Life
 
"Taking a pause to dissect what makes a marriage tick is terrifying, enlightening, and, in the case of Cass Coyne, even hilarious....With observations both acute and quirky, Elyssa Friedland points out the flaws and perfections that make marriage work, the secrets they contain, and how a desire for total honesty can bring both pain and freedom."—Maureen Sherry, author of Opening Belle

"A courageous and clever look at the frustrations and disappointments even the best marriages face. Elyssa Friedland pulls no punches with this provocative story that challenges our expectations about commitment and love."—Lynda Cohen Loigman, author of The Two-Family House

"I absolutely loved The Intermission, a smart, thoughtful exploration of the nature of marriage and relationships."—Brenda Janowitz, author of The Dinner Party

Praise for Love and Miss Communication
 
"Witty and hilarious...a love story for the 21st century."—Emily Giffin, New York Times bestselling author
 
"Funny, fast-paced, charming."—Jennifer Belle, bestselling author of High Maintenance and The Seven Year Bitch
 
"A witty, wonderful, and thoroughly modern love story. Friedland's writing is sharp and funny, tender and true. I couldn't put it down."—Cristina Alger, author of The Darlings
 
"A delicious and timely novel. Friedland takes a look at how our addiction to social media brings us together while keeping us apart."—Molly Jong-Fast, author of The Social Climber's Handbook
 
"A witty, modern love story not to be missed."—The Gazette (Iowa)
Berkley, 9780399586897, 368pp.
Publication Date: July 23, 2019
About the Author
Elyssa Friedland is the acclaimed author of Last Summer at the Golden Hotel, The Floating Feldmans, The Intermission and Love and Miss Communication. Elyssa is a graduate of Yale University and Columbia Law School and currently teaches novel writing at Yale. She lives with her husband and three children in New York City, the best place on earth.