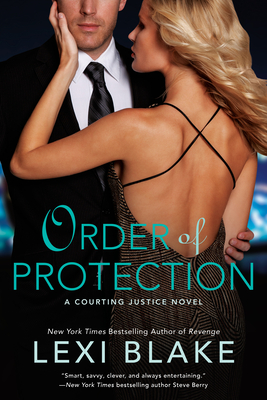 Order of Protection (A Courting Justice Novel #1) (Paperback)
Berkley, 9780399587467, 336pp.
Publication Date: June 5, 2018
* Individual store prices may vary.
Description
A sexy and suspenseful new contemporary romance from New York Times bestselling author Lexi Blake where love and law entwine for a conviction of the heart.

To high-end defense attorney Henry Garrison, Win Hughes is a woman he met during one of the most trying times of his life. She's soft and warm, and he finds solace in their brief relationship. But Win has a secret. She's actually Taylor Winston-Hughes--born to one of the wealthiest families in the country, orphaned as a child by a tragic accident. Win moves in the wealthiest circles, but her lavish lifestyle hides her pain.

When her best friend is murdered in the midst of a glittering New York gala, Win's charged with the crime, and the only person in the world she wants to see is Henry.

Henry is shocked at the true identity of his lover, but he can't reject the case. This trial could take his new firm into the stratosphere. Still, he's not getting burned by Win again. And yet every turn brings them closer together.

As the case takes a wild turn and Win's entire life is upended, she must look to the people she's closest to in order to find a killer. And Henry must decide between making his case and saving the woman he loves...
About the Author
Lexi Blake is the New York Times bestselling author of the Lawless novels, including Ruthless, Satisfaction, and Revenge, and the Masters and Mercenaries series, including Submission Is Not Enough, Dominance Never Dies, and From Sanctum with Love. She is also coauthor with Shayla Black of the Perfect Gentlemen series, including Big Easy Temptation and Seduction in Session, and the Masters of Menage series, including Their Virgin Mistress and Their Virgin Secretary.
Praise For Order of Protection (A Courting Justice Novel #1)…
Praise for the Lawless novels

"I love Lexi Blake. Read Ruthless and see why."—New York Times bestselling author Lee Child

"Smart, savvy, clever, and always entertaining. That's true of Riley Lawless, the hero in Ruthless, and likewise for his creator, Lexi Blake. Both are way ahead of the pack."—New York Times bestselling author Steve Berry

"Ruthless is full of suspense, hot sex, and swoon-worthy characters—a must read! Lexi Blake is a master at sexy, thrilling romance!"—New York Times bestselling author Jennifer Probst

"With Ruthless, Lexi Blake has set up shop on the intersection of suspenseful and sexy, and I never want to leave."—New York Times bestselling author Laurelin Paige

"The love story that develops will touch the hearts of fans....a welcome and satisfying entry into the Lawless world."—RT Book Reviews

Praise for the novels of Lexi Blake

"The sex was hot, and emotionally charged in many beautiful ways."—Scandalicious (scandaliciousbookreviews.com)

"A book to enjoy again and again . . . Captivating."—Guilty Pleasures Book Reviews

"A satisfying snack of love, romance, and hot, steamy sex."—Sizzling Hot Books

"Hot and emotional."—Two Lips Reviews

Praise for the Perfect Gentlemen series by Shayla Black and Lexi Blake

"Hot and edgy and laced with danger, the stories in the Perfect Gentlemen series are just that—perfect."—New York Times bestselling author J. Kenner 

"While there are certainly incendiary sex scenes at the top of this series opener, the strength is in the underlying murder and political mystery."—RT Book Reviews