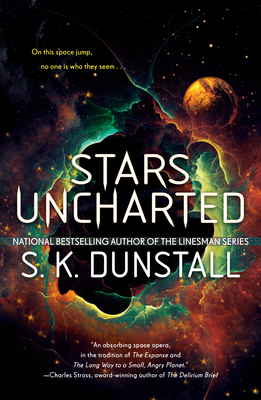 Stars Uncharted
Paperback

* Individual store prices may vary.
Description
In this rip-roaring space opera, a ragtag band of explorers are out to make the biggest score in the galaxy.

On this space jump, no one is who they seem . . .

Captain Hammond Roystan is a simple cargo runner who has stumbled across the find of a lifetime: the Hassim, a disabled exploration ship--and its valuable record of unexplored worlds.

His junior engineer, Josune Arriola, said her last assignment was in the uncharted rim. But she is decked out in high-level bioware that belies her humble backstory.

A renowned body-modification artist, Nika Rik Terri has run afoul of clients who will not take no for an answer. She has to flee off-world, and she is dragging along a rookie modder, who seems all too experienced in weapons and war . . .

Together this mismatched crew will end up on one ship, hurtling through the lawless reaches of deep space with Roystan at the helm. Trailed by nefarious company men, they will race to find the most famous lost world of all--and riches beyond their wildest dreams . . .
Praise For Stars Uncharted…
Praise for Stars Uncharted

"A fun adventure novel with an irresistible ragtag crew."--The Washington Post

"An absorbing space opera, in the tradition of The Expanse and The Long Way to a Small, Angry Planet."--Charles Stross, award-winning author of The Delirium Brief

"[A] brilliant female-driven tale...Readers of Asimov, Lois McMaster Bujold's Vorkosigan saga, or Anne McCaffey's Pern series will enjoy this story."--Booklist (starred review)

"A fresh concept, cutting edge technology, and characters that pop! A must-read." -William C. Dietz, New York Times bestselling author of Battle Hymn


Praise for S. K. Dunstall and the Linesman novels
 
"Fascinating and fun."—Patricia Briggs, #1 New York Times bestselling author of Silence Fallen
 
"Riveting."—Jack Campbell, New York Times bestselling author of the Lost Fleet novels
 
"A fascinating new take on the idea of the sentient spaceship."—Sharon Shinn, national bestselling author of Unquiet Land
Ace, 9780399587627, 416pp.
Publication Date: August 14, 2018
About the Author
S. K. Dunstall is the national bestselling author of the Linesman series, including Linesman, Alliance, and Confluence.
or
Not Currently Available for Direct Purchase