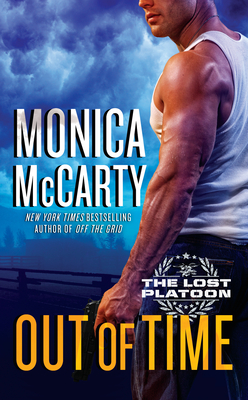 Out of Time (The Lost Platoon #3) (Mass Market)
Berkley, 9780399587740, 384pp.
Publication Date: December 31, 2018
Other Editions of This Title:
Compact Disc (12/31/2018)
MP3 CD (12/31/2018)
* Individual store prices may vary.
Description
A hunt for dangerous secrets leads to explosive chemistry in this exhilarating romantic suspense novel from the New York Times bestselling author of Off the Grid.

A team of Navy SEALs go on a mission and disappear without a trace—they are The Lost Platoon. 

With his men scattered to all corners of the globe after a disastrous secret op in Russia, Lieutenant Commander Scott Taylor is trying to find out who was responsible for leaking the information that killed half his platoon. Were it not for Natalie Andersson, the woman he'd been secretly dating in the Pentagon who'd warned him of the danger, he knows they'd all be dead. Scott is devastated when he hears that the woman he loved and hoped to marry has been killed for helping him—until he learns that Natalie was the spy who betrayed them. But when his search to clear his name brings him face-to-face with a very much alive Natalie, Scott realizes that justice and vengeance might not be as clear-cut as he thought. 

Natalie Andersson, or as she was born Natalya Petrova, has put the memories of her early childhood in Russia behind her. She never dreamed that she would be at the center of an elaborate "sleeper" espionage program. Even when she learns the truth, she refuses to spy for the country of her birth, until the Russians threaten the lives of the only family she's ever known. But Natalie is the worst spy in the history of spying, falling for her target. When her attempt at misdirection leads to irreversible consequences, she's forced to run for her life, with her lover hot on her tail.
About the Author
Monica McCarty is the bestselling author of The Arrow, The Raider, The Hunter, the Highlander trilogy, the Campbell trilogy, and more. Her interest in the Scottish clan system began in the most unlikely of places: a comparative legal history course at Stanford Law School. After a short but enjoyable stint as an attorney, she realized that her career as a lawyer paired with her husband's transitory life as a professional baseball player was not the best match. So she traded in her legal briefs for Scottish historical romances with sexy alpha heroes. She now lives in the San Francisco Bay Area with her husband and their two children.
Praise For Out of Time (The Lost Platoon #3)…
Praise for GOING DARK:

"McCarty crafts a story full of edge-of-your seat thrills and unexpected twists, all perfectly underscored by a toe-curling romance that feels utterly believable given the high stakes situations. Adrenaline-soaked action sequences and witty, often politically driven banter take you on a sexy and intense thrill ride where you fall in love with the characters as swiftly as they do with each other."--Entertainment Weekly

"McCarty's first installment in her Lost Platoon series—Going Dark—features betrayal, murder and Eco-terrorism. The non-stop action and love story are guaranteed to keep you turning the pages to find out what happens to Dean and Annie."—Catherine Coulter, #1 New York Times bestselling author

"A sexy thrill ride from start to finish. Steamy and suspenseful, Going Dark is a must read."—Jennifer L. Armentrout, #1 New York Times bestselling author

"McCarty's exciting contemporary series launch will not disappoint fans of her historical Highlands romances."—Publisher's Weekly

"The background politics, ensuing conversations between two smart and well-drawn characters, and the mystery of SEAL Team 9—who survived and why they were ambushed—elevate McCarty's above many military romances. Readers will find it hard to wait for the next in the series."—Booklist, starred review

"McCarty's foray into romantic suspense is non-stop action from beginning to end. This fast-paced story will have readers hanging on to the edge of their seats wondering where it will take them next. With the two main characters on a course set for disaster, the attraction between them cannot be denied. With no one left to trust, are they being completely honest with each other? A great read by the talented McCarty!"—RT Book Reviews