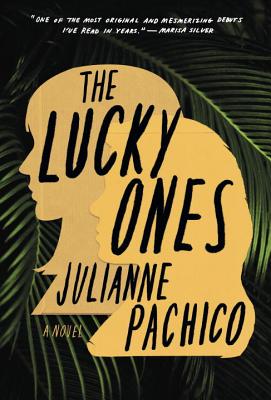 The Lucky Ones (Hardcover)
A Novel
Spiegel & Grau, 9780399588655, 272pp.
Publication Date: March 7, 2017
Other Editions of This Title:
Digital Audiobook (3/6/2017)
* Individual store prices may vary.
Description
A literary jigsaw puzzle of a debut novel set in Colombia during the peak of its decades-long conflict, and in New York City

While her parents are away, a teenager finds herself home alone, with the household staff mysteriously gone, no phone connection, and news of an insurgency on the radio—and then she hears a knock at the door. Her teacher, who has been kidnapped by guerrillas, recites Shakespeare in the jungle to a class of sticks, leaves, and stones while his captors watch his every move. Another classmate, who has fled Colombia for the clubs of New York, is unable to forget the life she left behind without the help of the little bags of powder she carries with her. Taking place over two decades, The Lucky Ones presents us with a world in which perpetrators are indistinguishable from saviors, the truth is elusive, and loved ones can disappear without a trace.

A prismatic tale of a group of characters who emerge and recede throughout the novel and touch one another's lives in ways even they cannot comprehend, The Lucky Ones captures the intensity of life in Colombia as paramilitaries, guerrillas, and drug traffickers tear the country apart. Combining vivid descriptions of life under siege with a hallucinatory feel that befits its violent world, The Lucky Ones introduces a truly original and exciting new voice in fiction.

Praise for The Lucky Ones

"A blunt, fresh and unsentimental look inside Colombia's last thirty bloody years . . . an enjoyable and freaky joy ride. . . . [Julianne] Pachico conveys the fear that Colombian children grow up with—she made that pit in my stomach open up again. . . . At the end you'll come out of this ride with a better understanding of Colombia's surreal state of affairs."—Silvana Paternostro, The New York Times Book Review

"[A] brilliantly wacked-out collection of linked stories about Colombia's long civil war."—New York

"An expansive tapestry of a debut."—Elle

"Thrilling . . . The Lucky Ones is no ordinary coming-of-age novel. Julianne Pachico's remarkably inventive debut navigates what it means to grow up wealthy amid the reality of conflict in Colombia."—The Atlantic

"Nothing is conventionally cohesive in The Lucky Ones, with its looping sense of time and fractured narrative structure. But there is an enduring sense of an ungovernable world unraveling, even as the disparate strands of this deeply affecting novel finally converge."—Paste

"In finely calibrated prose, this stirring novel plumbs the fates of those who struggled against the Colombian political upheaval that began in the '90s."—O Magazine

"Relentlessly rewarding . . . with traces of Gabriel García Márquez's News of a Kidnapping, Pachico's unapologetically immersive first novel brings life to a South American struggle often forgotten in global headlines."—Booklist

"Riveting . . . Having lived in Colombia until she turned eighteen, Pachico has a firsthand connection to the country's charms and troubles that shines through on every gripping page."—Publishers Weekly (starred review)

"Julianne Pachico's tough and stunning novel set in both the Colombian and New York drug jungles kept this reader up all night and made her double-check that her front door was locked tight."—Lily Tuck, National Book Award–winning author of The News from Paraguay and The Double Life of Liliane
About the Author
Julianne Pachico grew up in Cali, Colombia, and lived there until she was eighteen. She is currently completing a Ph.D. in creative writing at the University of East Anglia in England. Her story "Honey Bunny" appeared in The New Yorker, and two of her stories have been anthologized in Best British Short Stories 2015.
Praise For The Lucky Ones: A Novel…
"Julianne Pachico's The Lucky Ones offers a blunt, fresh and unsentimental look inside Colombia's last thirty bloody years. . . . An enjoyable and freaky joy ride. . . . What really drew me in is her ability to describe emotions. . . . Pachico conveys the fear that Colombian children grow up with—she made that pit in my stomach open up again. . . . At the end you'll come out of this ride with a better understanding of Colombia's surreal state of affairs. . . . [She creates] a millennial's view (not a criticism!) of the complexities of Colombia, full of existential angst and funny details. . . . Go to Pachico's Colombia."—Silvana Paternostro, The New York Times Book Review

"[A] brilliantly wacked-out collection of linked stories about Colombia's long civil war."—New York

"Thrilling . . . The Lucky Ones is no ordinary coming-of-age novel. Julianne Pachico's remarkably inventive debut navigates what it means to grow up wealthy amid the reality of conflict in Colombia. . . . [It] roil[s] conventions of form and narrative . . . with plenty of twists and turns in between. . . . In tackling the challenge of delineating childhood life and brutal war, of untangling the ordinary and the extraordinary, Pachico dares to disorient her readers. . . . 'History is and is not ephemeral; situations and events evaporate, but their moral and intellectual residue does not,' Cynthia Ozick wrote in the introduction to her collection of essays Quarrel and Quandary. In The Lucky Ones, Pachico has shaped that residue into constantly surprising form. History, she recognizes, is only the beginning."—The Atlantic
 
"Relentlessly rewarding . . . with traces of Gabriel García Márquez's News of a Kidnapping, Pachico's unapologetically immersive first novel brings life to a South American struggle often forgotten in global headlines."—Booklist

"An expansive tapestry of a debut."—Elle

"Mesmerizing . . . Even more than it eschews . . . easy answers, The Lucky Ones steadfastly eschews ease. Despite Pachico's luminous writing, the specter of terror, of kidnapping, of who will be taken next makes The Lucky Ones an unsettling read. Its perpetual perch on the edge of disaster—both real and surreal—leaves the reader in a state of dread reminiscent of Nathan Englander's Argentinian desaparecido novel, The Ministry of Special Cases. But the genius of The Lucky Ones is that Pachico creates a palpable anguish with a lighter touch than the gloom that hangs over Englander's book. The Lucky Ones often feels playful, in part because it consists of interlocking short stories that have been shuffled out of sequence, requiring re-assembly to understand how they fit together. It almost seems like a book more easily understood backwards than forwards. . . . Nothing is conventionally cohesive in The Lucky Ones, with its looping sense of time and fractured narrative structure. But there is an enduring sense of an ungovernable world unraveling, even as the disparate strands of this deeply affecting novel finally converge."—Paste
 
"In finely calibrated prose, this stirring novel plumbs the fates of those who struggled against the Colombian political upheaval that began in the '90s."—O Magazine

"Riveting . . . [A] carefully yet fiercely composed collage of voices that bears witness to the executions, forced disappearances, and other atrocities that took place in Colombia from 1993 to 2013 during the country's violent civil war . . . [A] searing glimpse into the conflict . . . Having lived in Colombia until she turned eighteen, Pachico has a firsthand connection to the country's charms and troubles that shines through on every gripping page."—Publishers Weekly (starred review)

"Julianne Pachico's tough and stunning novel set in both the Colombian and New York drug jungles kept this reader up all night and made her double-check that her front door was locked tight."—Lily Tuck, National Book Award–winning author of The News from Paraguay and The Double Life of Liliane

"Julianne Pachico takes a hammer and brings it down on the superficial gloss of history, piecing the fragments into a kaleidoscopic collage that tells a deeply observed, stylistically adventurous, and emotionally riveting story of people caught up in the violence of Colombia's guerrilla insurgencies. Moving effortlessly between the surreal and the real, sometimes in the space of a single sentence, Pachico delivers one of the most original and mesmerizing debuts I've read in years."—Marisa Silver, New York Times bestselling author of Little Nothing and Mary Coin

"Every episode of The Lucky Ones enlivens and unsettles in its own way. Their cumulative power derives from the way they expose the fragility of any kind of security, and the interconnectedness of lives across gulfs of time and society. It's a riveting work of fiction."—James Scudamore, award-winning author of Heliopolis and The Amnesia Clinic

"[An] unforgettable whirlwind of a debut . . . Taken alone—and some have been published as such—the chapters work as complete short stories, full worlds as vibrant and jarring as fever dreams. But together, they form something much larger, revealing a complicated and morally ambiguous web of interconnecting lives. Unsettling and pulsing with life; a brilliantly surreal portrait of life amid destabilizing violence."—Kirkus Reviews (starred review)

"The volatile, concentrated world of The Lucky Ones immediately surrounds the reader. We are compelled to follow Julianne Pachico deep into the fears, fantasies, and denials of her characters, whose susceptibilities we must recognize as our own."—Lavinia Greenlaw, author of A Double Sorrow
or
Not Currently Available for Direct Purchase