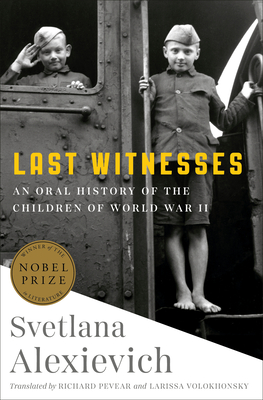 Last Witnesses
An Oral History of the Children of World War II
Hardcover

* Individual store prices may vary.
Other Editions of This Title:
Digital Audiobook (7/1/2019)
Paperback (6/16/2020)
Description
"A masterpiece" (The Guardian) from the Nobel Prize–winning writer, an oral history of children's experiences in World War II across Russia

NAMED ONE OF THE BEST BOOKS OF THE YEAR BY THE WASHINGTON POST

For more than three decades, Svetlana Alexievich has been the memory and conscience of the twentieth century. When the Swedish Academy awarded her the Nobel Prize, it cited her for inventing "a new kind of literary genre," describing her work as "a history of emotions . . . a history of the soul." 

Bringing together dozens of voices in her distinctive style, Last Witnesses is Alexievich's collection of the memories of those who were children during World War II. They had sometimes been soldiers as well as witnesses, and their generation grew up with the trauma of the war deeply embedded—a trauma that would change the course of the Russian nation. 

Collectively, this symphony of children's stories, filled with the everyday details of life in combat, reveals an altogether unprecedented view of the war. Alexievich gives voice to those whose memories have been lost in the official narratives, uncovering a powerful, hidden history from the personal and private experiences of individuals. 

Translated by the renowned Richard Pevear and Larissa Volokhonsky, Last Witnesses is a powerful and poignant account of the central conflict of the twentieth century, a kaleidoscopic portrait of the human side of war.

Praise for Last Witnesses

"There is a special sort of clear-eyed humility to [Alexievich's] reporting."—The Guardian

"A bracing reminder of the enduring power of the written word to testify to pain like no other medium. . . . Children survive, they grow up, and they do not forget. They are the first and last witnesses."—The New Republic

"A profound triumph."—The Big Issue

"[Alexievich] excavates and briefly gives prominence to demolished lives and eradicated communities. . . . It is impossible not to turn the page, impossible not to wonder whom we next might meet, impossible not to think differently about children caught in conflict."—The Washington Post
Praise For Last Witnesses: An Oral History of the Children of World War II…
Praise for Svetlana Alexievich, the winner of the Nobel Prize in Literature "for her polyphonic writings, a monument to suffering and courage in our time"

"[Svetlana] Alexievich presents less a straightforward oral history of World War II than a literary excavation of memory itself."—The New York Times Book Review

"Alexievich has forged her own distinctive identity: as a witness to witnesses who usually go unheard. . . . In a 'post-truth' era when journalism is under pressure—susceptible to propaganda, sensationalism, and 'alternative facts'—the power of documentary literature stands out more clearly than ever. . . . Listen to Alexievich."—The Atlantic

"[Alexievich's] books are woven from hundreds of interviews, in a hybrid form of reportage and oral history that has the quality of a documentary film on paper. But Alexievich is anything but a simple recorder and transcriber of found voices; she has a writerly voice of her own which emerges from the chorus she assembles, with great style and authority, and she shapes her investigations of Soviet and post-Soviet life and death into epic dramatic chronicles as universally essential as Greek tragedies. . . . A mighty documentarian and a mighty artist."—The New Yorker

"Alexievich has gained probably the world's deepest, most eloquent understanding of the post-Soviet condition. . . . [She] has consistently chronicled that which has been intentionally forgotten."—Masha Gessen

"Alexievich stations herself at a crossroads of history and turns on her tape recorder. The result is oral history that at times can feel more authentic than narrated history. Alexievich makes it feel intimate, as if you are sitting in the kitchen with the characters, sharing in their happiness and agony."—The Washington Post

"Alexievich's witnesses are those who haven't had a say. She shows us from these conversations, many of them coming at the confessional kitchen table of Russian apartments, that it's powerful simply to be allowed to tell one's own story. This is the kind of history, otherwise almost unacknowledged by today's dictatorships, that matters."—The Christian Science Monitor
Random House, 9780399588754, 320pp.
Publication Date: July 2, 2019
About the Author
Svetlana Alexievich was born in Ivano-Frankivsk, Ukraine, in 1948 and has spent most of her life in the Soviet Union and present-day Belarus, with prolonged periods of exile in Western Europe. Starting out as a journalist, she developed her own nonfiction genre, which gathers a chorus of voices to describe a specific historical moment. Her works include The Unwomanly Face of War (1985), Last Witnesses (1985), Zinky Boys (1990), Voices from Chernobyl (1997), and Secondhand Time (2013). She has won many international awards, including the 2015 Nobel Prize in Literature "for her polyphonic writings, a monument to suffering and courage in our time."
or
Not Currently Available for Direct Purchase