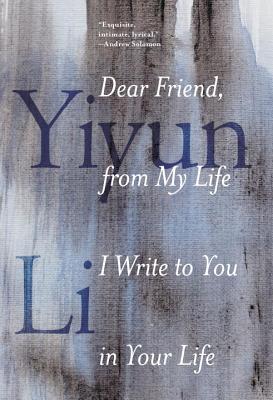 Dear Friend, from My Life I Write to You in Your Life (Hardcover)
Random House, 9780399589096, 224pp.
Publication Date: February 21, 2017
Other Editions of This Title:
Digital Audiobook (2/4/2019)
Paperback (2/20/2018)
* Individual store prices may vary.
Description
In her first memoir, award-winning novelist Yiyun Li offers a journey of recovery through literature: a letter from a writer to like-minded readers.

"A meditation on the fact that literature itself lives and gives life."—Marilynne Robinson, author of Gilead

"What a long way it is from one life to another, yet why write if not for that distance?"

Startlingly original and shining with quiet wisdom, this is a luminous account of a life lived with books. Written over two years while the author battled suicidal depression, Dear Friend, from My Life I Write to You in Your Life is a painful and yet richly affirming examination of what makes life worth living.

Yiyun Li grew up in China and has spent her adult life as an immigrant in a country not her own. She has been a scientist, an author, a mother, a daughter—and through it all she has been sustained by a profound connection with the writers and books she loves. From William Trevor and Katherine Mansfield to Søren Kierkegaard and Philip Larkin, Dear Friend is a journey through the deepest themes that bind these writers together.

Interweaving personal experiences with a wide-ranging homage to her most cherished literary influences, Yiyun Li confronts the two most essential questions of her identity: Why write? And why live?

Praise for Dear Friend, from My Life I Write to You in Your Life

"Li has stared in the face of much that is beautiful and ugly and treacherous and illuminating—and from her experience she has produced a nourishing exploration of the will to live willfully."—The Washington Post

"Li's transformation into a writer . . . is nothing short of astonishing.'"—The New York Times Book Review

"An arrestingly lucid, intellectually vital series of contemplations on art, identity, and depression."—The Boston Globe

"Li is an exemplary storyteller and this account of her journey back to equilibrium, assisted by her closest companion, literature, is as powerful as any of her award-winning fiction, with the dark fixture of her Beijing past at its centre."—Financial Times

"Every writer is a reader first, and Dear Friend is Li's haunted, luminous love letter to the words that shaped her. . . . Her own prose is both lovely and opaque, fitfully illuminating a radiant landscape of the personal and profound."—Entertainment Weekly

"Yiyun Li's prose is lean and intense, and her ideas about books and writing are wholly original."—San Francisco Chronicle
About the Author
Yiyun Li is the author of four works of fiction—Kinder Than Solitude, A Thousand Years of Good Prayers, The Vagrants, and Gold Boy, Emerald Girl—and the memoir Dear Friend, from My Life I Write to You in Your Life. A native of Beijing and a graduate of the Iowa Writers' Workshop, she is the recipient of many awards, including a PEN/Hemingway Award and a MacArthur Foundation fellowship, and was named by The New Yorker as one of the "20 Under 40" fiction writers to watch. Her work has appeared in The New Yorker, A Public Space, The Best American Short Stories, and The O. Henry Prize Stories, among other publications. She teaches at Princeton University and lives in Princeton, New Jersey, with her husband and their two sons.
Praise For Dear Friend, from My Life I Write to You in Your Life…
"Li has stared in the face of much that is beautiful and ugly and treacherous and illuminating—and from her experience she has produced a nourishing exploration of the will to live willfully."—The Washington Post
 
"Li's transformation into a writer—and her striking success (she is the winner of a MacArthur 'genius' grant, among other prestigious awards)—is nothing short of astonishing. . . . For someone who says that 'pain was my private matter' and considers 'invisibility' a 'luxury,' writing about these experiences cannot have been easy. . . . Immeasurable loss hovers just behind these pages, but in sacrificing her first tongue, Li tenuously acquires in her adopted one some legible form of 'self.' English, Li's first language in writing, is the only one in which she could have told this story, one in which Li says she feels, finally, 'invisible but not estranged.'"—The New York Times Book Review
 
"An arrestingly lucid, intellectually vital series of contemplations on art, identity, and depression."—The Boston Globe
 
"Delicate as a watercolor . . . a rumination on literature and [Li's] long battle with depression."—O: The Oprah Magazine

"Li is an exemplary storyteller and this account of her journey back to equilibrium, assisted by her closest companion, literature, is as powerful as any of her award-winning fiction, with the dark fixture of her Beijing past at its centre."—Financial Times
 
"Every writer is a reader first, and Dear Friend is Li's haunted, luminous love letter to the words that shaped her. . . . Her own prose is both lovely and opaque, fitfully illuminating a radiant landscape of the personal and profound."—Entertainment Weekly
 
"Yiyun Li's prose is lean and intense, and her ideas about books and writing are wholly original."—San Francisco Chronicle
 
"[Dear Friend, from My Life I Write to You in Your Life is] not an empirical study of mental illness, but a collection of very personal observations, a story as poetic and wending as its title. . . . Li's writing unfolds slowly, like a story shared between good friends. That seems to be the point: She writes to connect with her readers on the deepest emotional level. And she succeeds."—HuffPost

"A work of arresting revelations . . . A writer of meticulous reasoning, probing sensitivity, candor, and poise, [Yiyun] Li parses mental states with psychological and philosophical precision in a beautifully measured and structured style born of both her scientific and literary backgrounds."—Booklist
 
"In this exquisite, intimate, lyrical memoir, Yiyun Li reveals her life in flashes appended to an arrestingly coherent philosophy of time, self, and place. Uniting the discipline of a scientist with the empathy of a novelist, she scatters profound and often difficult truths through these generous, wise, challenging pages."—Andrew Solomon, author of Far from the Tree

"Yiyun Li has written a remarkable account of her literary life, begun in her youth in China with the books that first engaged her in the great conversations of literature. In her own emergence as an important and gifted writer in English she has brought a new voice to that great world. She has also been, in the deepest sense, sustained by it. Her new book is a meditation on the fact that literature itself lives and gives life."—Marilynne Robinson, author of Gilead

"Literature, national identity versus the individual self, the clash of public and private, the mysterious nature of relationship, indeed, human nature itself—these subjects and more are explored with remarkable subtlety and rare, limpid mental beauty. A must-read for anyone trying to stay sane in a world that might be perceived as insane."—Mary Gaitskill, author of The Mare

"This extraordinary book is the story of a writer being made and making herself. It is the story of depression coming in waves and being beaten back through love and stubbornness. And also it is one of our finest writers scrutinizing the books that have mattered most to her."—Akhil Sharma, author of Family Life

"Reading Yiyun Li feels like being inside a mind—a quietly forceful, unrelenting mind. Within the limits of language, which she all but touches, she unfolds an argument with the self. She is suspicious of the very concept of the self, but she does not, ultimately, refuse its possibilities. 'What a long way it is from one life to another,' she writes, while closing that space."—Eula Biss, author of On Immunity
or
Not Currently Available for Direct Purchase