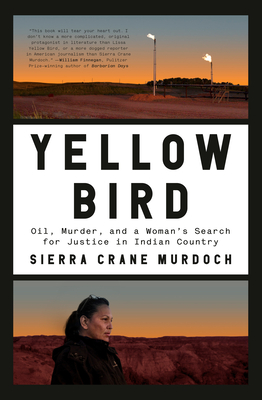 Yellow Bird
Oil, Murder, and a Woman's Search for Justice in Indian Country
Hardcover

* Individual store prices may vary.
Other Editions of This Title:
Paperback (2/16/2021)
Description
The gripping true story of a murder on an Indian reservation, and the unforgettable Arikara woman who becomes obsessed with solving it—an urgent work of literary journalism.
 
"I don't know a more complicated, original protagonist in literature than Lissa Yellow Bird, or a more dogged reporter in American journalism than Sierra Crane Murdoch."—William Finnegan, Pulitzer Prize–winning author of Barbarian Days

NAMED ONE OF THE BEST BOOKS OF THE YEAR BY The New York Times Book Review • NPR • Publishers Weekly 

When Lissa Yellow Bird was released from prison in 2009, she found her home, the Fort Berthold Indian Reservation in North Dakota, transformed by the Bakken oil boom. In her absence, the landscape had been altered beyond recognition, her tribal government swayed by corporate interests, and her community burdened by a surge in violence and addiction. Three years later, when Lissa learned that a young white oil worker, Kristopher "KC" Clarke, had disappeared from his reservation worksite, she became particularly concerned. No one knew where Clarke had gone, and few people were actively looking for him.
 
Yellow Bird traces Lissa's steps as she obsessively hunts for clues to Clarke's disappearance. She navigates two worlds—that of her own tribe, changed by its newfound wealth, and that of the non-Native oilmen, down on their luck, who have come to find work on the heels of the economic recession. Her pursuit of Clarke is also a pursuit of redemption, as Lissa atones for her own crimes and reckons with generations of trauma. Yellow Bird is an exquisitely written, masterfully reported story about a search for justice and a remarkable portrait of a complex woman who is smart, funny, eloquent, compassionate, and—when it serves her cause—manipulative. Drawing on eight years of immersive investigation, Sierra Crane Murdoch has produced a profound examination of the legacy of systematic violence inflicted on a tribal nation and a tale of extraordinary healing.
Praise For Yellow Bird: Oil, Murder, and a Woman's Search for Justice in Indian Country…
"Sierra Crane Murdoch has written a deft, compelling account of an oil field murder and the remarkable woman who made it her business to solve it. I can't stop thinking and talking about this book."—Rachel Monroe, author of Savage Appetites 

"This book is a detective story, and a good one, that tells what happens when rootless greed collides with rooted culture. But it's also a classic slice of American history, and a tale of resilience in the face of remarkable trauma. Sierra Crane Murdoch is a patient, careful, and brilliant chronicler of this moment in time, a new voice who will add much to our literature in the years ahead."—Bill McKibben, author of Falter: Has the Human Game Begun to Play Itself Out?

"In Yellow Bird, oilfield meets reservation, and readers meet a true-to-life Native sleuth unlike any in literature. Sierra Crane Murdoch takes a modest, ignored sort of American life and renders it large, with a murder mystery driving the action. It's an empathetic, attentive account by a talented writer and listener."—Ted Conover, author of Newjack: Guarding Sing Sing and Rolling Nowhere

"Journalist and first-time author Sierra Crane Murdoch follows an Arikara woman named Lissa Yellow Bird who is determined to solve the mystery of a missing white oil worker on the North Dakota reservation where her family lives. The book offers a gripping narrative of Yellow Bird's obsession with the case, but it's also about the harsh history of the land where the man vanished, how it was flooded and remade, first by an uncaring federal government and then again by industry. Yellow Bird teaches us that some things aren't random at all—that a crime, and its resolution, can be a product of a time and a place, and a history bringing together the people involved."—Outside magazine

"Remarkable . . . [The book's] strength derives not from vast panoramas but from an intimate gaze. . . . I've long felt that Native communities are perceived (by Native and non-Native people alike) as places in America but not of America. Murdoch troubles this false separation and helps us understand Yellow Bird and Clarke, and by extension Native and non-Native lives, as deeply intertwined. . . . Yellow Bird's fanatical but dignified search brought closure to Clarke's family and change to Fort Berthold. In her telling of the story, Murdoch brings the same fanaticism and dignity to the search for and meaning of modern Native America."—David Treuer, The New York Times

"A great true-crime story . . . Lissa Yellow Bird is one of the most fascinating characters I've ever read about—and she's a real person. . . . It's Yellow Bird's incremental fight that makes the book addictive, full of twists and turns and surprising choices. . . . [Sierra Crane] Murdoch reports the hell out of it, digging up text messages and conversations and business dealings and shifts in tribal power. She also gets deep into personal relationships and reveals their richness from all sides. It's a remarkable accomplishment."—Los Angeles Times
Random House, 9780399589157, 400pp.
Publication Date: February 25, 2020
About the Author
Sierra Crane Murdoch, a journalist based in the American West, has written for Harper's, This American Life, The Atlantic, The New Yorker online, VQR, and High Country News. She has held fellowships from Middlebury College and from the Investigative Reporting Program at the University of California, Berkeley. She is a MacDowell Fellow.
Coverage from NPR