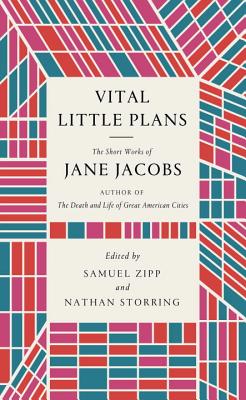 Vital Little Plans (Hardcover)
The Short Works of Jane Jacobs
Random House, 9780399589607, 544pp.
Publication Date: October 11, 2016
* Individual store prices may vary.
Description
A career-spanning selection of previously uncollected writings and talks by the legendary author and activist

No one did more to change how we look at cities than Jane Jacobs, the visionary urbanist and economic thinker whose 1961 book The Death and Life of Great American Cities started a global conversation that remains profoundly relevant more than half a century later.

Vital Little Plans is an essential companion to Death and Life and Jacobs's other books on urbanism, economics, politics, and ethics. It offers readers a unique survey of her entire career in forty short pieces that have never been collected in a single volume, from charming and incisive urban vignettes from the 1930s to the raw materials of her two unfinished books of the 2000s, together with introductions and annotations by editors Samuel Zipp and Nathan Storring. Readers will find classics here, including Jacobs's breakout article "Downtown Is for People," as well as lesser-known gems like her speech at the inaugural Earth Day and a host of other rare or previously unavailable essays, articles, speeches, interviews, and lectures. Some pieces shed light on the development of her most famous insights, while others explore topics rarely dissected in her major works, from globalization to feminism to universal health care.

With this book, published in Jacobs's centenary year, contemporary readers—whether well versed in her ideas or new to her writing—are finally able to appreciate the full scope of her remarkable voice and vision. At a time when urban life is booming and people all over the world are moving to cities, the words of Jane Jacobs have never been more significant. Vital Little Plans weaves a lifetime of ideas from the most prominent urbanist of the twentieth century into a book that's indispensable to life in the twenty-first.

Praise for Vital Little Plans

"Jacobs's work . . . was a singularly accurate prediction of the future we live in."—The New Republic

"In Vital Little Plans, a new collection of the short writings and speeches of Jane Jacobs, one of the most influential thinkers on the built environment, editors Samuel Zipp and Nathan Storring have done readers a great service."—The Huffington Post

"A wonderful new anthology that captures [Jacobs's] confident prose and her empathetic, patient eye for the way humans live and work together."—The Globe and Mail

"[A timely reminder] of the clarity and originality of [Jane Jacobs's] thought."—Toronto Star

"[Vital Little Plans] comes to the foreground for [Jane Jacobs's] centennial, and in a time when more of Jacobs's prescient wisdom is needed."—Metropolis

"[Jacobs] changed the debate on urban planning. . . . As [Vital Little Plans] shows, she never stopped refining her observations about how cities thrived."—Minneapolis Star Tribune

"[Jane Jacobs] was one of three people I have met in a lifetime of meeting people who had an aura of sainthood about them. . . . The ability to radiate certainty without condescension, to be both very sure and very simple, is a potent one, and witnessing it in life explains a lot in history that might otherwise be inexplicable."—Adam Gopnik, The New Yorker

"A rich, provocative, and insightful collection."—Reason
About the Author
Jane Jacobs (1916–2006) was a writer who for more than forty years championed innovative, community-based approaches to urban planning. Her 1961 treatise The Death and Life of Great American Cities became perhaps the most influential text about the inner workings and failings of cities, inspiring generations of planners and activists.
 
Samuel Zipp is a writer and historian. He is the author of the award-winning Manhattan Projects: The Rise and Fall of Urban Renewal in Cold War New York, which tells the larger history of the battles over urban renewal that propelled Jane Jacobs to national fame. He has written articles and reviews on urbanism and culture for The New York Times, The Washington Post, and The Nation. He is currently associate professor of American studies and urban studies at Brown University.
 
Nathan Storring is a writer, curator, and designer who specializes in making contemporary urban design, planning, and policy accessible to the general public. He has served as acting curator of Urbanspace Gallery in Toronto (founded by colleagues of Jane Jacobs) and worked on permanent exhibits at the Chicago Architecture Foundation and the Boston Society of Architects. He has written for various outlets, including Canadian Architect, Next City, and the Metropolitan Revolution blog, and is a regular contributor to the Project for Public Spaces blog.
Praise For Vital Little Plans: The Short Works of Jane Jacobs…
"In Vital Little Plans, a new collection of the short writings and speeches of Jane Jacobs, one of the most influential thinkers on the built environment, editors Samuel Zipp and Nathan Storring have done readers a great service. They've brought together the best of this brilliant autodidact's compelling arguments for why planners and designers must never forget the importance of small-scale diversity given it results in interesting cities created, first and foremost, for people."—The Huffington Post

"The editors' introduction is a feast of details and insights. One learns not only about Jacobs and where she stood vis-a-vis this or that critique of her own work, but also about the contexts (cities, the natural world) within which her contributions played out. . . . The way in which the editors have organized this trove of short pieces works beautifully. . . . [The] sections underline her consistent commitments, and give us nearly a century of urban history."—Times Literary Supplement

"Jacobs's work . . . was a singularly accurate prediction of the future we live in."—The New Republic

"A wonderful new anthology that captures [Jacobs's] confident prose and her empathetic, patient eye for the way humans live and work together."—The Globe and Mail

"[A timely reminder] of the clarity and originality of [Jane Jacobs's] thought."—Toronto Star
 
"[Vital Little Plans] comes to the foreground for [Jane Jacobs's] centennial, and in a time when more of Jacobs's prescient wisdom is needed."—Metropolis

"[Jacobs] hammered out the precepts of successful cities in The Death and Life of Great American Cities, and changed the debate on urban planning. . . . As [Vital Little Plans] shows, she never stopped refining her observations about how cities thrived."—Minneapolis Star Tribune

"A rich, provocative, and insightful collection."—Reason

"[Jane Jacobs] was one of three people I have met in a lifetime of meeting people who had an aura of sainthood about them. . . . The ability to radiate certainty without condescension, to be both very sure and very simple, is a potent one, and witnessing it in life explains a lot in history that might otherwise be inexplicable—for instance, how a sixteen-year-old girl could lead the French Army to victory. Jane Jacobs's aura was so powerful that it made her, precisely, the St. Joan of the small scale. Her name still summons an entire city vision."—Adam Gopnik, The New Yorker

"Jacobs has not only bequeathed us a legacy of great ideas; she can also serve as an exemplar of how to approach our own formidable problems, in urban planning and beyond. To follow her lead is to look closely to determine what works and what doesn't. It is to nurture a multitude of little plans and, not least, to do all we can to stop big plans based on bad ideas."—The Nation

"Vital Little Plans gathers an excellent range of Jacobs's thinking for both new readers and those who haven't picked her up since being assigned The Death and Life of Great American Cities in college. . . . These short essays and lectures present a startling breadth of ideas, and an unflagging advocacy not just for the built environment, but for the human struggles within it."—Los Angeles Review of Books

"Rather than coming off as a collection of rarities (although almost every reader will discover something new here), Vital Little Plans feels more like a greatest hits collection. By spanning the chronology of her career, the book illustrates the evolution of Jacobs's career in ways that any one of her books cannot. While passages from The Death and Life of Great American Cities will remain compulsory for planning and design students for at least another century, Vital Little Plans offers new lessons in how an intellectual project can evolve given changes in time and place. In this era of innovation and political turmoil, lessons in how to improve and shift one's thinking might be the most important of all."—Planetizen

"Jane Jacobs saw the city like no other, and her observational genius, practical wisdom, and moral courage are on full display here, making this brilliantly curated book essential reading. With our cities facing unprecedented sustainability and affordability challenges, we need to listen to Jacobs more than ever."—Matthew Desmond, New York Times bestselling author of Evicted
 
"In these stirring pages, Jane Jacobs shows herself once more to have been the keenest observer of the urban condition. Her vision of people-focused cities that are places, and not merely spaces, remains both prescient and relevant for planners, policy makers, and ordinary people today."—Janette Sadik-Khan, Bloomberg Associates, former NYC transportation commissioner

"It's one thing to bring important ideas to the world, quite another to do it with such wit and subtlety. This volume reminds us what a crackling great writer Jane Jacobs was."—James Howard Kunstler, author of The Geography of Nowhere
 
"This might be the very best of Jane Jacobs's books. The articles and speeches collected here are terrific summaries of her thoughts about the marvelous complexities of cities and how we might respond to city challenges to our best advantage."—John Sewell, former mayor of Toronto
 
"Vital Little Plans is an immensely important retrospective of Jane Jacobs's articles and speeches. Her belief in the power of residents to make cities economically, environmentally, and socially successful shines through, as does her disdain for those who would build cities for cars, not people."—David Miller, president and CEO of WWF-Canada and former mayor of Toronto

"This wonderful volume opens the door to the vital world of Jane Jacobs, in which we are challenged to bring complexity and intimacy into harmony with one another. A book to get your blood running and ideas soaring!"—Mindy Thompson Fullilove, author of Urban Alchemy
 
"It takes an anthology like this to capture the breadth of her work. Jacobs had no time for orthodoxy and wasn't afraid to change her views, many of which will surprise her fans, critics, and everyone who thinks they know what Jane Jacobs thought, and what she would have done."—Shawn Micallef, author, columnist, Spacing Magazine editor
 
"We know Jane Jacobs wrote brilliant books, and it would be a crime to let her equally brilliant smaller writings, speeches and interviews be lost. This collection is more than the sum of its parts, and is a great book to have at your fingertips."—Brent Toderian, city planner & urbanist, TODERIAN UrbanWORKS, and former Vancouver chief planner
 
"This remarkable compendium of Jane Jacobs's writing covers a period which begins long before the publication of The Death and Life of Great American Cities in 1961 and ends long after. Following the thread we see how, piece by piece, she expanded her range into the next ring of connected ideas, periodically consolidating them in a book or an article, edging ever closer to a kind of unified theory linking ecology, economy, ethics and social mores and their manifestations in real places. Like her fundamental observation about the city itself, her work was never finished."—Ken Greenberg, urban designer and author of Walking Home

"Oh no! I picked up this book to blurb it—thought I could just skim it and dash something off—but Jacobs has got me hooked again. I'm too busy reading to tell you why this collection is Jacobs at her best, but it is. Don't cheat yourself of the pleasure that lies between these covers."—Jeff Speck, author of Walkable City

"An essential read for those wanting to understand the contradiction and chaos of a woman whose legacy is that we must all think for ourselves. We are lucky, with this volume, to witness her voice transforming and her ideas taking shape. The editors have brilliantly selected and sequenced her writing so that we can plainly see how she wrestles with, and problem solves around, messy and complex systems. Many of us have only scratched the surface with Jacobs, ending our love affair with her work at a time when she'd just begun to connect the dots. Reading through the entire pilgrimage makes the calls to action more vivid and more urgent than ever before."—Denise Pinto, executive director, Jane's Walk

"The well-chosen selection begins in 1935 and 1937, with two articles for Vogue, each offering a lively, affectionate portrait of the diamond district and wholesale flower markets . . . [and spans] Jacobs's career as an astute, opinionated commentator on city life. . . . A timely volume that supports Jacobs's aim to 'stir up some independent thinking urgently needed as a wake-up call for America.'"—Kirkus Reviews