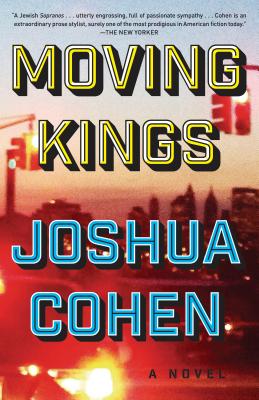 Moving Kings (Hardcover)
Random House, 9780399590184, 256pp.
Publication Date: July 11, 2017
Description
A propulsive, incendiary novel about faith, race, class, and what it means to have a home, from Joshua Cohen, "a major American writer" (The New York Times) One of the boldest voices of his generation, Joshua Cohen returns with Moving Kings, a powerful and provocative novel that interweaves, in profoundly intimate terms, the housing crisis in America's poor black and Hispanic neighborhoods with the world's oldest conflict, in the Middle East. The year is 2015, and twenty-one-year-olds Yoav and Uri, veterans of the last Gaza War, have just completed their compulsory military service in the Israel Defense Forces. In keeping with national tradition, they take a year off for rest, recovery, and travel. They come to New York City and begin working for Yoav's distant cousin David King--a proud American patriot, Republican, and Jew, and the recently divorced proprietor of King's Moving Inc., a heavyweight in the tri-state area's moving and storage industries. Yoav and Uri now must struggle to become reacquainted with civilian life, but it's not easy to move beyond their traumatic pasts when their days are spent kicking down doors as eviction-movers in the ungentrified corners of the Bronx, Brooklyn, and Queens, throwing out delinquent tenants and seizing their possessions. And what starts off as a profitable if eerily familiar job--an "Occupation"--quickly turns violent when they encounter one homeowner seeking revenge. Praise for Moving Kings "A Jewish Sopranos . . . burly with particularities and vibrant with voice . . . utterly engrossing, full of passionate sympathy . . . Cohen is an extraordinary prose stylist, surely one of the most prodigious in American fiction today. . . . His sentences are all-season journeyers, able to do everything everywhere at once."--James Wood, The New Yorker "Brilliant. . . . It feels master-planned to slowly unsettle your convictions, as the best novels do. . . . Cohen has a brain-on-fire intellect and a Balzac-grade enthusiasm for understanding varieties of experience."--Los Angeles Times "A swift-moving highbrow comic adventure."--Vulture "An astute and often penetrating look at a divided world, lightened with sympathy for all its flawed protagonists."--The Guardian "A svelte comic triumph that concentrates Cohen's] genius . . . a fantastically agile style . . . Cohen explores themes of power and Jewish identity with the same insight that has justly attracted praise from some of the country's most sophisticated writers."--The Washington Post
About the Author
Joshua Cohen was born in 1980 in Atlantic City. He has written novels (Book of Numbers), short fiction (Four New Messages), and nonfiction for The New York Times, Harper's Magazine, London Review of Books, The Forward, n+1, and others. In 2017 he was named one of Granta's Best of Young American Novelists. He lives in New York City.
Advertisement