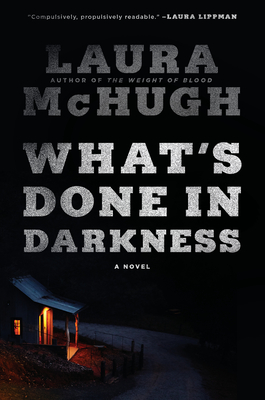 What's Done in Darkness
A Novel
Hardcover

* Individual store prices may vary.
Description
Abducted as a teenager, a woman must now confront her past and untangle the truth of what really happened to her in this dark thriller from the author of The Wolf Wants In. 

Seventeen-year-old Sarabeth has become increasingly rebellious since her parents found God and moved their family to a remote Arkansas farmstead where she's forced to wear long dresses, follow strict rules, and grow her hair down to her waist. She's all but given up on escaping the farm when a masked man appears one stifling summer morning and snatches her out of the cornfield. 

A week after her abduction, she's found alongside a highway in a bloodstained dress—alive—but her family treats her like she's tainted, and there's little hope of finding her captor, who kept Sarabeth blindfolded in the dark the entire time, never uttering a word. One good thing arises from the horrific ordeal: a chance to leave the Ozarks and start a new life. 

Five years later, Sarabeth is struggling to keep her past buried when investigator Nick Farrow calls. Convinced that her case is connected to the strikingly similar disappearance of another young girl, Farrow wants Sarabeth's help, and he'll do whatever it takes to get it, even if that means dragging her back to the last place she wants to go—the hills and hollers of home, to face her estranged family and all her deepest fears. 

In this riveting new novel from Laura McHugh, blood ties and buried secrets draw a young woman back into the nightmare of her past to save a missing girl, unaware of what awaits her in the darkness.
Praise For What's Done in Darkness: A Novel…
"Laura McHugh is already on everyone's short list of crime writers to watch for, someone who just goes from strength to strength. What's Done in Darkness is timely, but more important, it's a deeply empathetic look at a community and place that are all too easy to stereotype. Compulsively, propulsively readable, it never loses sight of what's really at stake for its characters—or its readers."—Laura Lippman, bestselling author of Lady in the Lake

"What's Done in Darkness is a beautifully paced story of a young woman's courage to confront, both psychologically and by novel's end literally, an evil that might again entrap her. Laura McHugh expertly delivers a harrowing tale of a world where little is what it first appears to be."—Ron Rash, bestselling author of Serena

"It's hard to find a truly original thriller these days, one that's populated with unique characters and a plot that feels fresh. But with What's Done in Darkness, Laura McHugh has managed a new spin on the genre. From the suffocating isolation of a religious cult to the twisted loyalties of family, this page-turner takes readers on a journey into the dark heart of the Ozarks. A riveting, poignant, and propulsive read."—Amy Engel, bestselling author of The Familiar Dark

"Once again, Laura McHugh has written a gorgeously evocative and perfectly plotted rural thriller you'll devour in one gulp or die trying. Thoughtful, compelling, and steeped in the secrets of its backwoods setting, What's Done in Darkness is a cry for justice for the girls and women lost on the shadowy, ultrareligious fringes of the homeschooling movement. With every dark, unsettling twist, it becomes more and more apparent: The Ozarks belong to Laura McHugh."—Amy Gentry, bestselling author of Good as Gone and Bad Habits

"It's no secret that I love Laura's writing and have devoured each of her novels since I got my hands on The Weight of Blood, and with What's Done in Darkness it was no different. This is one heck of a spine-tingler, and Laura's combination of seamless prose, beautifully drawn characters, atmospheric settings, and plot twists to keep you guessing—not to mention reading—is sure to be another stellar hit. If this one isn't on your Thriller Reads Radar, it should be!"—Hannah Mary McKinnon, bestselling author of Sister Dear and You Will Remember Me
Random House, 9780399590313, 256pp.
Publication Date: June 22, 2021
About the Author
Laura McHugh is the internationally bestselling author of The Weight of Blood, winner of an International Thriller Writers Award and a Killer Nashville Silver Falchion Award for best first novel; Arrowood, an International Thriller Writers Award finalist for best novel; and The Wolf Wants In. McHugh lives in Missouri with her husband and their daughters.