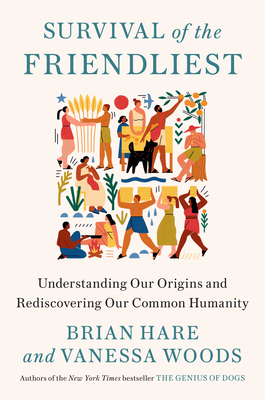 Survival of the Friendliest
Understanding Our Origins and Rediscovering Our Common Humanity
Hardcover

* Individual store prices may vary.
Other Editions of This Title:
Digital Audiobook (7/13/2020)
Paperback (7/13/2021)
Description
A powerful new theory of human nature suggests that our secret to success as a species is our unique friendliness

"Brilliant, eye-opening, and absolutely inspiring—and a riveting read. Hare and Woods have written the perfect book for our time."—Cass R. Sunstein, author of How Change Happens and co-author of Nudge

For most of the approximately 300,000 years that Homo sapiens have existed, we have shared the planet with at least four other types of humans. All of these were smart, strong, and inventive. But around 50,000 years ago, Homo sapiens made a cognitive leap that gave us an edge over other species. What happened?

Since Charles Darwin wrote about "evolutionary fitness," the idea of fitness has been confused with physical strength, tactical brilliance, and aggression. In fact, what made us evolutionarily fit was a remarkable kind of friendliness, a virtuosic ability to coordinate and communicate with others that allowed us to achieve all the cultural and technical marvels in human history. Advancing what they call the "self-domestication theory," Brian Hare, professor in the department of evolutionary anthropology and the Center for Cognitive Neuroscience at Duke University and his wife, Vanessa Woods, a research scientist and award-winning journalist, shed light on the mysterious leap in human cognition that allowed Homo sapiens to thrive. 

But this gift for friendliness came at a cost. Just as a mother bear is most dangerous around her cubs, we are at our most dangerous when someone we love is threatened by an "outsider." The threatening outsider is demoted to sub-human, fair game for our worst instincts. Hare's groundbreaking research, developed in close coordination with Richard Wrangham and Michael Tomasello, giants in the field of cognitive evolution, reveals that the same traits that make us the most tolerant species on the planet also make us the cruelest. 

Survival of the Friendliest offers us a new way to look at our cultural as well as cognitive evolution and sends a clear message: In order to survive and even to flourish, we need to expand our definition of who belongs.
Praise For Survival of the Friendliest: Understanding Our Origins and Rediscovering Our Common Humanity…
"Please read this beautiful, riveting, and uplifting book. You will learn the astonishing story of how and why humans evolved a deep impulse to help total strangers but also sometimes act with unspeakable cruelty. Just as important, you'll learn how these insights can help all of us become more compassionate and more cooperative."—Daniel E. Lieberman, author The Story of the Human Body: Evolution, Health, and Disease, and Exercised: Why Something We Never Evolved to Do Is Healthy and Rewarding
 
"An utterly persuasive explanation for why the human psyche has evolved to be dangerous—and what to do about it . . . It should be read by every politician and every schoolchild."—Richard Wrangham, author of The Goodness Paradox

"Very few books even attempt to do what this book succeeds in doing. It begins in basic behavioral science, proceeds to an analysis of cooperation (or lack thereof) in contemporary society, and ends with implications for public policy. Everyone should read this book."—Michael Tomasello, author of Origins of Human Communication, professor of psychology and neuroscience at Duke University

"Survival of the Friendliest is a fascinating counterpoint to the popular [mis]conception of Darwin's 'survival of the fittest.' Brian Hare and Vanessa Woods offer a convincing case that it was not brute strength, raw intelligence, or ruthlessness that allowed modern humans to thrive while our hominin relatives died out. Instead, they argue that friendliness was the key to our flourishing—and that the same kind of cooperative communication is the key to freeing us from the tribalism currently threatening democratic governance around the world. Powerful, insightful, accessible—this book gives me hope."—Megan Phelps-Roper, author of Unfollow

"How can a top predator like the wolf have evolved to become 'man's best friend'? Finally, a book that explains in the clearest terms how friendliness and cooperation shaped dogs and humans. This book left me with a happy and optimistic view of nature."—Isabella Rossellini, actress and activist

"A fresh look at evolution in the animal kingdom—including us . . . a book for anyone who wants to know more about themselves."—Kirkus Reviews
Random House, 9780399590665, 304pp.
Publication Date: July 14, 2020
About the Author
Brian Hare is a professor in the Department of Evolutionary Anthropology and the Center for Cognitive Neuroscience at Duke University, where he founded the Duke Canine Cognition Center.

Vanessa Woods is a research scientist at the Center as well as an award-winning journalist and the author of Bonobo Handshake. Hare and Woods are married and live in North Carolina. They are the authors of The Genius of Dogs: How Dogs Are Smarter Than You Think.
or
Not Currently Available for Direct Purchase