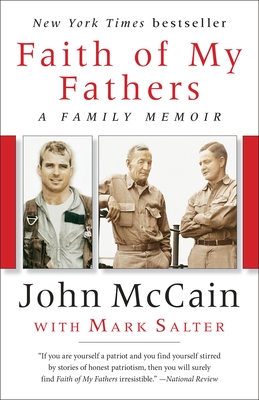 Faith of My Fathers (Paperback)
A Family Memoir
Random House Trade Paperbacks, 9780399590894, 368pp.
Publication Date: October 4, 2016
Other Editions of This Title:
Digital Audiobook (2/25/2008)
Paperback (8/22/2000)
Hardcover (8/31/1999)
Hardcover (3/3/2008)
Mass Market Paperback (10/1/2008)
* Individual store prices may vary.
Description
NEW YORK TIMES BESTSELLER • Senator John McCain's deeply moving memoir is the story of three generations of warriors and the ways that sons are shaped and enriched by their fathers.

John McCain's grandfather, a four-star admiral and one of the navy's greatest commanders, led the strongest aircraft carrier force of the Third Fleet during World War II. McCain's father, also a four-star admiral, served as commander of all U.S. forces in the Pacific during the Vietnam War.

It was in Vietnam that John McCain III faced the most difficult challenge of his life. A naval aviator, he was shot down over Hanoi in 1967. Recognized as the son of a top commander, McCain was tortured and imprisoned for five and a half years. Despite this, he refused Vietnamese offers of an early release. What McCain learned from his grandfather and father enabled him to survive those hard years.

A testament to the power of human endurance, Faith of My Fathers is the story of three men who fought for their country with courage and emerged with their honor intact.

Praise for Faith of My Fathers

"A thoughtful first-person take on survival, both physical and psychological . . . hard to top and impossible to read without being moved."—USA Today
 
"A candid, moving, and entertaining memoir . . . impressive and inspiring, the story of a man touched and molded by fire who loved and served his country in a time of great trouble, suffering, and challenge."—Kirkus Reviews
 
"A serious, utterly gripping account of faith, fathers, and the military."—Publishers Weekly (starred review)
 
"Faith of My Fathers may also appeal to those who flocked to Saving Private Ryan and kept Brokaw's The Greatest Generation near the top of the bestseller lists."—Library Journal
 
"Faith of My Fathers is the powerful story of a war hero. In it we learn much of what matters most. As prisoner (and later Senator) McCain instructs us: Glory is not an end in itself, but rather a reward for valor and faith. And the greatest freedom and human fulfillment comes from engaging in a noble enterprise larger than oneself. Faith of My Fathers teaches deep truths that are valid in any age but that warrant special attention in our own."—William J. Bennett
About the Author
Senator John McCain entered the Naval Academy in June of 1954 and served in the United States Navy until 1981. He was elected to the U.S. House of Representatives from Arizona in 1982 and to the Senate in 1986. The Republican Party's nominee for president in the 2008 election, McCain was also the author of Faith of My Fathers, Worth the Fighting For, Why Courage Matters, Character Is Destiny, Hard Call, Thirteen Soldiers, and The Restless Wave. John McCain died in 2018.

Mark Salter is the author, with John McCain, of several books, including Faith of My Fathers and The Restless Wave. He served on Senator McCain's staff for almost twenty years.
Praise For Faith of My Fathers: A Family Memoir…
"A thoughtful first-person take on survival, both physical and psychological . . . hard to top and impossible to read without being moved."—USA Today
 
"A candid, moving, and entertaining memoir . . . impressive and inspiring, the story of a man touched and molded by fire who loved and served his country in a time of great trouble, suffering, and challenge."—Kirkus Reviews
 
"A serious, utterly gripping account of faith, fathers, and the military."—Publishers Weekly (starred review)
 
"Faith of My Fathers may also appeal to those who flocked to Saving Private Ryanand kept Brokaw's The Greatest Generation near the top of the bestseller lists."—Library Journal
 
"Faith of My Fathers is the powerful story of a war hero. In it we learn much of what matters most. As prisoner (and later Senator) McCain instructs us: Glory is not an end in itself, but rather a reward for valor and faith. And the greatest freedom and human fulfillment comes from engaging in a noble enterprise larger than oneself.Faith of My Fathers teaches deep truths that are valid in any age but that warrant special attention in our own."—William J. Bennett