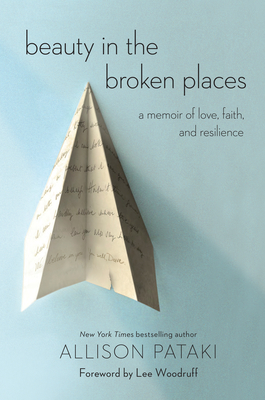 Beauty in the Broken Places (Paperback)
A Memoir of Love, Faith, and Resilience
Random House Trade Paperbacks, 9780399591679, 272pp.
Publication Date: May 7, 2019
Other Editions of This Title:
Digital Audiobook (4/30/2018)
Hardcover (5/1/2018)
Library Binding, Large Print (5/2/2018)
* Individual store prices may vary.
Description
"An inspiring, intimate memoir about faith, resilience and the tenacity of love."—People

"In this emotional tale, a young couple see their lives changed in the blink of an eye—and learn to find love again."—US Weekly

Five months pregnant, on a flight to their "babymoon," Allison Pataki turned to her husband when he asked if his eye looked strange and watched him suddenly lose consciousness. After an emergency landing, she discovered that Dave—a healthy thirty-year-old athlete and surgical resident—had suffered a rare and life-threatening stroke. Next thing Allison knew, she was sitting alone in the ER in Fargo, North Dakota, waiting to hear if her husband would survive the night.

When Dave woke up, he could not carry memories from hour to hour, much less from one day to the next. Allison had lost the Dave she knew and loved when he lost consciousness on the plane. Within a few months, she found herself caring for both a newborn and a sick husband, struggling with the fear of what was to come.

As a way to make sense of the pain and chaos of their new reality, Allison started to write daily letters to Dave. Not only would she work to make sense of the unfathomable experiences unfolding around her, but her letters would provide Dave with the memories he could not make on his own. She was writing to preserve their past, protect their present, and fight for their future. Those letters became the foundation of this beautiful, intimate memoir. And in the process, she fell in love with her husband all over again.

This is a manifesto for living, an ultimately uplifting story about the transformative power of faith and resilience. It's a tale of a man's turbulent road to recovery, the shifting nature of marriage, and the struggle of loving through pain and finding joy in the broken places.

Praise for Beauty in the Broken Places

"Bold and commendable . . . A strength of this memoir is [Allison Pataki's] scrupulous honesty."—USA Today

"A memoir about . . . determination and gratitude, and the value of putting one foot in front of another during a crisis."—The Washington Post

"Heart-wrenching."—Women's Health

"Powerful and immersive . . . Pataki delivers an insightful look at how two people faced a life-altering test as a team 'fighting to make the dreams of our future possible.'"—Publishers Weekly (starred review)
About the Author
Allison Pataki is the author of the bestselling novels Sisi, The Traitor's Wife, and The Accidental Empress, as well as the co-author of Where the Light Falls, with her brother Owen Pataki, and two children's books. Her novels have been translated into more than a dozen languages. Pataki and her husband, Dave Levy, are passionate about raising awareness of the difficulties of life after a stroke or traumatic brain injury. The daughter of former New York State governor George E. Pataki, Allison Pataki graduated cum laude from Yale University and lives in New York with her family.
Praise For Beauty in the Broken Places: A Memoir of Love, Faith, and Resilience…
"An inspiring, intimate memoir about faith, resilience and the tenacity of love."—People
 
"In this emotional tale, a young couple see their lives changed in the blink of an eye—and learn to find love again."—US Weekly

"Bold and commendable . . . A strength of this memoir is [Allison Pataki's] scrupulous honesty."—USA Today
 
 "A memoir about . . . determination and gratitude, and the value of putting one foot in front of another during a crisis."—The Washington Post
 
"Heart-wrenching."—Women's Health

"Powerful and immersive . . . Pataki delivers an insightful look at how two people faced a life-altering test as a team 'fighting to make the dreams of our future possible.'"—Publishers Weekly (starred review)

"A beautifully woven, suspenseful love story with a stunning victory, reminding us of the resilience of the human spirit, and that anything is possible with a loving tribe."—Marcia Gay Harden, Academy Award–winning actress and author of The Seasons of My Mother
 
"A bestselling historical novelist's account of how she survived the harrowing year following her young husband's unexpected stroke . . . The strength of this end-of-innocence book lies in its demystification of the idea that strokes only occur in older people. . . . [A] heartfelt account of dedication and devotion."—Kirkus Reviews 
 
"This is the kind of book that reminds us to slow down, to take stock of our good fortune and the small, everyday blessings we mostly take for granted as we rush through each day."—from the foreword by Lee Woodruff, #1 New York Times bestselling author of In an Instant
 
"Beauty in the Broken Places is inspiring not only as a story about perseverance through unexpected trauma, but as a magnificent love story about what it truly means to live the vows 'for better, for worse, for richer, for poorer, in sickness and health.' If you have ever feared suffering, this book will give you fortitude and courage. Life involves the unexpected co-mingling of sorrow and joy. This book will lift you upward and onward."—Sheila Weber, founder of National Marriage Week USA and co-founder of New York Fellowship