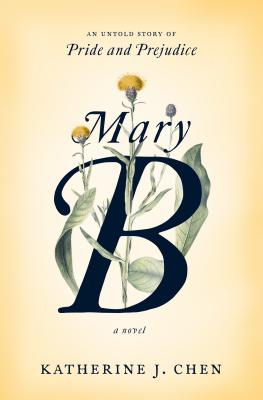 Mary B (Hardcover)
A Novel: An untold story of Pride and Prejudice
Random House, 9780399592218, 336pp.
Publication Date: July 24, 2018
* Individual store prices may vary.
Description
"A new, wholly original perspective on [Pride and Prejudice] . . . the ultimate Austen adaptation for our time."—Real Simple, "Best Books of 2018 (So Far)"
 
Named a best summer read by Newsday, Bustle, and Family Circle

The overlooked middle sister in Jane Austen's Pride and Prejudice casts off her prim exterior and takes center stage in this fresh retelling of the classic novel.

What is to be done with Mary Bennet? She possesses neither the beauty of her eldest sister, Jane, nor the high-spirited wit of second-born Lizzy. Even compared to her frivolous younger siblings, Kitty and Lydia, Mary knows she is lacking in the ways that matter for single, not-so-well-to-do women in nineteenth-century England who must secure their futures through the finding of a husband. As her sisters wed, one by one, Mary pictures herself growing old, a spinster with no estate to run or children to mind, dependent on the charity of others. At least she has the silent rebellion and secret pleasures of reading and writing to keep her company.

But even her fictional creations are no match for the scandal, tragedy, and romance that eventually visit Mary's own life. In Mary B, readers are transported beyond the center of the ballroom to discover that wallflowers are sometimes the most intriguing guests at the party. Beneath Mary's plain appearance and bookish demeanor simmers an inner life brimming with passion, humor, and imagination—and a voice that demands to be heard.

Set before, during, and after the events of Pride and Prejudice, Katherine J. Chen's vividly original debut novel pays homage to a beloved classic while envisioning a life that is difficult to achieve in any era: that of a truly independent woman.

Praise for Mary B

"The best part about Mary's star turn is that it bears little relation to the fates of her sisters. She's a simmering, churning, smart woman determined to concoct an independent life."—The Washington Post

"Pride and Prejudice's beloved story is re-spun through the eyes of mousy, overlooked—and now feminist—middle child, Mary."—Family Circle
About the Author
Katherine J. Chen is a graduate of Princeton University. This is her first novel.
Praise For Mary B: A Novel: An untold story of Pride and Prejudice…
"A new, wholly original perspective on the classic . . . Chen's novel gives fans and non-fans a heroine who seeks a rich, independent life, in spite of the limits society has placed on her. This is the ultimate Austen adaptation for our time."—Real Simple

"Watching [Mary] come into her own is a delight."—People

"Charming and smart . . . Mary's narration is a heedless downhill pleasure—plush, ironic and illuminating."—Newsday

"Ingenious . . . Mary B is a tribute not just to Austen but to defiant women of any era."—USA Today

"The best part about Mary's star turn is that it bears little relation to the fates of her sisters. She's a simmering, churning, smart woman determined to concoct an independent life."—The Washington Post

 "Mary is an adventurer, a lover, and a heroine with far more gumption and grit than meets the eye."—Bustle 

"Perhaps not even a newly discovered Austen manuscript could exceed the delicious pleasure of Mary B. From an unswept corner of literature, Katherine J. Chen has conjured a heroine whose story is heartbreaking, hilarious, and, finally, thrilling. Mary B is a delight."—Susan Choi, Pulitzer Prize finalist and author of American Womanand My Education

"Katherine J. Chen has dipped into Pride and Prejudice to pluck out and celebrate the seemingly most unpromising of the Bennet sisters. In giving Mary Bennet a resonant voice of her own, Chen has fashioned a luminous and enlightening novel that will entrance even, or especially, those who have not read Jane Austen's masterpiece."—John Banville, Man Booker Prize–winning author of The Sea and Mrs. Osmond

"Mary B is a retelling of Pride and Prejudice from the point of view of one of Elizabeth Bennet's sisters. It is a retelling for our time—bold, provocative, and thrilling. Bravo!"—Gish Jen, author of The Love Wife and World and Town

"Elegant, imaginative, and empathetic, Katherine J. Chen's novel reimagines Austen's universe with humor and heart."—Jennifer duBois, author of Cartwheel and A Partial History of Lost Causes

"[A] charming and thoroughly satisfying debut . . . Chen's lively retelling proves that centuries after its creation, Mary's story deserves to be told."—Publishers Weekly

"In a debut that encompasses events before, during, and after Austen's [Pride and Prejudice], introverted Mary knows she'll have to marry, escapes the pressure through a love of reading and writing, and bears witness to a scandal that brings out her strong-minded independence. Janeites, don't miss."—Library Journal

"[This] fresh novel of manners . . . is a reimagining of Jane Austen's Pride and Prejudice from the perspective of the quiet middle sister, Mary Bennet. . . . But here, Mary is shaped into a feminist hero. . . . Chen's work is compelling."—Kirkus Reviews

"Mary Bennet, the awkward middle sister, finally gets to tell her own story in an acerbic, surprising debut novel."—Shelf Awareness