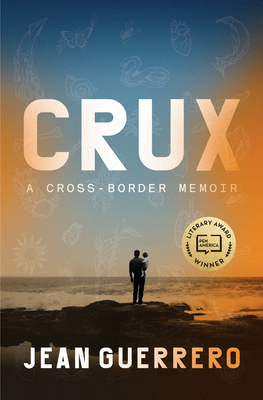 Crux
A Cross-Border Memoir
Hardcover

* Individual store prices may vary.
Other Editions of This Title:
Digital Audiobook (7/16/2018)
Description
A daughter's quest to understand her charismatic and troubled father, an immigrant who crosses borders both real and illusory—between sanity and madness, science and spirituality, life and death

Winner of the PEN/FUSION Emerging Writers Prize • "Expressive and affecting . . . deeply researched and tightly written . . . Crux, at its heart, is [Jean] Guerrero's love letter to her dad."—NPR

Throughout Jean Guerrero's childhood, her father, Marco Antonio, was an erratic and elusive presence. A self-taught genius at fixing, creating, and conjuring things—and capable of transforming himself into a shaman, dreamcaster, or animal whisperer in his enchanted daughter's eyes—he gradually began to lose himself in his peculiar obsessions, careening wildly between reality and hallucination. In time, he fled his family and responsibilities—to Asia, Europe, and eventually back to Mexico. He succumbed to drug- and alcohol-fueled manias, while suffering the effects of what he said were CIA mind-control experiments. As soon as she was old enough, Jean set out after him. Now a journalist, she used the tools of her trade, hoping to find answers to the questions he left behind.

In this lyrical, haunting memoir, Jean Guerrero tries to locate the border between truth and fantasy as she searches for explanations for her father's behavior. Refusing to accept an alleged schizophrenia diagnosis at face value, she takes Marco Antonio's dark paranoia seriously and investigates all his wildest claims. She crisscrosses the Mexican-American border to unearth the stories of cousins and grandparents and discovers a chain of fabulists and mystics in her lineage, going back to her great-great-grandmother, a clairvoyant curandera who was paid to summon spirits from the afterlife. As she delves deeper and deeper into her family's shadowy past, Jean begins mirroring her father's self-destructive behavior. She risks death on her adventures, imperiling everything in her journey to redeem her father from the underworld of his delusions.

In the tradition of engrossing family memoirs like The Liar's Club and The Glass Castle, Crux is both a riveting adventure story and a profoundly original exploration of the human psyche, the mysteries of our most intimate relationships—and ourselves.

"[Guerrero] writes poetically about borders as a metaphor for the boundary of identity between father and daughter and the porous connective tissues that bind them."—The National Book Review
Praise For Crux: A Cross-Border Memoir…
"In her devastatingly beautiful memoir . . . [Guerrero] tracks her father through his lineage of mystics; his shadowy past; and his years of obsession, self-destruction, and even brilliance. . . . She writes poetically about borders as a metaphor for the boundary of identity between father and daughter and the porous connective tissues that bind them."—The National Book Review
 
"Crux, at its heart, is Guerrero's love letter to her dad . . . expressive and affecting, especially in the moments where she grounds her reader in her own exploration of the mystical. . . . The book is deeply researched and tightly written. . . . This admission—that she's willingly choosing a different story—helps the reader suspend disbelief."—NPR

"Luminous . . . heartfelt and mystically charged."—The Washington Post

"The genius of Guerrero's exquisite creation lies beyond her lyrical descriptions, and visceral phrases (e.g., "I had to learn to keep my sympathy zipped inside my stomach"). What truly makes this book extraordinary is the careful layering and connections. . . . It's the kind of story you think about long after you've finished reading it, and the kind of memoir that seems to redefine the genre."—Los Angeles Review of Books

"Crux is everything I want in a memoir: prose that dazzles and cuts, insights hard-won and achingly named, and a plot that kept me up at night, breathlessly turning pages. Jean Guerrero has a poet's lyrical sense, a journalist's dogged devotion to truth, and a fast and far-reaching mind. This is a book preoccupied with chasing—that is one of its harrowing pleasures—but, like all great memoirs, it is ultimately a story about the great trouble and relief of being found."—Melissa Febos, author of Whip Smart and Abandon Me

"Crux is a triumphant memoir driven by the search for home and a father's elusive love. The twists and unexpected turns across borders are enchanting. A poignant, lovely debut."—Alfredo Corchado, author of Midnight in Mexico

"Jean Guerrero has done excellent reporting from the U.S.–Mexico borderlands. Now she examines the more mysterious borders of family history and that unknown region of the heart. You will be moved by Crux—this book is powerful and true."—Luis Alberto Urrea, author of The Devil's Highway

"From the very beginning, Crux draws the reader in—Guerrero's language is as poetic as the story is engrossing. The characters, though, shine brightest. She draws from record, history, myth, and rumor to create compelling portraits of a family navigating multiple borders as well as the complexities of love and life within them."—Adriana E. Ramírez, author of Dead Boys

"Using her investigative and writerly skills to confront her father, his past, and the magic and mystery in their legacy, Jean Guerrero crosses the familial borders that have both captivated and terrified her since childhood. Crux is intimate, powerful, and a testament to the lengths we'll go for our families."—Leah Carroll, author of Down City
One World, 9780399592393, 352pp.
Publication Date: July 17, 2018
About the Author
Jean Guerrero, winner of the PEN/FUSION Emerging Writers Prize, is the Fronteras reporter for KPBS, the NPR and PBS affiliate in San Diego, reporting on cross-border issues for radio and TV. She has also worked for The Wall Street Journal, won several prestigious reporting awards, and has an MFA from Goucher College.
or
Not Currently Available for Direct Purchase