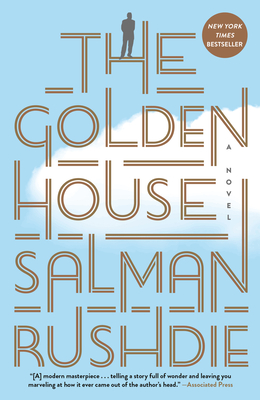 The Golden House
A Novel
Paperback

* Individual store prices may vary.
Other Editions of This Title:
Digital Audiobook (9/4/2017)
Hardcover (9/5/2017)
Description
NEW YORK TIMES BESTSELLER • A modern American epic set against the panorama of contemporary politics and culture—a hurtling, page-turning mystery that is equal parts The Great Gatsby and The Bonfire of the Vanities

ONE OF THE BEST BOOKS OF THE YEAR: NPR, PBS, Harper's Bazaar, Esquire, Financial Times, The Times of India

On the day of Barack Obama's inauguration, an enigmatic billionaire from foreign shores takes up residence in the architectural jewel of "the Gardens," a cloistered community in New York's Greenwich Village. The neighborhood is a bubble within a bubble, and the residents are immediately intrigued by the eccentric newcomer and his family. Along with his improbable name, untraceable accent, and unmistakable whiff of danger, Nero Golden has brought along his three adult sons: agoraphobic, alcoholic Petya, a brilliant recluse with a tortured mind; Apu, the flamboyant artist, sexually and spiritually omnivorous, famous on twenty blocks; and D, at twenty-two the baby of the family, harboring an explosive secret even from himself. There is no mother, no wife; at least not until Vasilisa, a sleek Russian expat, snags the septuagenarian Nero, becoming the queen to his king—a queen in want of an heir.

Our guide to the Goldens' world is their neighbor René, an ambitious young filmmaker. Researching a movie about the Goldens, he ingratiates himself into their household. Seduced by their mystique, he is inevitably implicated in their quarrels, their infidelities, and, indeed, their crimes. Meanwhile, like a bad joke, a certain comic-book villain embarks upon a crass presidential run that turns New York upside-down.

Set against the strange and exuberant backdrop of current American culture and politics, The Golden House also marks Salman Rushdie's triumphant and exciting return to realism. The result is a modern epic of love and terrorism, loss and reinvention—a powerful, timely story told with the daring and panache that make Salman Rushdie a force of light in our dark new age.
Praise For The Golden House: A Novel…
"[A] modern masterpiece . . . telling a story full of wonder and leaving you marveling at how it ever came out of the author's head."—Associated Press

"Wildly satiric and yet piercingly real . . . If F. Scott Fitzgerald, Homer, Euripides, and Shakespeare collaborated on a contemporary fall-of-an-empire epic set in New York City, the result would be The Golden House."—Poets & Writers

"A tonic addition to American—no, world!—literature . . . a Greek tragedy with Indian roots and New York coordinates."—San Francisco Chronicle

"A recognizably Rushdie novel in its playfulness, its verbal jousting, its audacious bravado, its unapologetic erudition, and its sheer, dazzling brilliance."—The Boston Globe

"A joy to read . . . clever, intimidating, jocund, and electrifying."—Chicago Review of Books

"The Golden House . . . ranks among Rushdie's most ambitious and provocative books [and] displays the quicksilver wit and playful storytelling of Rushdie's best work."—USA Today

"From Nero to Obama, via The Godfather . . . The veteran novelist blends ancient history and myth with popular culture, crime caper and film techniques to fashion a morality tale for today."—The Guardian

"Vivid and appealing."—The Week

"A tale of identity, reinvention, truth (and lies), and terror, The Golden House captures the climate of American politics and culture from the Obama era to today."—BuzzFeed

"The Golden House is a brilliant examination of the times we are living in today. A must read!"—PopSugar

"Rushdie writes with a Dickensian exuberance, always full of humor as well as striking scornful, tragic notes."—The London Evening Standard

"Intelligent and darkly funny . . . with a raw political edge."—The Times (UK)

"Powerful. . . . The great strength of The Golden House is Rushdie's ability to balance the fairy tale tone of the story with gritty realities."—The Toronto Star

"Ambitious and rewarding."—Publishers Weekly (starred review)

"A novel grounded in historical fact yet rife with Rushdie's signature imaginative prowess."—Library Journal (starred review)

"A ravishingly well-told, deeply knowledgeable, magnificently insightful, and righteously outraged epic which pos­es timeless questions about the human condition."—Booklist (starred review)

"A sort of Great Gatsby for our time: everyone is implicated, no one is innocent, and no one comes out unscathed."—Kirkus Reviews (starred review)

Random House Trade Paperbacks, 9780399592829, 400pp.
Publication Date: June 5, 2018
About the Author
Salman Rushdie is the author of fourteen previous novels, including Midnight's Children (for which he won the Booker Prize and the Best of the Booker), Shame, The Satanic Verses, The Moor's Last Sigh, and Quichotte, all of which have been shortlisted for the Booker Prize; a collection of stories, East, West; a memoir, Joseph Anton; a work of reportage, The Jaguar Smile; and three collections of essays, most recently Languages of Truth. His many awards include the Whitbread Prize for Best Novel, which he won twice; the PEN/Allen Foundation Literary Service Award; the National Arts Award; the French Prix du Meilleur Livre Étranger; the European Union's Aristeion Prize for Literature; the Budapest Grand Prize for Literature; and the Italian Premio Grinzane Cavour. He is a member of the American Academy of Arts and Letters and a fellow of the American Academy of Arts and Sciences, and he is a Distinguished Writer in Residence at New York University. He is a former president of PEN America. His books have been translated into over forty languages.