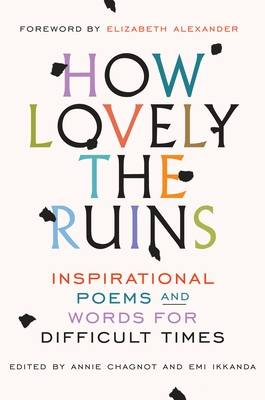 How Lovely the Ruins
Inspirational Poems and Words for Difficult Times
Hardcover

* Individual store prices may vary.
Description
This wide-ranging collection of inspirational poetry and prose offers readers solace, perspective, and the courage to persevere.

In times of personal hardship or collective anxiety, words have the power to provide comfort, meaning, and hope. The past year has seen a resurgence of poetry and inspiring quotes—posted on social media, appearing on bestseller lists, shared from friend to friend. Honoring this communal spirit, How Lovely the Ruins is a timeless collection of both classic and contemporary poetry and short prose that can be of help in difficult times—selections that offer wisdom and purpose, and that allow us to step out of our current moment to gain a new perspective on the world around us as well as the world within.

The poets and writers featured in this book represent the diversity of our country as well as voices beyond our borders, including Maya Angelou, W. H. Auden, Danez Smith, Rumi, Emily Dickinson, Naomi Shihab Nye, Alice Walker, Adam Zagajewski, Langston Hughes, Wendell Berry, Anna Akhmatova, Yehuda Amichai, and Robert Frost. And the book opens with a stunning foreword by Elizabeth Alexander, whose poem "Praise Song for the Day," delivered at the inauguration of President Barack Obama, ushered in an era of optimism. In works celebrating our capacity for compassion, our patriotism, our right to protest, and our ability to persevere, How Lovely the Ruins is a beacon that illuminates our shared humanity, allowing us connection in a fractured world.

Includes poetry, prose, and quotations from:
Elizabeth Alexander • Marcus Aurelius • Karen Armstrong • Matthew Arnold • Ellen Bass • Brian Bilston • Gwendolyn Brooks • Elizabeth Barrett Browning • Octavia E. Butler • Regie Cabico • Dinos Christianopoulos • Lucille Clifton • Ta-Nehisi Coates • Leonard Cohen • Wendy Cope • E. E. Cummings • Charles Dickens • Mark Doty • Thomas Edison • Albert Einstein • Ralph Ellison • Kenneth Fearing • Annie Finch • Rebecca Foust • Nikki Giovanni • Stephanie Gray • John Green • Hazel Hall • Thich Nhat Hanh • Joy Harjo • Václav Havel • Terrance Hayes • William Ernest Henley • Juan Felipe Herrera • Jane Hirshfield • John Holmes • A. E. Housman • Bohumil Hrabal • Robinson Jeffers • Georgia Douglas Johnson • James Weldon Johnson • Paul Kalanithi • Robert F. Kennedy • Omar Khayyam • Emma Lazarus • Li-Young Lee • Denise Levertov • Ada Limón • Henry Wadsworth Longfellow • Nelson Mandela • Masahide • Khaled Mattawa • Jamaal May • Claude McKay • Edna St. Vincent Millay • Pablo Neruda • Anaïs Nin • Olga Orozco • Ovid • Pier Paolo Pasolini • Edgar Allan Poe • Claudia Rankine • Adrienne Rich • Rainer Maria Rilke • Alberto Ríos • Edwin Arlington Robinson • Eleanor Roosevelt • Christina Rossetti • Muriel Rukeyser • Sadhguru • Carl Sandburg • Vikram Seth • Charles Simic • Safiya Sinclair • Effie Waller Smith • Maggie Smith • Tracy K. Smith • Leonora Speyer • Gloria Steinem • Clark Strand • Wisława Szymborska • Rabindranath Tagore • Sara Teasdale • Alfred, Lord Tennyson • Vincent van Gogh • Ocean Vuong • Florence Brooks Whitehouse • Walt Whitman • Ella Wheeler Wilcox • William Carlos Williams • Virginia Woolf • W. B. Yeats • Saadi Youssef • Javier Zamora • Howard Zinn
Random House, 9780399592836, 224pp.
Publication Date: October 31, 2017
About the Author
SPIEGEL & GRAU, founded in 2005, is an imprint of the Random House Publishing Group specializing in books that help us make sense of our lives. Books we have published include Between the World and Me by Ta-Nehisi Coates, The Other Wes Moore by Wes Moore, Nothing to Envy by Barbara Demick, My Promised Land by Ari Shavit, Orange Is the New Black by Piper Kerman, and Just Mercy by Bryan Stevenson.