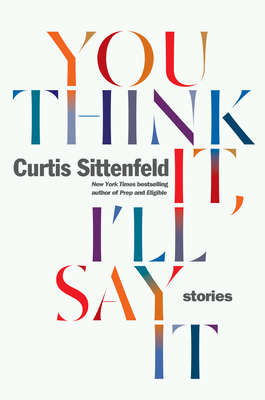 You Think It, I'll Say It (Hardcover)
Stories
Random House, 9780399592867, 256pp.
Publication Date: April 24, 2018
Description
A dazzling collection of short stories from the New York Times bestselling author of Prep, American Wife, and Eligible Curtis Sittenfeld has established a reputation as a sharp chronicler of the modern age who humanizes her subjects even as she skewers them. Now, with this first collection of short fiction, her "astonishing gift for creating characters that take up residence in readers' heads" (The Washington Post) is showcased like never before. Throughout the ten stories in You Think It, I'll Say It, Sittenfeld upends assumptions about class, relationships, and gender roles in a nation that feels both adrift and viscerally divided. In "The World Has Many Butterflies," married acquaintances play a strangely intimate game with devastating consequences. In "Vox Clamantis in Deserto," a shy Ivy League student learns the truth about a classmate's seemingly enviable life. In "A Regular Couple," a high-powered lawyer honeymooning with her husband is caught off guard by the appearance of the girl who tormented her in high school. And in "The Prairie Wife," a suburban mother of two fantasizes about the downfall of an old friend whose wholesome-lifestyle empire may or may not be built on a lie. With moving insight and uncanny precision, Curtis Sittenfeld pinpoints the questionable decisions, missed connections, and sometimes extraordinary coincidences that make up a life. Indeed, she writes what we're all thinking--if only we could express it with the wit of a master satirist, the storytelling gifts of an old-fashioned raconteur, and the vision of an American original. Praise for Curtis Sittenfeld "Novelists get called master storytellers all the time, but Sittenfeld really is one."--The Washington Post "Sittenfeld is . . . popular but intellectual, accessible but mysterious and, above all--a perspective chameleon with an uncanny ability to enter the minds of callow prep school outcasts and devotedly compromising first ladies alike."--NPR's All Things Considered " Sittenfeld] is a master of dramatic irony, creating fully realized social worlds before laying waste to her heroines' understanding of them. . . . Her prose is] a rich delight."--The Boston Globe "Three cheers for Curtis Sittenfeld and her astute, sharp and ebullient anthropological interest in the human condition."--The New York Times
About the Author
Curtis Sittenfeld is the New York Times bestselling author of the novels Prep, The Man of My Dreams, American Wife, Sisterland, and Eligible, which have been translated into thirty languages. Her short stories have appeared in The New Yorker, The Washington Post Magazine, Esquire, and The Best American Short Stories. Her nonfiction has been published in The New York Times, The Atlantic, Time, and Glamour, and broadcast on public radio's This American Life. A native of Cincinnati, she currently lives with her family in St. Louis.
Advertisement