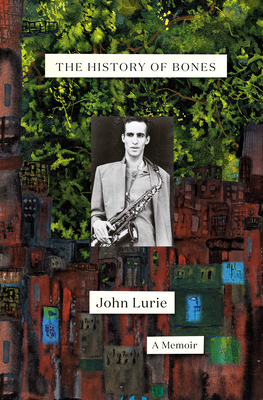 The History of Bones
A Memoir
Hardcover

* Individual store prices may vary.
Other Editions of This Title:
Digital Audiobook (8/16/2021)
Description
The quintessential depiction of 1980s New York and the downtown scene from the artist, actor, musician, and composer John Lurie

"Ferocious and wise, funny and tragic, raging and forgiving, and I loved every page."—Nick Flynn, author of Another Bullshit Night in Suck City

In the tornado that was downtown New York in the 1980s, John Lurie stood at the vortex. After founding the band The Lounge Lizards with his brother, Evan, in 1979, Lurie quickly became a centrifugal figure in the world of outsider artists, cutting-edge filmmakers, and cultural rebels. Now Lurie vibrantly brings to life the whole wash of 1980s New York as he developed his artistic soul over the course of the decade and came into orbit with all the prominent artists of that time and place, including Andy Warhol, Debbie Harry, Boris Policeband, and, especially, Jean-Michel Basquiat, the enigmatic prodigy who spent a year sleeping on the floor of Lurie's East Third Street apartment. 

It may feel like Disney World now, but in The History of Bones, the East Village, through Lurie's clear-eyed reminiscence, comes to teeming, gritty life. The book is full of grime and frank humor—Lurie holds nothing back in this journey to one of the most significant moments in our cultural history, one whose reverberations are still strongly felt today. 

History may repeat itself, but the way downtown New York happened in the 1980s will never happen again. Luckily, through this beautiful memoir, we all have a front-row seat.
Praise For The History of Bones: A Memoir…
"There is a purity to John Lurie's writing that feels almost spiritual—the stories unspool from him, seemingly effortlessly, with the fluidity of a great jazz player. Lurie has lived many lives—'More than once I have witnessed the inexplicable,' he tells us—and this book moves us through them all."—Nick Flynn, author of Another Bullshit Night in Suck City

"No other human's strange struggles and triumphs are like this. I was transfixed reading Lurie's yearning to make sense of it all, slamming his fist through the precious veneer of the early eighties New York art/music scene. Yeeeooooow."—Flea, author of Acid for the Children

"Look behind John Lurie's adventure so far and see how it flows from epiphanies: their arrival, their loss, the very possibility of them. Epiphanies consign an artist to life as a hunter-mystic, in a world where the impeccable and the tawdry are equally sacred—a hell of a place, and it's from here that Lurie's candor throws us epiphanies to take away. This is not a book headed for bookshelves; it's coming to crash on your couch."—DBC Pierre, author of Vernon God Little, winner of the Booker Prize

"By turns comic, pissed off, and desolate, his raffish picaresque captures everything. . . . The result is an energetic, raucous reprise of an adventurously offbeat life."—Publishers Weekly (starred review)

"Lurie proves to . . . be a wry, sly, furious, and vivid storyteller. His raucously frank, sardonic, sex-saturated, compulsively detailed, and hard-charging memoir is incandescent with illuminations of his musical mission, including his film scores, his friendship with Jean-Michel Basquiat, and his conflicts with Jim Jarmusch. . . . Lurie leaves readers wanting more."—Booklist
Random House, 9780399592973, 448pp.
Publication Date: August 17, 2021
About the Author
John Lurie is a musician, painter, actor, director, and producer. He co-founded The Lounge Lizards in 1979. In the decades since, he has released albums (including those by his alter ego Marvin Pontiac), acted in films, composed and performed music for television and film, exhibited his paintings throughout the world, and produced, directed, and starred in the Fishing with John television series. His most recent series, Painting with John, debuted on HBO in 2021.