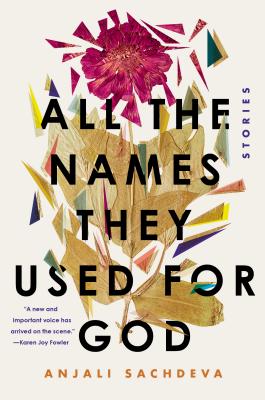 All the Names They Used for God (Hardcover)
Stories
Spiegel & Grau, 9780399593000, 272pp.
Publication Date: February 20, 2018
* Individual store prices may vary.
Description
"One of the best collections I've ever read. Every single story is a standout."---Roxane Gay

"Fuses science, myth, and imagination into a dark and gorgeous series of questions about our current predicaments."---Anthony Doerr, author of All the Light We Cannot See Spanning centuries, continents, and a diverse set of characters, these alluringly strange stories are united by each character's struggle with fate. In a secret, subterranean world beneath the prairie of the Old West, a homesteader risks her life in search of a safe haven. A workman in Andrew Carnegie's steel mills is turned into a medical oddity by the brutal power of the furnaces--and is eventually revitalized by his condition. A young woman created through genetic manipulation is destroyed by the same force that gave her life. Anjali Sachdeva demonstrates a preternatural ability to laser in on our fears, our hopes, and our longings in order to point out intrinsic truths about society and humanity. "Killer of Kings" starts with John Milton writing Paradise Lost and questions the very nature of power--and the ability to see any hero as a tyrant with just a change in perspective. The title story presents a stirring imagining of the aftermath of the kidnapping of Nigerian schoolgirls by Boko Haram that leaves us pondering what is lost when we survive the unsurvivable. And in "Pleiades," genetically modified septuplets are struck by a mysterious illness that tests their parents' unwavering belief in the power of science. Like many of us, the characters in this collection are in pursuit of the sublime, and find themselves looking not just to divinity but to science, nature, psychology, and industry, forgetting that their new, logical deities are no more trustworthy than the tempestuous gods of the past. Along the way, they walk the knife-edge between wonder and terror, salvation and destruction. All the Names They Used for God is an entrancing work of speculative fiction that heralds Anjali Sachdeva as an invigorating, incomparable new voice. "Every once in a while you read a book with such power, craft, and originality that you know instantly that a new and important voice has arrived on the scene. This is that book."--Karen Joy Fowler, author of The Jane Austen Book Club
About the Author
Anjali Sachdeva's fiction has appeared in The Iowa Review, Gulf Coast, The Yale Review, Alaska Quarterly Review, The Literary Review, and The Best American Nonrequired Reading. She is a graduate of the Iowa Writers' Workshop and has taught writing at the University of Iowa, Augustana College, Carnegie Mellon University, and the University of Pittsburgh. She also worked for six years at the Creative Nonfiction Foundation, where she was director of educational programs. She has hiked through the backcountry of Canada, Iceland, Kenya, Mexico, and the United States, and spent much of her childhood reading fantasy novels and waiting to be whisked away to an alternate universe. Instead, she lives in Pittsburgh, which is pretty wonderful as far as places in this universe go. This is her first book.
Coverage from NPR