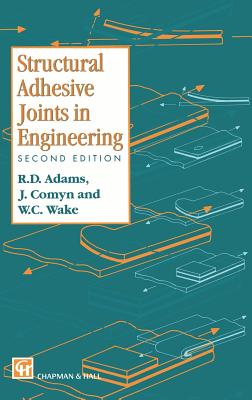 Structural Adhesive Joints in Engineering (Hardcover)
Springer, 9780412709203, 360pp.
Publication Date: October 31, 1997
* Individual store prices may vary.
Description
The use of adhesives has many advantages over other methods of fastening. Presenting a smooth exterior, spreading of the load and ease of joining thin or dissimilar materials are all reasons why the use of adhesives for bonding structures is steadily growing and finding new applications.
Structural Adhesive Joints in Engineering is a concise guide to adhesive joints within structures, especially those capable of bearing high loads. The book covers all aspects of design, materials selection and testing, including the physical properties and cure-chemistry of structural adhesives and how to select adhesives for particular applications; surface preparation by physical or chemical methods (with or without the use of primers and coupling agents); and new sections on surface analysis and water durability. There is also a detailed guide to stresses in adhesive joints and joint design. Thoroughly revised and updated since the first edition, the Second Edition contains new sections on recent topics of importance, such as water durability.
This book contains everyhting an engineer needs to know to be able to design and produce adhesively bonded joints that are required to carry significant loads. Advantages and disadvantages are given, together with a sufficient description of the necessary mechanics and chemistry involved to enable the designer to make a sound engineering judgement in each particular case.