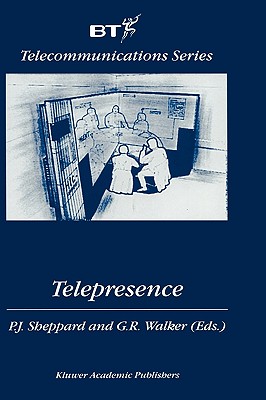 Telepresence (BT Telecommunications #16) (Hardcover)
Springer, 9780412847004, 383pp.
Publication Date: November 30, 1998
Other Editions of This Title:
Paperback (10/8/2012)
* Individual store prices may vary.
Description
Telepresence is enabling human interaction at a distance, creating a sense of being present at a remote location. In the next millennium we are certain to be increasingly telepresent' both at work and at play, with an expanding market for telepresence services. As we move from a physical to an information economy, demand will grow for services which transport bits not atoms and which support the output of the human mind. Moreover, technology continues to advance at an unprecedented rate, and it could be suggested that we are reaching key breakpoints in client processing power and global network interconnectivity.
In practice, telepresence systems utilise a very wide range of technologies. In compiling this book the editors have included chapters from across these technologies which they have broadly classified as audio, data, video and virtual environments. Telepresence gives a flavour of the exciting developments in telepresence and teleconferencing technologies being researched and developed within BT.
Just as the telephone began changing the world a century ago, so will telepresence one day alter the way we live, think, do business and react to the world around us. The potential for these technologies is staggering, the implications mind-boggling.
Building on a strong base of established audiovisual conferencing and interactive multimedia services, BT and MCI are leading the way in defining the commercial applications of telepresence that will shape the future of global telecommunication.
Telepresence is a snapshot of these groundbreaking activities and conveys the complexity, uncertainty and enthusiasm involved in this challenging and exciting work. It is essential reading for all researchers, engineers and managers working in this stimulating field.