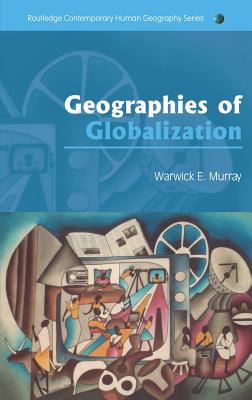 Geographies of Globalization (Routledge Contemporary Human Geography) (Hardcover)
Routledge, 9780415317993, 392pp.
Publication Date: December 22, 2005
* Individual store prices may vary.
Description
This informative text offers a geographical perspective on globalization. It provides a lively exploration of its spatial impacts and the distinctive contribution of human geography to studies and debates in this field. Fully up-to-date and engaging, this work:
critically appraises the concept and processes of globalization from a geographical perspective
debates the historical evolution of globalized society
illustrates how the core principles of human geography - such as space and scale - lead to a better understanding of the phenomenon
analyzes the interconnected economic, political and cultural geographies of globalization
examines the impact of global transformations 'on the ground' using examples from six continents
discusses the challenges for the environment and the Third World created by globalizing processes
articulates a human geographical framework for progressive globalization.
Throughout, boxed sections highlight and clearly explain 'key concepts' and showcase classic and innovative work. Highly illustrated with figures, photographs and maps, this book also includes chapter summaries and annotated further reading. It will be indispensable for human geography, sociology, political science and development studies undergraduates and postgraduates studying the phenomenon on both dedicated and linked courses.
About the Author
Warwick Murray is professor of human geography and development studies at Victoria University of Wellington, New Zealand. He has held University positions in the UK and Fiji and has been a visiting professor at universities in Europe and South America. He is president of the Australasian Iberian and Latin American Studies Association. He is has served as editor on a number of journals including Asia Pacific Viewpoint and Journal of Rural Studies. Much of his published research has focused on Latin America, the Pacific and the Asia Pacific region as well as Australia, New Zealand the UK. He has won national awards for his teaching, including the Prime Minsters award for excellence in tertiary teaching in New Zealand. John Overton is professor of development studies and human geography at Victoria University of Wellington, New Zealand. He has held university positions at four other institutions including the Australian National University. He is current President of the New Zealand Geographical Society and former Director of the Commonwealth Geographical Bureau. He has served as an editor for a range of journals including Asia Pacific Viewpoint. He has undertaken and published research in Africa, Southeast Asia, Australia, New Zealand and the Pacific region. He has supervised over 150 postgraduate students to successful completion.