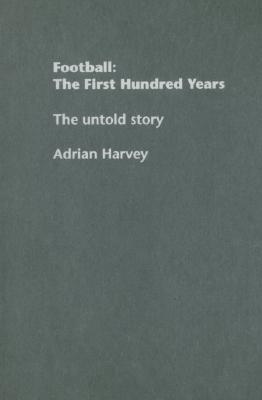 Football
The First Hundred Years: The Untold Story (Sport in the Global Society)
Hardcover

* Individual store prices may vary.
Description
The story of the creation of Britain's national game has often been told. According to the accepted wisdom, the refined football games created by English public schools in the 1860s subsequently became the sports of the masses. Football, The First Hundred Years, provides a revisionist history of the game, challenging previously widely-accepted beliefs.
Harvey argues that established football history does not correspond with the facts. Football, as played by the 'masses' prior to the adoption of the public school codes is almost always portrayed as wild and barbaric. This view may require considerable modification in the light of Harvey's research. Football's First One Hundred Years provides a very detailed picture of the football played outside the confines of the public schools, revealing a culture that was every bit as sophisticated and influential as that found within their prestigious walls.
Football, The First Hundred Years sets forth a completely revisionist thesis, offering a different perspective on almost every aspect of the established history of the formative years of the game. The book will be of great interest to sports historians and football enthusiasts alike.
Routledge, 9780415350181, 289pp.
Publication Date: May 17, 2005
About the Author
Dr. Adrian Harvey is a tutor for the Workers' Education Association and for the Extra Murals Department of Birkbeck College, London University. He worked at a postman until 1992 and obtained an MA in Victorian Studies at Birkbeck College, London University and a D.Phil at Nuffield College, Oxford University in 1996. His works on sport and recreation have appeared in a number of periodicals and books.